May 18, 2022
Personal Mention
Roberta Klatzky, the Charles J. Queenan, Jr. University Professor of Psychology, has been elected to the National Academy of Sciences. She is an expert in cognition whose research examines the relationships between human perception and action, with a focus on touch. "Election to the National Academy is considered a great honor for any scientist," Klatzky said. "I am trying to come to grips with this in my own head. This honor is the crowning achievement in a career." Her research career has combined mathematics and psychology to study perception, action and touch from the perspective of multiple modalities, sensory and symbolic, in real and virtual environments. She studies how people use cues from the sensory world to navigate their environment. Her research has been instrumental to the development of telemanipulation, image-guided surgery, navigation aids for the blind and neural rehabilitation. Klatzky's position at CMU spans the Psychology Department in Dietrich College, as well as the Human-Computer Interaction Institute and the Neuroscience Institute. Klatzky has authored more than 300 articles and chapters and has written or edited seven books. She is a fellow of the American Academy of Arts and Sciences and the Institute of Electrical and Electronics Engineers (IEEE), the world's largest technical professional organization. She has received an Alexander von Humboldt Research Award and the Kurt Koffka Medaille from Justus-Liebig-University of Giessen, German, for her work on perception and action. Learn more about Klatzky.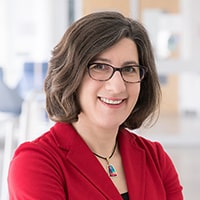 Lorrie Cranor recently received an honorary doctorate from the Università della Svizzera italiana (USI), a public Swiss university near the country's southern border with Italy. The university awarded Cranor the honorary degree during a ceremony on Saturday, May 7, for her relentless pursuit of making privacy and security usable, including her pioneering work on privacy policies, her fundamental contributions toward understanding phishing attacks, and her active role in shaping public policy to better protect our privacy. Cranor, a professor in the Institute for Software Research and the Department of Engineering and Public Policy and director of CyLab, created the first research forum for work on usable privacy and security, known as the Symposium on Usable Privacy and Security (SOUPS), in 2005. She has authored more than 200 publications on the subject. "Lorrie is a role model for all of us on how to do research that not only crosses interdisciplinary boundaries but that also has an impact — academically, within industry and in society — by educating not only students, but also citizens and policymakers," said Marc Langheinrich, dean and professor in USI's Faculty of Informatics. Learn more about Cranor.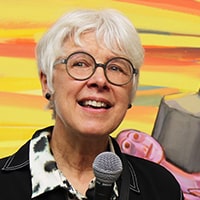 School of Art Professor Susanne Slavick is retiring after 38 years at CMU. As a teacher, artist, curator and prior head of the School of Art, her steadfast conviction that art is an essential political force — moving us to act against injustice and to imagine new futures in ways that other disciplines cannot — has inspired generations of students. Slavick began her tenure with CMU's School of Art in 1984 after a three-year stint at the University of Wisconsin-Madison. She was the first woman to become head of the school (2000-2006), and under her direction, and in collaboration with Associate Head Joe Mannino, the School of Art  underwent a major expansion with the construction of the Doherty Hall B wing, which included new studios for lithography, serigraphy, ceramics and advanced sculpture, as well as space for new graduate and faculty studios and the Miller Meeting Room. In addition, major renovation of other spaces in Doherty Hall upgraded the intaglio studio and dedicated space for physical computing. School of Art spaces within the College of Fine Arts also saw upgrades under Slavick's headship, including the reconfiguration of the Ellis Gallery and the fourth-floor hallways and studios. Elsewhere on campus, she helped shepherd the university's acquisition of two major public art projects from School of Art alumni: Mel Bochner's Kraus Campo, a collaborative project with landscape architect Michael Van Valkenburgh, and Jonathan Borofsky's "Walking to the Sky." Learn more about Slavick.