March 16, 2022
Students Enjoy an Artful Alternative Spring Break
By Felicia Lucot fmckinne(through)andrew.cmu.edu
Spring Break is synonymous with beach vacations — or at the very least, rest and relaxation. For a small cohort of Carnegie Mellon University students who participated in Pittsburgh Alternative Break, this year's week off from classes was a time for education, reflection and action.
Pittsburgh Alternative Break is a week-long, immersive experience in the city of Pittsburgh offered by the office of Student Leadership, Involvement, and Civic Engagement (SLICE). After a two-year hiatus due to the pandemic, Meggan Lloyd, coordinator of Civic Engagement for SLICE, was proud to reignite Pittsburgh Alternative Break, an experience she says was as personally rewarding for her as for the student participants. 
"Being a part of a student's civic engagement journey at Carnegie Mellon is an incredible honor for me," she said. "I treasure the opportunity to help build bridges between our students and community partners while equipping students with the education, tools and resources to collectively take action." 
This year's Pittsburgh Alternative Break theme was art as a catalyst for social change, and the program partnered students with community-based organizations and local artists who highlight social inequities through their work. Students visited Pittsburgh's Hazelwood neighborhood for a public art tour, enjoyed hands-on activities like t-shirt printing and collage making, spent time at local art galleries and studios, and completed service projects with the Downtown Pittsburgh Partnership and CMU Arts Greenhouse.
"Activities like this really help me to step outside of the CMU 'bubble,' learn more about the city, and reflect on my place in the community." — Jackie Wu
A piece of artwork that stood out to Carnegie Mellon senior Jackie Wu was the Food Justice exhibit at Contemporary Craft, an art gallery in Pittsburgh's Lawrenceville neighborhood. The exhibit featured work like "Transaction Denied," an installation of receipts and signs that highlighted the difficulties people face accessing food and applying for benefits from the Supplemental Nutrition Assistance Program.
"Activities like this really help me to step outside of the CMU 'bubble,' learn more about the city, and reflect on my place in the community," said Wu, a social and political history and business administration major. 
After participating in a Pittsburgh Alternative Break opportunity prior to the pandemic, Wu returned this year as a student coordinator, helping to facilitate the experience for others. This year, she gained new insight into social issues, and how many people in the Pittsburgh community are already working toward change.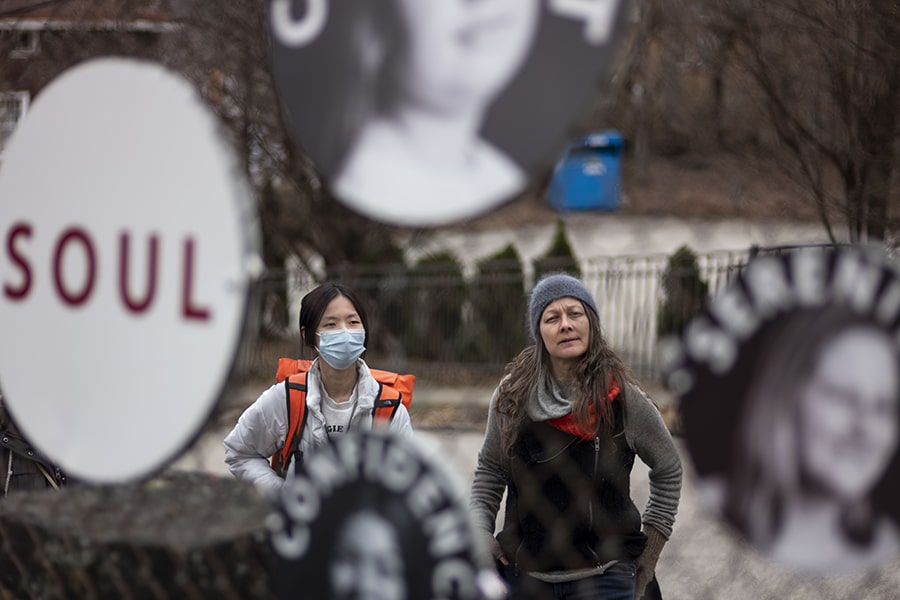 CMU student Ruiqi (Elmy) Chen and photographer Heather Mull at Mull's outdoor exhibit in Hazelwood.
"I enjoyed meeting people like Homer Craig, a Hazelwood resident and an important community figure, who everyone in the neighborhood knows," Wu said. "We also had a Zoom call with Janel Young, who is a painter, muralist and community leader from Pittsburgh. Learning about her career trajectory and creative process really was inspiring." 
Wu says she'd recommend alternative spring break to other Carnegie Mellon students to broaden their perspectives and explore communities beyond campus.
"What stands out to me from my two Pittsburgh Alternative Break experiences is how close all of the places and neighborhoods we've visited are to CMU's campus, yet so many students do not experience and learn about them," she said. "I understand that people are busy, but an experience like visiting Hazelwood and getting to hear perspectives of residents there felt really important to understanding my place as a student in this city."
Lloyd echoed Wu's sentiment, and hopes students who participated walk away with a stronger sense of connection and belonging to the city. 
"Programs like Pittsburgh Alternative Break are a way for students to think about their role as a member of the community beyond just being a student at Carnegie Mellon," Lloyd said. "I hope they leave with an understanding of the impact they can have while a student at Carnegie Mellon, and are motivated to continue learning, working and fighting for social change."