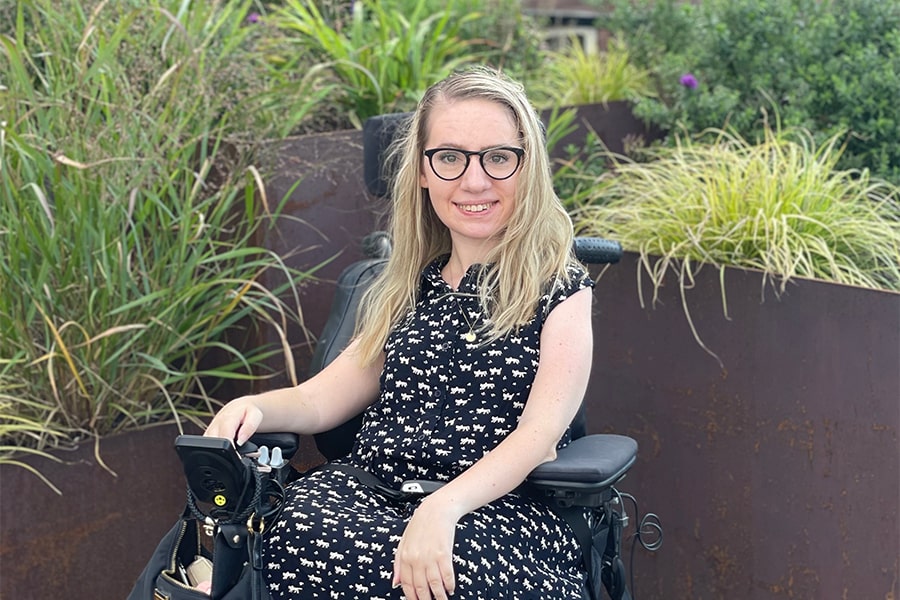 February 08, 2022
Flipping the Switch on a New Career
By Kelly Saavedra ksaavedra(through)cmu.edu
A temporary part-time position turned into a full-time career for Jessica Tomko at Carnegie Mellon University.
Tomko was already a fan of the campus community, thanks to members of her family who either went to school or worked at CMU. So, to put herself through graduate school, she applied for a part-time job at the university and landed a position in the admissions office of the Department of Electrical and Computer Engineering (ECE). Today, she is ECE's assistant director of Admissions and chair of its Diversity Committee.
"I am grateful for how lucky I was to end up with such a great team doing — and enjoying — something I never imagined," she said. "I was lucky to learn from experience that this work is a good fit for me."
Throughout her childhood, Tomko was always involved in a musical activity of some sort, whether it was a choir, musical theater, voice lessons, piano or flute.
"Music was my thing," she said. "It was only natural for me to want to pursue a career that involved my love of music. I discovered music therapy, and it seemed to combine my two passions of helping people and music."
Tomko received a bachelor's degree in music therapy from Duquesne University in 2012. A scarcity of jobs in the field persuaded her to pursue a master's degree in psychology, which she earned from Chatham University in 2016. She has been working at Carnegie Mellon since 2012.
"Initially, my goal was to become a counselor, but I learned along the way that there are other opportunities to help people without providing clinical therapy," she said.
"I'm a firm believer in treasuring the little things, and the small moments of happiness."
As assistant director of admissions, Tomko's primary responsibilities are managing the graduate admissions processes, acting as the main point of contact for prospective and admitted students, and enhancing the department's diversity programming and policies. She says the role requires flexibility, the ability to manage somewhat conflicting priorities, and good communication skills. Her education comes in handy, too.
"I use what I learned in my psychology graduate degree every day," she said. "Observing behavioral patterns, knowing how the human brain works both individually and on a group level, and having a baseline understanding of statistics are things that allow me to succeed in my job today."
Tomko is chair of the ECE's Diversity Committee and the College of Engineering's new Staff Inclusion working group. In these positions, she participates in recruiting events and information sessions for students who are underrepresented in the STEM (science, technology, engineering and mathematics) fields and at Carnegie Mellon.
She coordinates diversity announcements for the College of Engineering newsletter and diversity-related announcements or opportunities within the department. She also plans diversity-related events, attends training and professional development programs, and co-facilitates cultural awareness sessions for incoming students. Tomko was a 2021 Andy Award nominee in the Commitment to Diversity, Equity and Inclusion category.
"The Department of Electrical and Computer Engineering facilitates a scholarship for students to attend conferences, and we are now offering diversity awards for students who participate in diversity, equity and inclusion efforts," she said. "We are also in the process of creating a peer mentoring program and are working on ways to make better connections with the community."
Tomko serves on the Andy Warhol Museum Board of Directors and is actively involved in community efforts to promote diversity and inclusion through speaking engagements and planning committees.
Outside Carnegie Mellon, her diversity work focuses more on disability advocacy, as she is disabled and uses a wheelchair. Last fall, Tomko had an opinion piece published in the Pittsburgh Tribune Review on the lack of disability representation in the entertainment industry. 
The patience she affords others extends to several stray cats and kittens that live near her, whom she has managed to befriend after treats, toys and much persistence.
"I'm a firm believer in treasuring the little things and the small moments of happiness, and the process of managing to get the cats and kittens comfortable enough to play with me gave me much joy."