February 23, 2022
Personal Mention
Manuela Veloso, head of JPMorgan Chase AI Research and the Herbert A. Simon University Professor Emeritus in the School of Computer Science, was elected to the National Academy of Engineering for her contributions to machine learning and its applications in robotics and the financial services industry. The honor is among the highest professional distinctions bestowed on engineers. Veloso earned her Ph.D. in computer science from CMU, joined the university's Computer Science Department faculty, and was the head of the Machine Learning Department. She has consistently pursued research and teaching in artificial intelligence, robotics and machine learning, and has advised 45 CMU Ph.D. students. Veloso founded and leads an AI Research group at JPMorgan Chase, introducing a wide range of novel solutions to bring AI to the finance industry. She continues to keep a close connection with CMU, in particular with the newly inaugurated JP Morgan Chase AI Maker Space. Joining Veloso in the academy's latest class are Elon Musk of SpaceX, Satya Nadella of Microsoft and Telle Whitney of the Anita Borg Institute. A full list of the incoming class is available on the academy's website. Members of the new class will be formally inducted during the academy's annual meeting in October.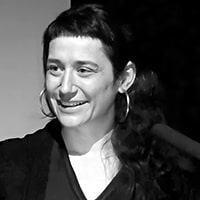 Elizabeth Chodos, director of the Miller Institute for Contemporary Art and assistant professor of art, has been named CMU's Public Art Curator. She has served in that capacity on an informal basis for several years. "Her skills in communication, research, negotiation and stewardship have already resulted in important enhancements to the aesthetic environment at CMU, most recently a major acquisition at the new university residence hall at Fifth and Clyde streets, soon to be installed," said CFA Dean Mary Ellen Poole. "Elizabeth sums up the importance of having art all around us: 'Public art elevates and enriches the campus experience and helps define the creative spirit that students and faculty share across all the colleges.'" Chodos joined CMU as director of the Miller ICA in 2017. A graduate of Sarah Lawrence College in Bronxville, New York, Chodos earned her bachelor's degree in art history and creative writing, and her dual master's degree in art history, theory and criticism, and arts administration. She started her career at Threewalls in Chicago, where she began as director of public programs and served as executive director and board member. In 2011, she co-founded Hand in Glove, which served as a gathering point by and for practitioners in the field of alternative art spaces, projects and organizations. She also co-founded and served as a board member for Common Field, a national alliance of, and advocacy group for, artist-centered visual arts platforms and their producers. Learn more about Chodos.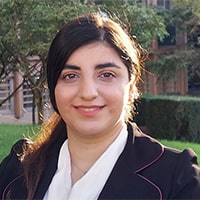 Kiana Naghibzadeh, a Ph.D. candidate in civil and environmental engineering, was awarded the Neil and Jo Bushnell Fellowship in Engineering. Naghibzadeh earned her bachelor's and master's degrees in mechanical engineering from Amirkabir University of Technology in Iran. Advised by Professor Kaushik Dayal, Naghibzadeh's research focuses on multi-scale mathematical and computational modeling of the growth and evolution of materials. "Receiving this fellowship endows me with additional motivation to continue my effort to expand the understanding of the multi-scale evolution of materials in various systems including electrochemical devices," Naghibzadeh said. "Moreover, I would like to thank my advisor, Professor Kaushik Dayal, for his invaluable support and consideration." The fellowship was created through the generosity of Neil and Jo Bushnell and was established to provide merit fellowships to graduate students pursuing doctoral degrees in nanotechnology or electronic materials in the College of Engineering.