February 23, 2022
News Briefs
Vending Machines Now Stocked with COVID-19 Tests and Masks
Four vending machines on campus are now stocked with at-home COVID-19 tests and KN95 masks. Using your CMU ID, students, faculty and staff can get one package of two masks and one package of two test kits each week (Saturday-Friday), as supplies last.
The machines are located:
in the Mellon Institute's 3rd floor mailroom;
in the Cohon University Center's Lee Lobby;
in the 140 corridor of Baker Hall; and
near room 103 in the Purnell Center.
Last week more than 800 test kits and over 1,300 masks were obtained through the machines.
Architecture Students Win Construction Bid Competition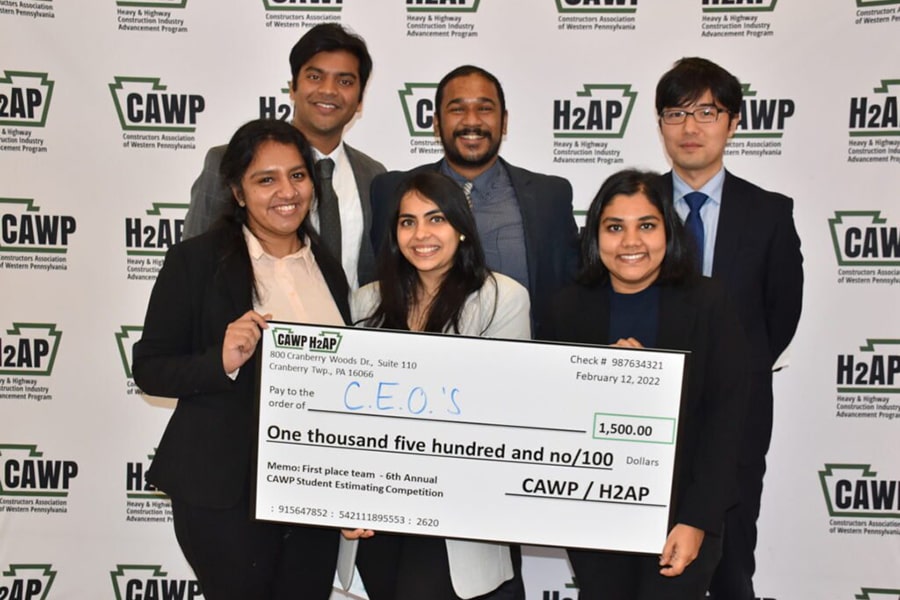 A team of students in the Master of Science in Architecture–Engineering–Construction Management (MSAECM) program won first place in the Constructors Association of Western Pennsylvania's (CAWP) 6th Annual CAWP Student Estimating Competition. The team, the first from CMU to win the competition, received a $1,500 prize and the opportunity to showcase their skills in front of a jury of seven contractors from across western Pennsylvania.
Team members are Rutuja Dhuru, Poornima Krishnan, Yu Sugimoto, Riti Talreja, Ryan Vaz and Johns Thomas Vellikara.
The estimation competition asks student teams to submit a formal bid and schedule for an actual project completed by one of CAWP's member contractors. The aim is to gauge students' abilities and their technical knowledge in real-world scenarios. Participating teams worked together over three days to prepare a formal proposal that was evaluated by a panel of seven judges, all of whom are specialist contractors from Pennsylvania.
This year's competition asked teams to prepare a bid for the demolition and reconstruction of a bridge previously tendered by the Pennsylvania Department of Transportation (PennDOT). Carnegie Mellon's team won for fielding a proposal that closely resembled the winning contractor's own bid. To prepare for the competition, the team trained for several months under the mentorship of Kevin Duris (PJ Dick - Trumbull - Lindy), Pingbo Tang (associate professor, Civil and Environmental Engineering) and Joshua D. Lee (assistant professor, School of Architecture).
Please Help Those in Need Through United Way
Carnegie Mellon has kicked off its 2022 United Way Campaign continuing its longstanding effort to support vital services and programs in Southwestern Pennsylvania. Our support is crucial as United Way responds to the needs of families and individuals most severely affected by the pandemic and its economic fallout.
This year's campaign runs through March 25, with many events and incentives planned to raise awareness and encourage participation. Visit the United Way Campaign website to donate by means of a one-time gift or through a continuing payroll deduction, or to learn more about upcoming events like the weekly virtual trivia challenge.
You also can donate by rewarding yourself with a sweet treat — purchase Sarris Candy via our campaign order form (if prompted, use Group ID 10-3964) or by joining an event or initiative hosted by your area's team captain. These volunteers serve as champions for United Way by hosting college- or division-specific fundraising activities.
On the website you will also find information on how to direct your donation, the impact even the smallest amount can make, and contact information should you have questions.
Remember the real goal is to ensure our region's most vulnerable residents have the support and resources they need. Every donation, no matter the amount, contributes to achieving that goal.
Tepper School Launches New Part-Time Accelerated MBA Program
The Tepper School of Business is expanding its Master of Business Administration (MBA) program this fall by adding a new two-year part-time MBA program. The Part-Time Accelerated MBA provides a path for individuals with an undergraduate business degree or similar coursework to accelerate their MBA program and reduce tuition in the process.
Students now have the ability to pursue an analytics-focused curriculum in an expedited part-time online format. Qualified individuals who have earned an undergraduate business degree or who have taken specific foundational business courses in the last seven years may transfer credits into the program. They will take refresher coursework in their first semester of the Part-Time Accelerated MBA program and will continue part-time, or they will have the option to convert to a full-time, in-person experience during their second year of coursework.
"In just two years, the Tepper School's Accelerated MBA program will prepare students to manage people, build networks of influence, and inspire others to solve the world's most complex problems," said Kelly Wilson, executive director of Masters Admissions."We're excited to offer this new option to advance the careers of next-generation business leaders in a quick and efficient format."
Learn more about the new program.
CMU-Alert Test Will Be Conducted Friday, Feb. 25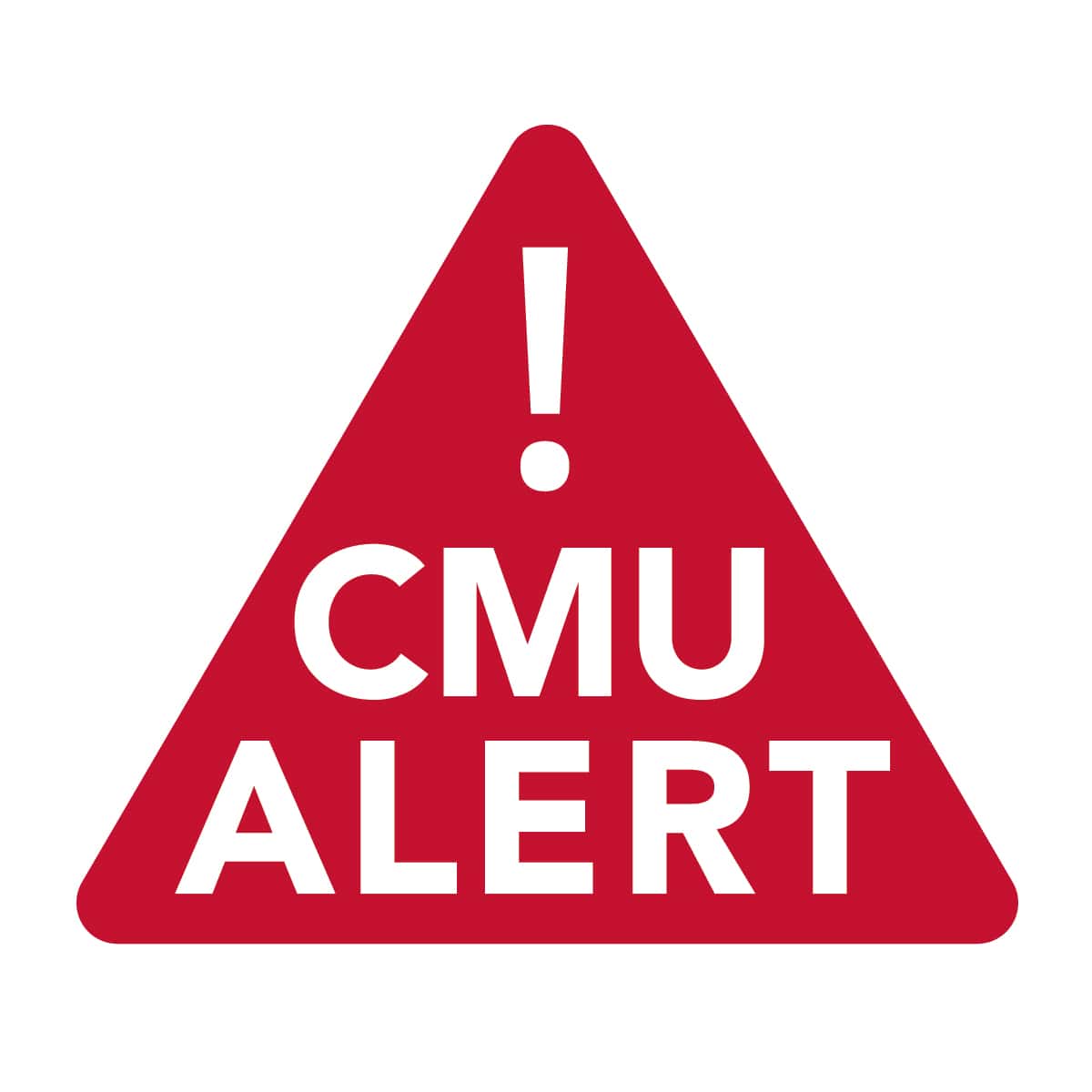 A test of the university's emergency notification service, CMU-Alert, will be conducted at 4 p.m. Friday, February 25. In the event of an emergency, CMU-Alert sends email, voice and text messages. The messages provide brief details about the nature of the emergency and direct people to www.cmu.edu/alert for more information, instructions and updates.
Students automatically receive CMU-Alert messages to their email and personal phone numbers listed in the Student Information Online (SIO) system. Faculty and staff automatically receive CMU-Alert messages to their email, office phone and personal phone numbers listed in Workday. Students, faculty and staff should make sure their contact information is accurate in SIO or Workday. Faculty and staff can use this guide to update information in Workday.
All contact information is treated confidentially. Community members will be contacted by the CMU-Alert system only if there is an incident or event that threatens public safety or during required periodical tests during the year. The tests are conducted to demonstrate and validate the functionality and reliability of this critical communications service.
Tartans4Israel to Host High-Tech Conference, Feb. 24-27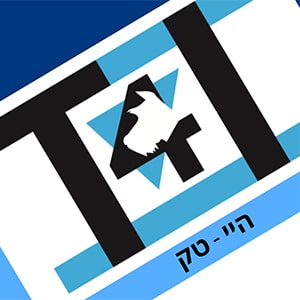 Tartans4Israel, an Israeli cultural and professional organization at CMU, will be hosting a hybrid business conference February 24-27 featuring Israeli technology and innovation. Israeli CEOs and business leaders will share their experiences within the high-tech industries, such as FinTech, CleanTech, MedTech and PropTech, and local business leaders around Pittsburgh will share the indelible impact that Israeli innovation has made to their businesses and industries. This conference, co-hosted by the Hillel JUC, the Tepper School and Jewish National Fund, will be held in the Tepper School with virtual viewing as an option. 
The aims of the conference are for Carnegie Mellon students to learn about different high-tech industries, to gain tangible business skills and the opportunity to network with entrepreneurs, and to develop an understanding of how Israel plays a powerful role in these industries. The conference will provide students the opportunity to attend panels that are developed based on industry and intellectual connection, to network and build relationships with influential business leaders, and to participate in a case competition/makathon to exercise and develop marketable skills.   
Find out more about the conference.
Provost Continues Office Hours for Spring 2022
Provost Jim Garrett continues to host office hours for students, faculty and staff this spring. Office hours vary to accommodate the variety in our community members' schedules and will be held at the dates and times below:
Wednesday, March 2 from 10:30 - 12 a.m.;
Wednesday, April 6 from 2:30 - 4 p.m.; and
Wednesday, May 4 from 10 - 11:30 a.m.
Appointments will be made in person on a first-come, first-served basis. All office hours will be held in CCR East in Warner Hall, unless otherwise noted.
Who's New at CMU?
Carnegie Mellon welcomes the following new staff members this week.
Laura Kearns, Group Exercise Fitness Instructor, Campus Engagement;
Anna Fuller, Product Management (Executive) In-Residence Program, Tepper School of Business Masters Program;
Brent Clausner, DevOps Engineer, SEI Ssd Continuous Deployment of Capability;
Kevin Baun, Senior Cybersecurity Engineer, SEI Cybersecurity Assurance;
Mariah Kenney, Data Curator and Metadata Librarian, Pittsburgh Supercomputing Center;
Roberto De Jesus, Assistant Cybersecurity  Engineer, SEI Workforce Development;
Sean Huff, Cybersecurity Engineer, SEI Mod/sim and Exercise;
Alaa Moosa, Research Assistant, Qatar Miscellaneous Awards;
Alison Huettner, COVID Test Coordinator, Enterprise Risk Management Services;
Mohamad Wali Osmani, Research Assistant, Seed Research (Qatar);
Joelen Pastva,  Director of Library Services, University Libraries; and
Nick Lockwood, DevOps Engineer, University Libraries.