February 16, 2022
Personal Mention
Senior biological sciences major Kristin Donegan advanced to the semifinals of the Jeopardy! National College Championship last Tuesday by defeating contestants from Duke and Yale universities. Donegan is now one of 12 semifinalists playing for the $250,000 grand prize. She will try to advance to the next round at 8 p.m. tomorrow, Friday, Feb. 18, when she faces off against students from Northeastern University and the University of Minnesota. The game show airs on ABC and streams on Hulu. "It's been really great to see this outpouring of support from everyone watching me," said Donegan, who attended the campus watch party on Tuesday. "Going into the tournament, I decided I would be satisfied as long as I won my first game, so I'm so happy that I was able to make that happen. I'm incredibly excited. I can't say much, but Friday is going to have some crazy matches!" Learn more about Donegan and her lifelong dream of competing on Jeopardy!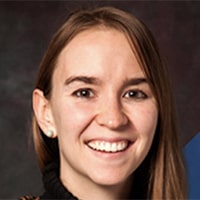 Amanda Lee Coston, a Ph.D. student in machine learning and public policy, has been awarded a Meta Ph.D. Research Fellowship to support her research, which investigates how to make decision-making systems more reliable and more equitable. A central focus of her research is identifying when algorithms, data used for policymaking, and human decisions disproportionately impact marginalized groups. The fellowship program offers full coverage of students' tuition and university fees for up to two academic years, as well as a $42,000 stipend. Fellows are also invited to attend the annual Meta Ph.D. Fellowship Summit, where they'll have the opportunity to present their own research, discover more about the impact of current research at Meta, and build connections with Meta researchers and fellow award winners. This year, 37 fellows were selected from over 2,300 applications from over 100 universities worldwide. Learn more about Coston and the fellowship.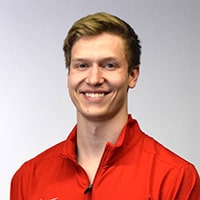 Senior Justin Britton won both backstroke events for the second time in his career and set five school records at the University Athletic Association Swimming and Diving Championships at Emory University in Atlanta this past weekend. Britton won the 200-yard backstroke in a school-record time of 1:46.78 and won the 100-yard backstroke in :48.20. Britton topped his other school record in the 50-yard freestyle in :20.43 and was part of three relays that set school records — the 200-yard freestyle (second place), the 200-yard medley relay (second place) and the 400-yard freestyle relay (third place). Britton is an information systems major from Falls Church, Virginia. Learn more about Britton and the Tartans.