August 24, 2022
Personal Mention
Chemistry Professor Bruce Armitage, a member of the CMU faculty for 25 years, has been named head of the Department of Chemistry. A respected and innovative researcher and teacher, Armitage's research lies at the interface of organic chemistry, biological sciences and materials sciences to create new applications for molecular recognition, which allows molecules to bind one another with high affinity and selectivity. In particular, Armitage and his research group develop synthetic nucleic acid molecules called peptide nucleic acids to recognize and interact with DNA and RNA. This research has important implications for understanding and manipulating biological processes and could lead to improved diagnosis and treatment of genetic and infectious diseases. Armitage's research accomplishments are matched by his impact in the classroom. He has received the William and Frances Ryan Award for Meritorious Teaching, CMU's highest teaching award, and the Mellon College of Science's Julius Ashkin Teaching Award. He has supervised 31 graduate students, seven postdoctoral associates and more than 60 undergraduate researchers. Learn more about Armitage.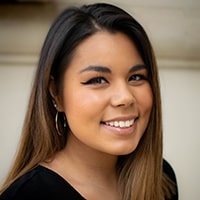 Britney Mae Yauger-Limtham, who earned her master's degree in vocal performance at CMU's School of Music, has joined the College of Fine Arts as program coordinator for Diversity, Equity and Inclusion (DEI). She previously worked with the Center for Creativity at the University of Pittsburgh and was a research assistant for CMU Associate Professor of Musicology Alexa Woloshyn. At her undergraduate alma mater, she was the Cultural Engagement Executive on the Student Activities Board and a mentor within the Multicultural Student programs. Her work as an artist and musician has focused on centering subaltern stories, traditions and methodologies in the performance and transmission of vocal music. "Already on a path of anti-colonial, anti-racist and queer-affirming work, Britney brings a complex and intentionally thoughtful positionality to the work of diversity, equity and inclusion," said Valeria J. Martinez, CFA assistant dean for DEI. Yauger-Limtham said she is looking forward to beginning her role within CFA and affecting change at CMU. "I love Carnegie Mellon University because it is full of tireless innovators who are committed to creativity, to excellence, to hard work, and to making a difference in this world," she said. "I hope to work with everyone to ensure that every student at CMU is seen, supported, and equipped to realize their world-changing potential."
Joanna Dickert, assistant dean of Educational Experience Assessment, received a 2022 dissertation award from the American Educational Research Association's (AERA) Advanced Studies of National Databases Special Interest Group. Her dissertation was titled "An Examination of the Effects of Participation in High-Impact Practices Using Propensity Score Analysis with Structural Equation Modeling." The award recognizes dissertations that "make outstanding contributions to educational and/or social science research using national databases" and included recognition at the AERA annual meeting last spring. In her role at CMU, Dickert is responsible for the leadership and oversight of division-wide assessment efforts in Student Affairs while serving as a link to related work with the Core Competencies Initiative and the general education program in Dietrich College. She earned her Ph.D. from the Department of Research, Measurement and Statistics at Kent State University.