April 04, 2022
Spring Carnival Returns in Full Swing
By Bruce Gerson bgerson(through)cmu.edu
Andrew Carnegie must be smiling from above. For the first time since 2019, Carnegie Mellon's Spring Carnival, the most celebrated university tradition, returns this week in person and in full capacity, April 7-10.
Senior Asad Sheikh, this year's Spring Carnival chair, says it's time for students to find out what it's all about.
"I hope people finally get an answer to the question, 'What is carnival?' said Sheikh, who enjoyed his first and last full carnival experience as a freshman in 2019. "I've heard that question so many times this year. I hope once students see it and experience it, they'll be able to see why everyone talks about what a great time it is."
Sheikh, a statistics, machine learning and human-computer interaction major, got involved with Spring Carnival as a freshman. He said he was amazed by the scale of the event and how instrumental of a role students played, particularly the Spring Carnival Committee.
"That drove me to stay involved," said Sheikh, who helped lead smaller virtual and hybrid versions of Spring Carnival the last two years. "This year, I want to help recreate some of that magic and experience for everyone. Spring Carnival is three days of fun, games and exciting entertainment and a chance to celebrate what makes CMU, CMU."
Sheikh and his executive committee of 18 have worked with the Sweepstakes Committee, Activities Board, the Alumni Association and other student groups to ensure the campus community enjoys a robust schedule of events and activities. This year's theme is "Ad Astra" — Latin for "to the stars."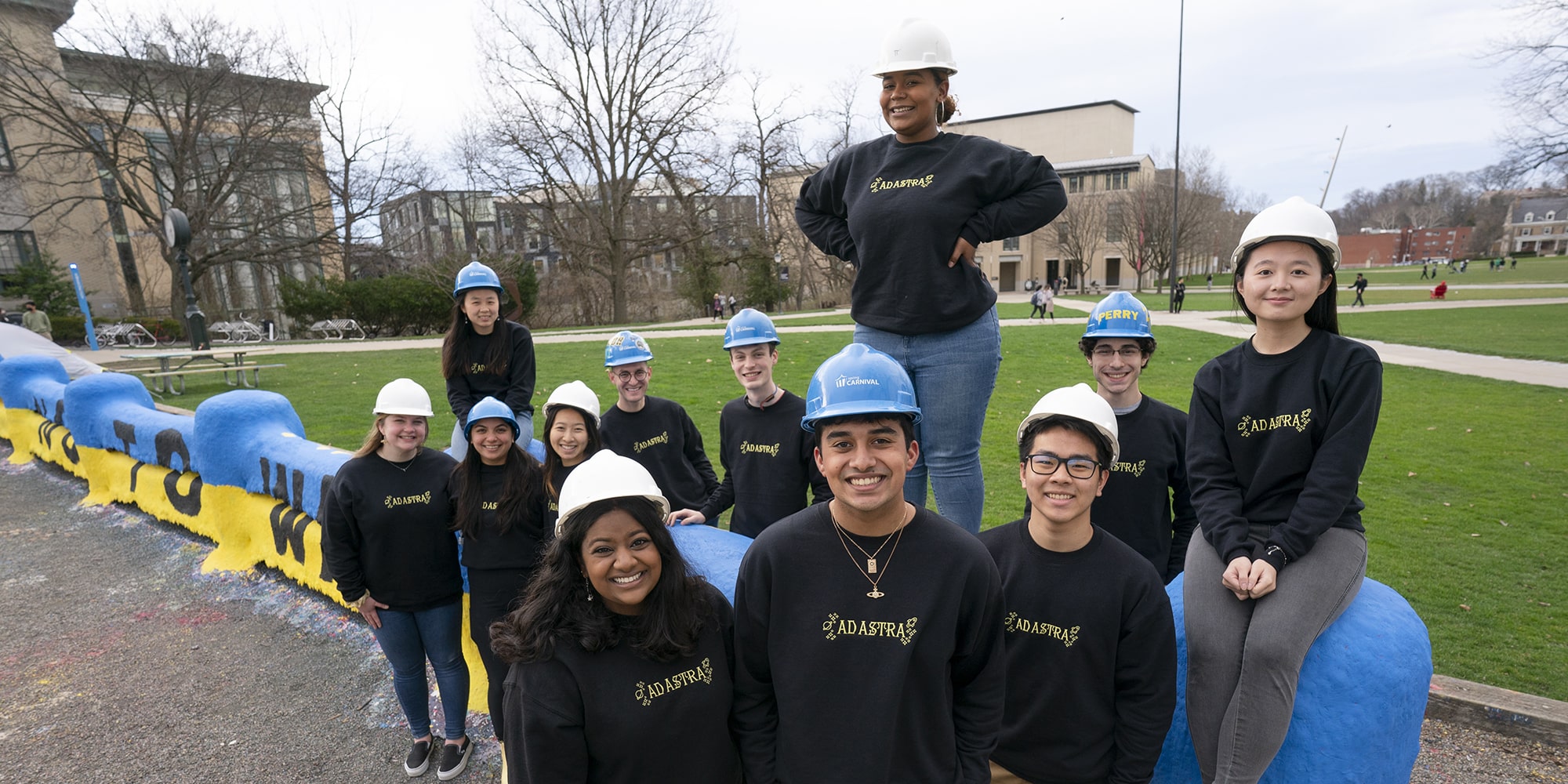 The Spring Carnival Executive Committee: Back Row (l-r): Tianxin Xu, Andrew Greenwald, Alex Strasser, Samara McCallum, Perry Naseck and Sophia Huang;  Middle Row (l-r): Rebecca Stevens, Carly Sacco and Michelle Zhang; and Front Row (l-r): Leela Jay, Asad Sheikh and Nathan Pan.
"We really liked the idea of exploring space and all things celestial," Sheikh said of the theme. "And we liked how it tied in with the theme from the last three years — Myths and Legends, Planet Earth and Adventure Awaits." 
Advisor Andrew Greenwald, a coordinator for the Office of Student Leadership, Involvement and Civic Engagement, said Sheikh and the Spring Carnival Committee have done an excellent job. Registration for Spring Carnival is at an all-time high with more than 4,000 students, alumni, faculty and staff registered.  
"Asad has been a tremendous leader this year for Spring Carnival Committee, putting in countless hours of work to build back the institutional knowledge that has been lost during the pandemic. He has effortlessly worked to prepare for the first in-person Spring Carnival in three years, leading his peers to plan this event that most of them have never even seen before," Greenwald said. "Asad has gone above and beyond to ensure that the CMU community will be able to enjoy a fantastic weekend that everyone has missed so much."
The traditional Spring Carnival favorites are the Booth, Sweepstakes and Mobot (mobile robot) competitions. This year's live musical guests are MAX and Noah Kahan, and the comedy show presents Janelle James, who stars in the ABC sitcom "Abbott Elementary." The class reunions are for undergraduate classes ending in 1s, 2s, 6s and 7s, as well as the classes of 1970 and 2020.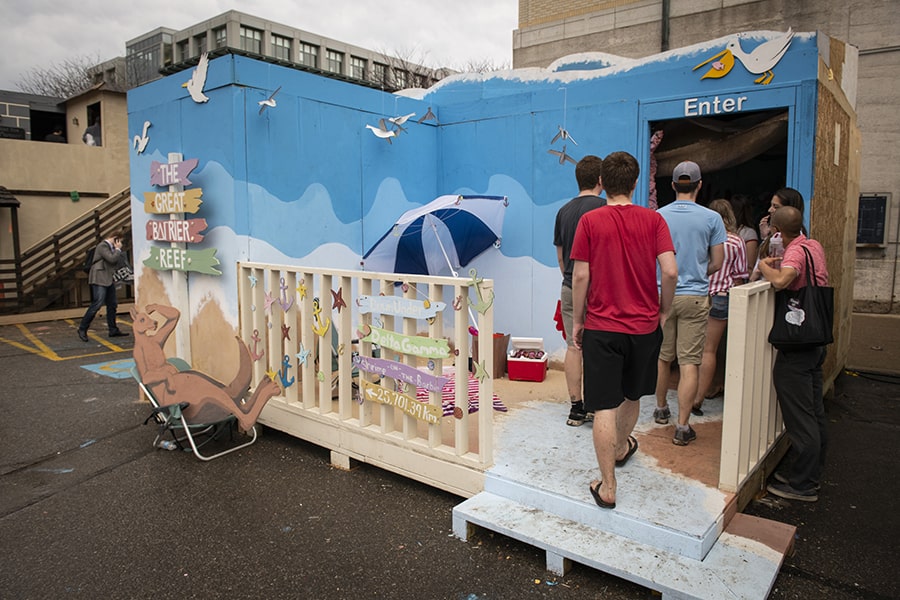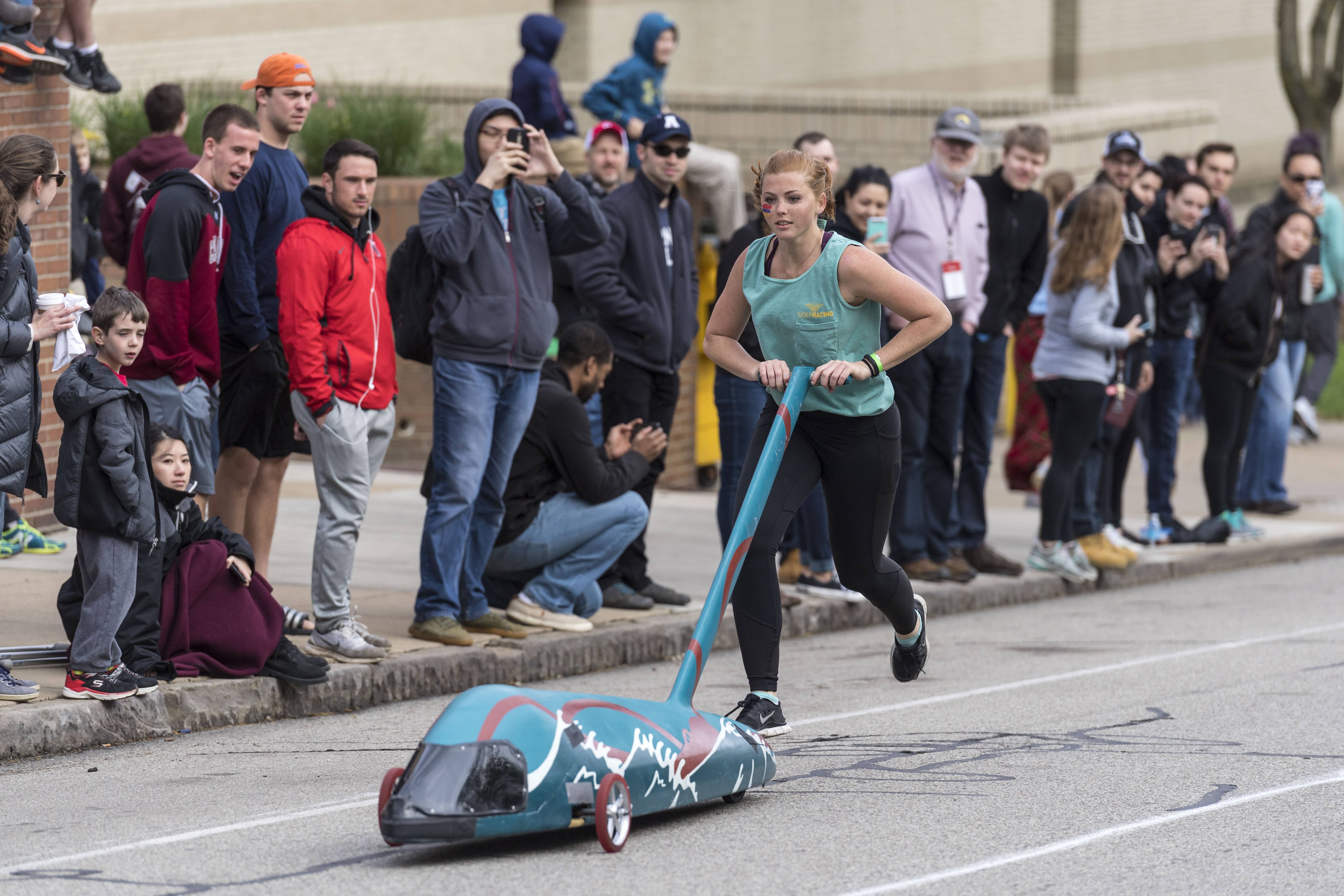 The Sweepstakes Races, a.k.a. Buggy, celebrates 100+ years this spring. The buggy races, which started in 1920 as the Inter-Fraternity Push Mobile Races, have become legendary to the CMU experience and synonymous with Spring Carnival. Since the first Campus Week, when "chariots" were built to race around campus, student groups have been working year-round, using their engineering and design skills, to build, modify and refine an aerodynamic, torpedo-like vessel they call a "buggy." 
The buggies are pushed by a team of five pushers and steered by drivers often less than 5 feet, 3 inches tall, who lay prone, strapped inside the three-wheeled carbon fiber tube. The buggy is pushed up Hills 1 and 2 of Tech Street, roll freely — up to nearly 40 miles per hour— down and around Schenley Drive to the hard, right-hand turn on Frew Street, known as the "chute." From there, they are pushed up Hills 3, 4, and 5 to complete the 0.84-mile, or 4,418-feet course. The winner is determined by the fastest time across the finish line.
Ten teams and more than 35 buggies will be rolling this year and several special activities have been planned to celebrate 100+ years of the tradition. Faculty from the Mellon College of Science and College of Engineering, and several housefellows are planning to participate in an exhibition race. Alumni from Phi Kappa Theta's first Sweepstakes win 50 years ago will be attending to celebrate their golden anniversary. Their championship buggy from that year, "Streak," will be on display.  A Buggy100+ group photo will be taken on Hill 1 after the races Saturday morning.
"I'm so excited to see Race Day come back," said Sweepstakes Chair Frank Li, a senior business administration and mathematical sciences major. "Race Day is the pinnacle of the school year. The crowd brings so much energy and the teams work so hard. Great stories are made at Race Day."
Li thanked the Buggy Alumni Association for their "extremely helpful and enthusiastic support in planning activities, giving guidance and promoting Buggy across the CMU community."
The Midway has games, food, rides and entertainment.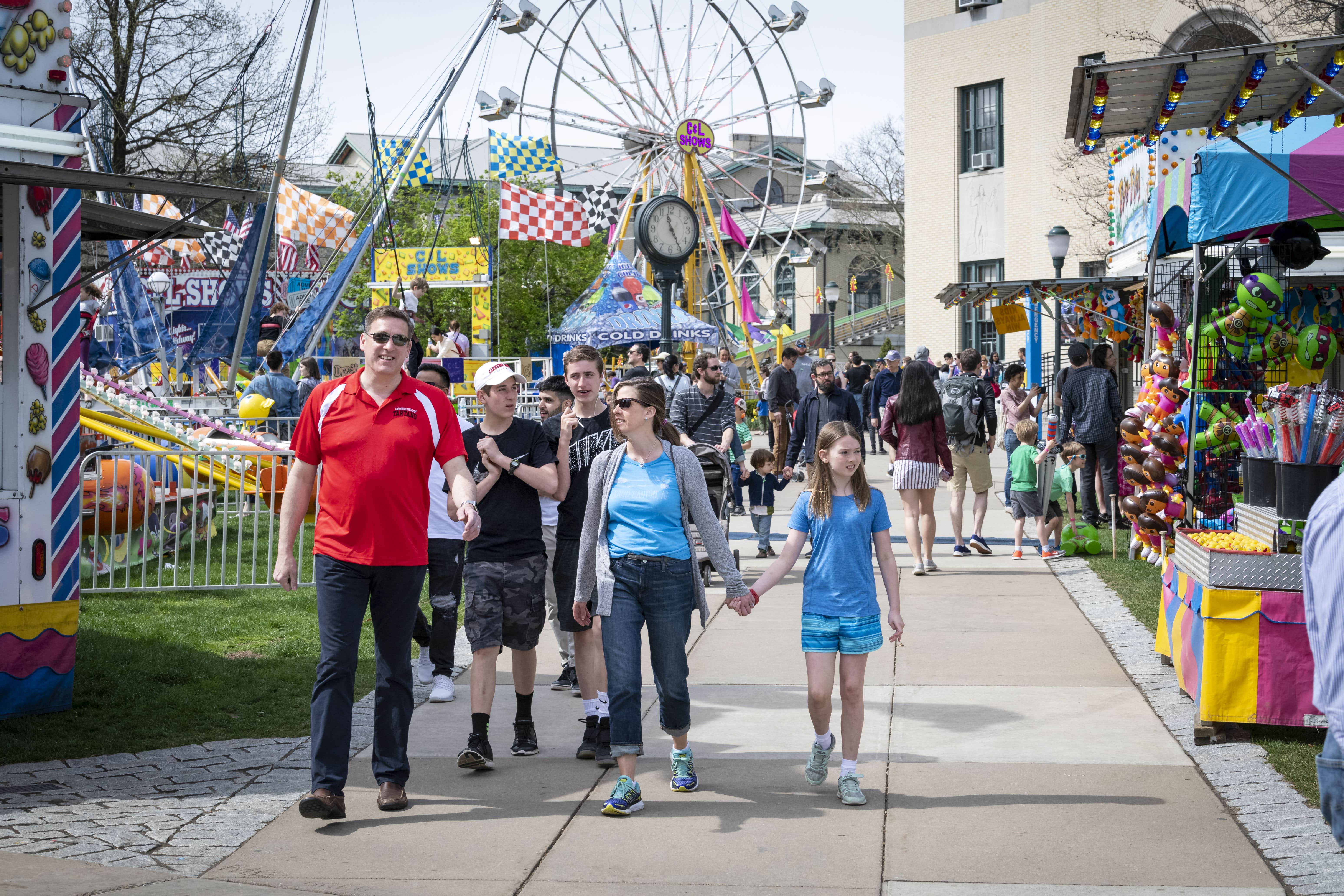 The Mobot Races will be at noon, Friday, in front of Wean Hall.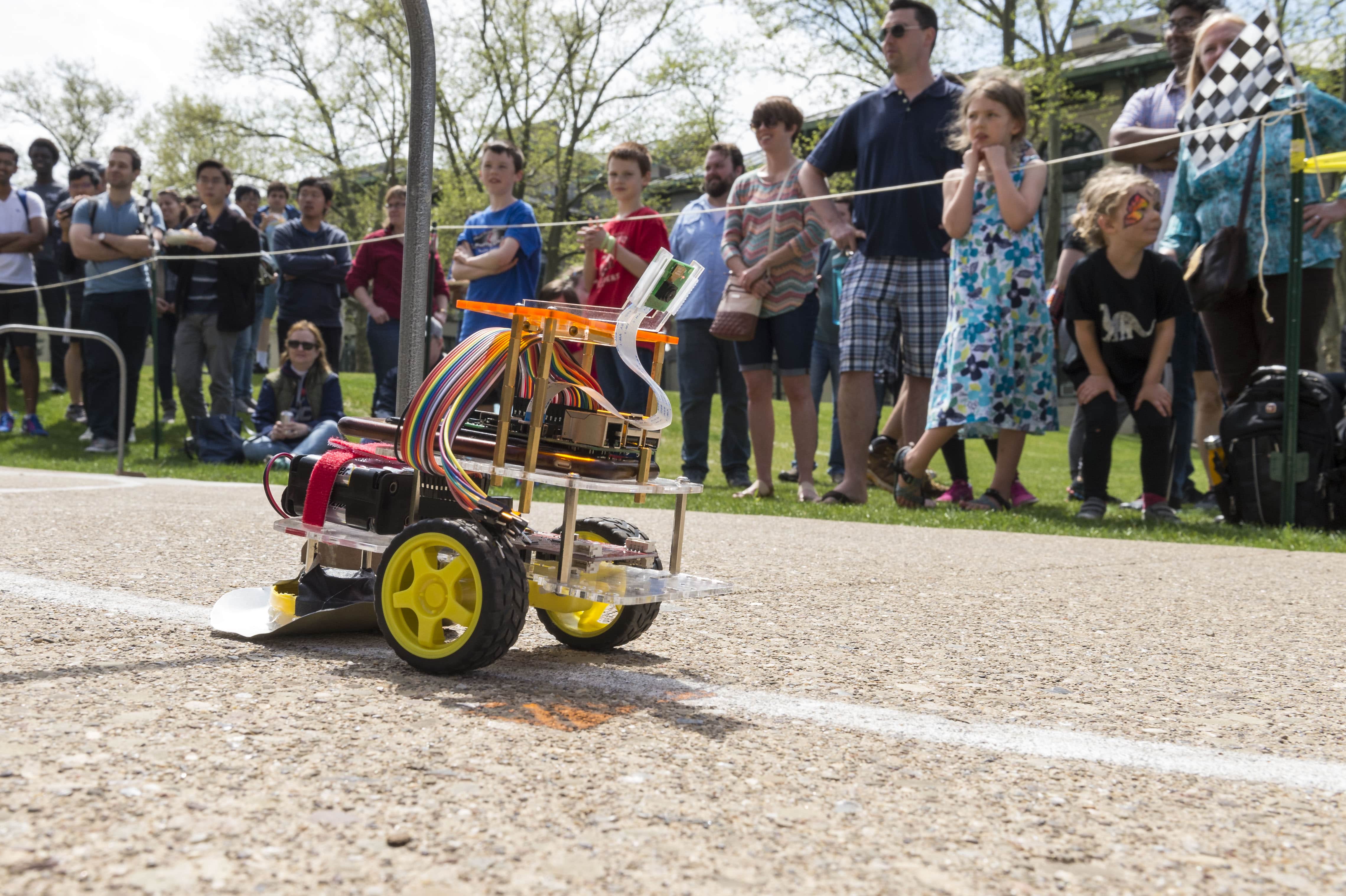 Another Spring Carnival icon is Booth, elaborate small-house-like structures beautifully built by student organizations. Each of the 18 booths this year follow the Spring Carnival theme — Ad Astra.  Several sorority, fraternities and independent student groups are participating. Sorority booths include "Zodiac Signs" by Alpha Phi, "Yellow Submarine" by Kappa Kappa Gamma and "Space Buddies" by Delta Delta Delta.  Fraternity booths include "Space Invaders" by Alpha Epsilon Pi, "The Martian" by Phi Delta Theta and "Super Mario Galaxy" by Delta Tau Delta.
Booths by independent student groups include "NASA" by Alpha Phi Omega, "Percy Jackson & Olympians" by Fringe, and "Black Panther" by Spirit.
Six doghouse booths are back after a successful debut last year. Sheikh said the smaller doghouse booths give all student groups the opportunity to participate.
"Booth is the most creative and unique part of carnival," he said. "It's always exciting to see how it changes from year to year. I'm very excited to see how the booths turn out this year.
"I'm also super excited to see the return of Sweepstakes for Buggy 100+," Sheikh said. "There's a lot of energy and excitement around Buggy."
Spring Carnival officially begins at 3 p.m., April 7 with the Midway Opening Ceremony.  See the full schedule, and/or download the CMU Events App.