September 01, 2021
We're Back!
Faculty and students applaud return to in-person education
By Kelly Saavedra ksaavedra(through)cmu.edu
Students and faculty are rejoicing across campus over Carnegie Mellon University's return to fully in-person instruction for the fall semester. From creative writers, musicians and actors to physicists, engineers and experts in cybersecurity, the consensus is this: nothing beats in-person education.

"I'm thrilled to be having the students back in Pittsburgh," said Sharon Dilworth, associate professor in the Department of English in Dietrich College. "Creative writing courses are discussion-based, and I missed the connections the students make in these classes.
"I miss the friendships, the conversation and the exploration of ideas that just isn't possible on Zoom. I even miss the green peppers and sushi they bring to class at 9 a.m., their enormous cups of coffee and their cold pizza!" Dilworth added. "Campus was so empty last year. It felt dull, and CMU isn't."
Alessandro Acquisti, the Trustees Professor of Information Technology and Public Policy in the Heinz College, echoed the sentiment that in-person instruction fosters connections in ways that Zoom cannot.

"What I missed most was the seamless interaction with students in the classroom," Acquisti said. "Zoom was great as a fallback option — for a while. But, even in this age of information technology, nothing in my view beats the richness of engaging in classroom discussions with students."
"Nothing beats the richness of engaging in classroom discussions with students."
— Alessandro Acquisti
Newly minted Tartan Ambassador Anna Moskaleva, a junior majoring in mathematics with a minor in physics, can barely contain her excitement about the months ahead.

"I've missed being able to meet my professors and fellow students! Being back in-person is going to let all of us be a tight knit community again!" she said.

One thing Moskaleva is particularly looking forward to is the opportunity to finally realize her potential as a teaching assistant.

"I really love being a teaching assistant, but the past year I've only been able to hold recitations over Zoom," she said. "Now that we're back, I'm so excited to see my students and to get to know them!"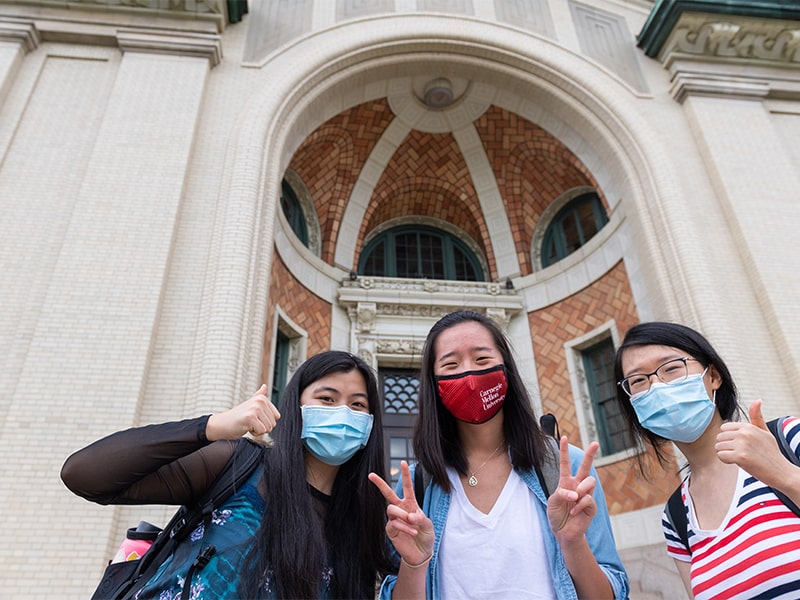 David Anderson, associate teaching professor of physics, has been impressed with how well his colleagues and students like Moskaleva adapted to the online environment. But after the past 18 months, Anderson is more convinced than ever of the value of an in-person education.

"Most of the effective teaching I do in the lab is during informal conversations with groups while they are working. Actually being there on the spot, able to help out exactly when I'm needed, makes teaching so much more efficient and effective," he said. "And students learn a lot from each other when they're able to work closely together designing and carrying out an experiment."

In Anderson's view, it's this peer-to-peer learning that was missing, or at least less effective, online. In his Physics 1 class, for example, a large lecture course he teaches for engineering students, he typically runs evening "course centers," where students can drop in to get help with a concept or problem, or just sit together and work on their homework.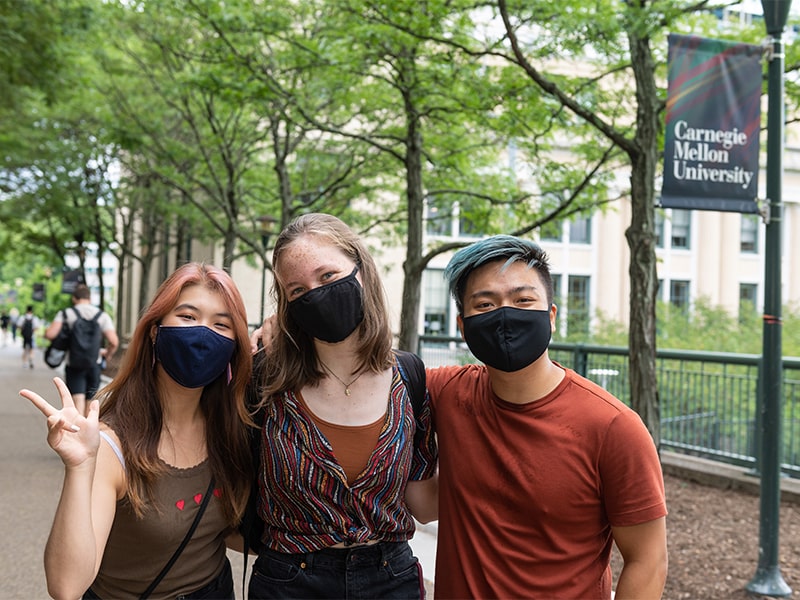 "These course centers are so vibrant! Every time I visit, there are small groups of students working together to untangle some homework problem, or one student enthusiastically helping another with some concept from lecture," Anderson said. "I think this dynamic was very difficult to recreate online."

Anderson is known for catching students by surprise with his physical demonstrations of scientific concepts, such as when he levitates a magnet to demonstrate the Meissner effect, or when he nearly falls off a spinning stool holding two dumbbells to show what is meant by conservation of angular momentum. He's looking forward to doing physical demonstrations in lecture again.

"Videos are never quite as engaging," he said. "And before we were forced online, I never realized how much I relied on nonverbal signals to assess student comprehension. Teaching over Zoom, especially to a large class, made it harder to assess how lectures are going."

Across campus in the College of Fine Arts, the challenges were even more complex. Riccardo Schulz, a teaching professor in the School of Music, had to teach sound recording without a recording studio.
"Hearing live music in the halls of CFA will be all that much more precious to me."
— Riccardo Schulz
"The last year and a half has been both frustrating and humbling," Schulz said. "Now, teaching in person and hearing live music in the recording studio, the concert hall and the halls of CFA will be all that much more precious to me as we return to in-person teaching and concerts. There's nothing like the energy of in-person interaction with the students — that's what I missed the most!"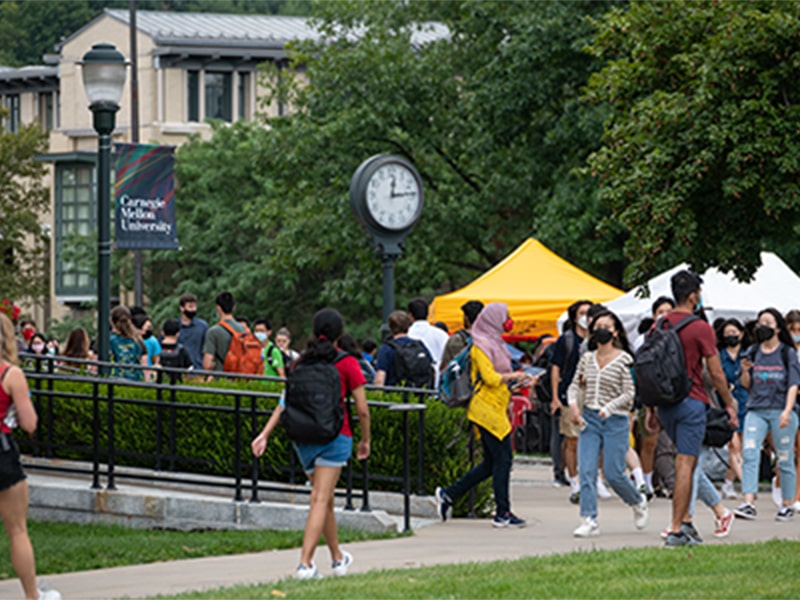 Acting students are getting their long-awaited return to group work on the stage. But, according to Don Wadsworth, professor of voice and speech in the School of Drama, mask requirements will still present a challenge.

"While Zoom certainly had its advantages — no masks, for instance — doing group work was nearly impossible. The microphones were just awful, and getting actors to use full voice in their work was downright hazardous. The many electronic issues were incredibly frustrating and hard to overcome. The promise of working in a 3D environment will be terrific, especially for the world we are in.

"On the other hand, the looming issues of working in masks present very, very difficult issues for a speech teacher like myself, who will be trying to decipher whether a young actor is pronouncing 'rider' or 'writer' in a scene."

But Wadsworth is well-equipped for the challenge, particularly since being part of The Chair, a Netflix production filmed in Pittsburgh and now streaming online. He said the protocols for that company were stringent.

"I am quite prepared to transition what we learned on the set of The Chair to my classroom in the Purnell Center," he said. "It's the incredibly unclear future of the next few months that threatens our success in assisting the young artists in our program as they develop foundational practices for their art."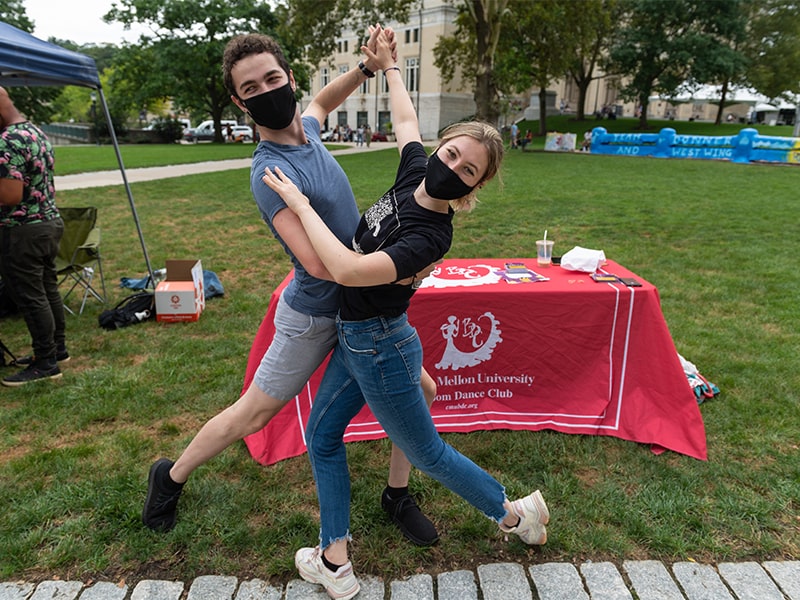 Speaking of returning to group work onstage, Daria VanAllman, a senior majoring in civil engineering, is looking forward to student activities being in-person this year so she can perform again with the university's Scotch'n'Soda Theatre group as well as the Ballroom Dance Club.

"Online learning was great, but there is nothing quite like walking through campus and meeting up with friends!" she said. "Scotch'n'Soda and the Ballroom Dance Club were able to adapt to being online, but they are just so much better in person. I'm looking forward to being able to compete with the Ballroom Competition Team and being part of Scotch n' Soda's first in-person show in over a year!"

Sara Fisher, a senior majoring in chemical engineering, thinks everyone is facing some degree of Zoom fatigue at this point.

"When you're in-person, it's so much easier to get outside of your social bubble and to meet new people in your classes. There's also increased visibility to all the cool things happening on campus!" she said.

"I remember that energy on campus when clubs are tabling and everyone's racing to classes," she added. "Being in-person really adds to the feeling of being a part of a community for me."