September 13, 2021
Schultz's Latest CD Climbs the Classical Charts
By Dan Fernandez fernandez(through)cmu.edu
Stephen Schultz has performed on 70 commercial CDs in his lifetime, but none have ever made it to #8 on the Billboard Classical charts … until now.
Schultz, a teaching professor of music history at the Carnegie Mellon University School of Music, played baroque flute on his new album, "Concerts Royaux." It features four suites of the beautifully ornate music of François Couperin that was written and performed for 18th century royalty — none other than the "Sun King" Louis XIV of France.
The Baroque Era of music, roughly from the years 1600 to 1750, is known for many musical developments, including physical advances in building better instruments and greatly increased harmonic complexity. Among the most luminary European composers of the Baroque Era are Antonio Vivaldi, George Friedrich Handel, and of course, Johann Sebastian Bach.
Schultz, a specialist of the Baroque Era who is director of the Carnegie Mellon Baroque Ensemble — he teaches a music history class on the Beatles as well — also recorded Bach's "Sonatas for Flute and Harpsichord" in 2018, which he considers "the Mt. Everest of flute music." After recording the German master's sonatas, Schultz began working on his next project, the lesser-known Baroque works from neighboring France.
"I love French Baroque music — but everyone told me that it doesn't sell," he said.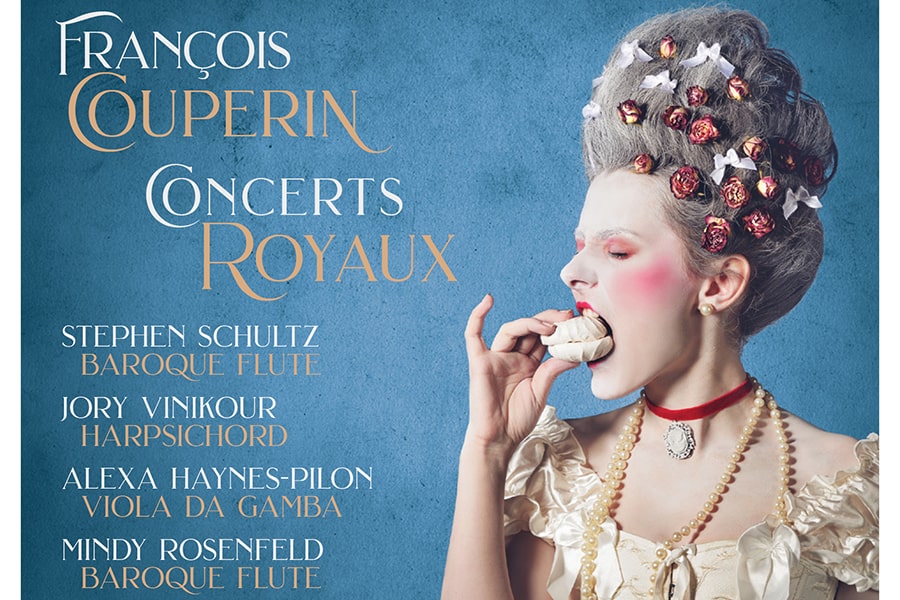 Schultz's latest album has received critical acclaim.
Schultz worked to raise the funds needed to get the project off the ground and partnered with Jack Vad, an expert recording engineer who had worked extensively with major talents of the classical music industry. Schultz brought on board fine musicians to participate, including Jory Vinikour, an internationally known harpsichordist, Alexa Haynes-Pilon on viola da gamba (a six-stringed instrument vaguely similar to a cello) and Mindy Rosenfeld on the second flute parts. 
The ensemble traveled to Skywalker Sound at the famous Skywalker Ranch in Marin County, California, to record Couperin's "Concerts Royaux." They finished on March 4, 2020 — just days before the global COVID-19 pandemic brought the country to a halt. 
"It shocked my record label, and it's disproved that French Baroque is not a seller."
The finished album is filled with the delicate lines and musical "ornaments" that Couperin, unusually, spelled out in full. Known as "the French Bach," Couperin was a master of the originally German practices of counterpoint and fugue, with two or more musical lines playing together in a complex interweaving that is both distinct and part of a seamless whole. 
One of the things that makes this recording special is the degree to which Schultz and the musicians had to make artistic decisions as fundamental as which instruments should play which musical parts on each movement of the "Concerts." Later composers would dictate these orchestrations in detail, but Schultz was able to look at each section and select which parts would sound best on which instruments.
"The Musette in the Third Concert is a perfect vehicle for the flute. It's like it was written for the flute, even though it wasn't specified as such," he said.
Needless to say, Schultz was pleased by the popular and critical acclaim the album has received. "Top notch" and "outstanding," says "Audiophile Audition." "All About the Arts" said the album has "peerless performances by Schultz, Vinikour, Haynes-Pilon and Rosenfeld that emphasize elegance, lightness, and flawless technique … impeccably produced and engineered."
"It shocked my record label, and it's disproved that French Baroque is not a seller," Schultz said.  
The new recording is available on Amazon, Music and Arts and can be also be found on streaming services.