September 21, 2021
Donut Dash a Sweet Treat for Charity
By Bruce Gerson bgerson(through)cmu.edu
Running two miles and eating a half dozen donuts at the halfway mark doesn't sound like a good combination, but it's been a philanthropic recipe for success.
Donut Dash, founded in 2009 by the brothers of Sigma Alpha Epsilon fraternity, has raised more than a million dollars for charities, including over $500,000 for Live Like Lou, a nonprofit that benefits ALS research and patient care in Western Pennsylvania. This year's event on Saturday, October 9, will once again benefit the Mario Lemieux Foundation and its Austin's Playrooms for patients and siblings in Pittsburgh area hospitals.
Donut Dash has raised nearly $200,000 for the Lemieux Foundation from events in 2018 and 2019, with a goal of $500,000 by 2023. The event was cancelled in 2020 due to COVID-19.
Brian Woolley, a junior majoring in chemical engineering and biomedical engineering, is this year's Donut Dash chair.
"This has advanced beyond a Greek life event," Woolley said. "We're expanding our advertising and outreach off campus to try to attract more participants from the local communities. We've rebranded it as the Pittsburgh Donut Dash and there's a big push to grow the event. We're hoping to get more than 1,000 people this year."
To attract a larger crowd and involve more family participation, Woolley said the event has added a one-mile run for kids, called the Munchkin Mile.
"The kids can eat donuts or donut holes if they want, but it's not required," Woolley said. "It's just for fun."
The competitive race is a different story. Runners are required to complete the first mile, eat six donuts and then run the second mile. Winning times have been under 13 minutes.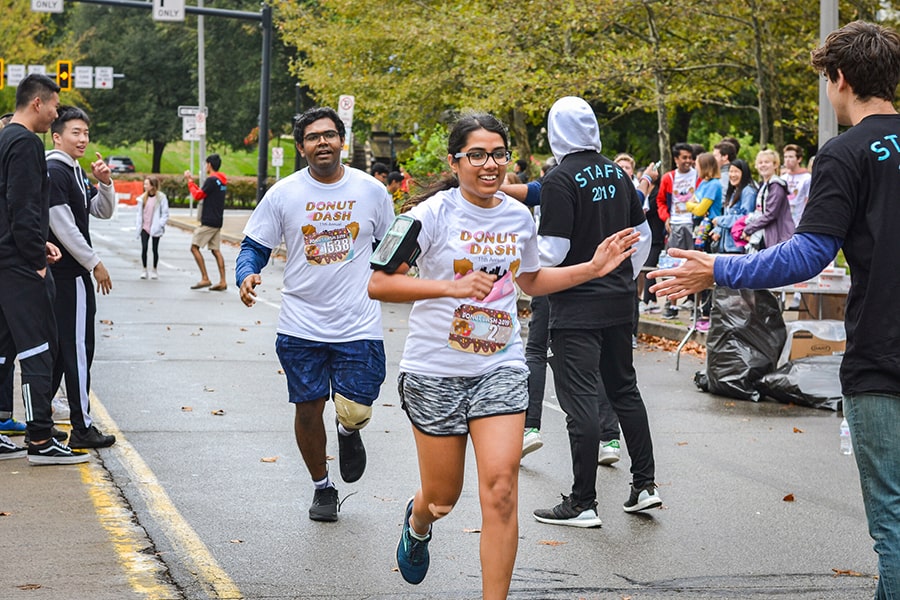 More than 1,200 runners competed in the 2019 Donut Dash.
"There have been some very impressive times turned in by Donut Dash athletes," Woolley said.
The event also includes a casual run/walk that's been a big hit. Woolley said about 80% of registrants take the less competitive approach around the one-mile course, which starts and ends at Schenley Plaza in Oakland and loops around Phipps Conservatory and Botanical Gardens.
COVID-19 restrictions will be in place this year. The competitive division will be separated into heats to adhere to physical distancing protocols and everyone not racing must wear a mask.
"The number of heats will be determined based on the number of entries in the competitive division," Woolley said. "We're asking for an exemption so racers will not have to wear masks, but all staff and volunteers working the event will be required to mask up."
Also new this year will be the First Bite segment prior to the 10 a.m. start. Carnegie Mellon President Farnam Jahanian, Provost Jim Garrett, Vice President for Student Affairs and Dean of Students Gina Casalegno and several deans are expected to attend.
"Like the ceremonial first pitch at a baseball game, CMU administrators will take the first bite to officially start this year's Donut Dash," Woolley said.
Registration for the event is $20 and includes a t-shirt, string bag and all the Dunkin' donuts and Eat 'n' Park Smiley Cookies you can eat. Online registration ends Saturday, October 2, but donations will be accepted at the event as well.