November 10, 2021
Lackner Built a Winning Football Family at Carnegie Mellon
He coaches his last regular-season game Saturday after 36 years at the helm
By Bruce Gerson bgerson(through)cmu.edu
Rich Lackner is the most successful head coach in Carnegie Mellon football history, but his legacy goes far beyond wins and championships. His story focuses more on the character of the student-athletes he recruited, the players he helped to develop, the men they've become and the football family he created.  
Over his 36 years at the helm, Lackner, who was an inaugural inductee into CMU's Hall of Fame, has built and nurtured a program characterized by its close-knit family culture, a strong, active network of hundreds of football alumni and a moral compass of the highest integrity. Not to mention his 233 wins, 12 conference championships and seven Coach-of-the-Year awards, of course.
"I call our football program the Tartan Football Family," said Lackner, who at 29 years old in 1986 became the youngest head football coach in the NCAA. He succeeded Chuck Klausing after seven years as an assistant and four seasons as a standout CMU linebacker.
"Whether you graduated in 1979 [he did] or 2019, our players have a strong bond with CMU football," said Lackner, who earned a bachelor's degree in history. "Seeing these young men graduate, become leaders in their professional fields, and wonderful fathers and husbands involved in their communities is so much more gratifying than any one win or any one season."
Lackner works hard to stay in touch with his football family of former players, many of whom have benefited professionally from their CMU ties and now help current players secure internships or full-time job opportunities after graduating.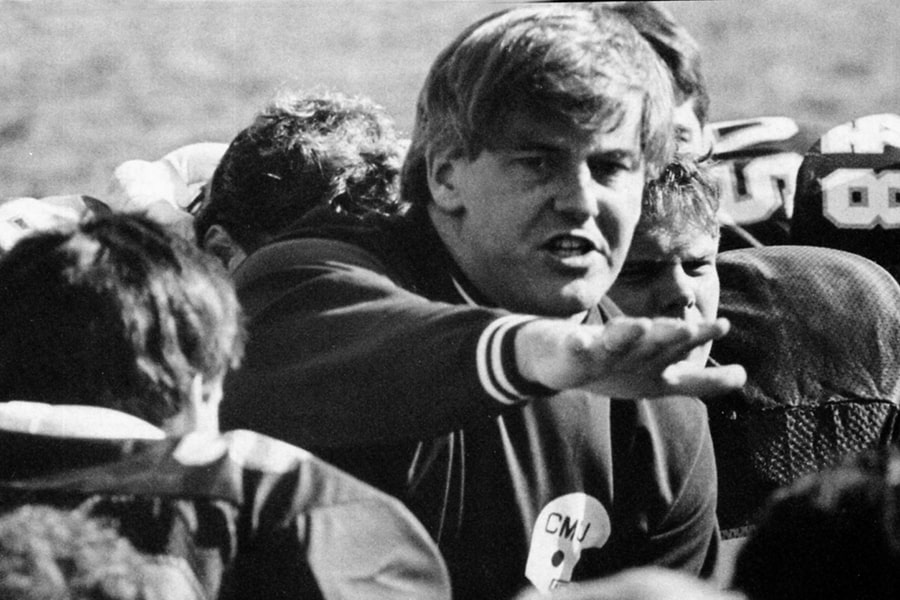 At 29, Lackner became the youngest head football coach in the NCAA.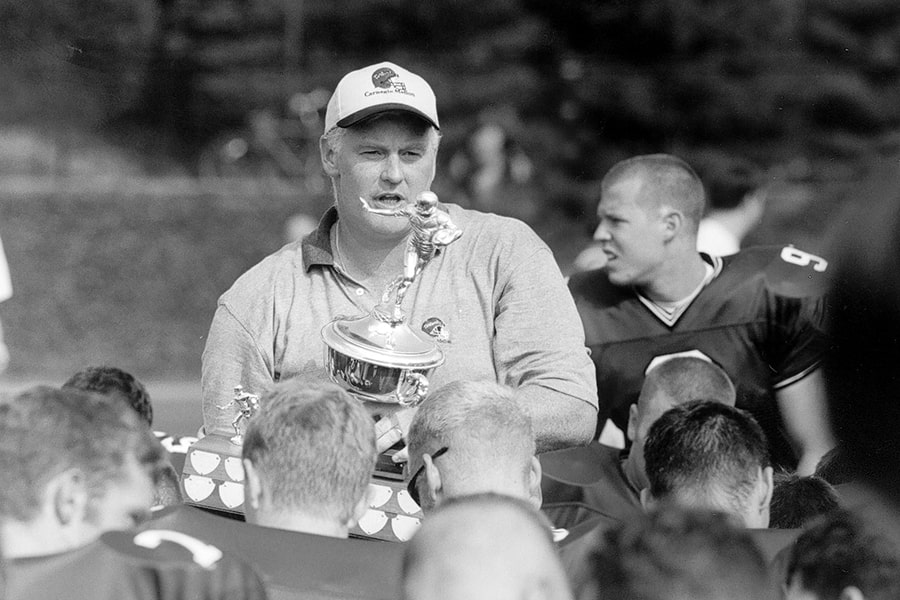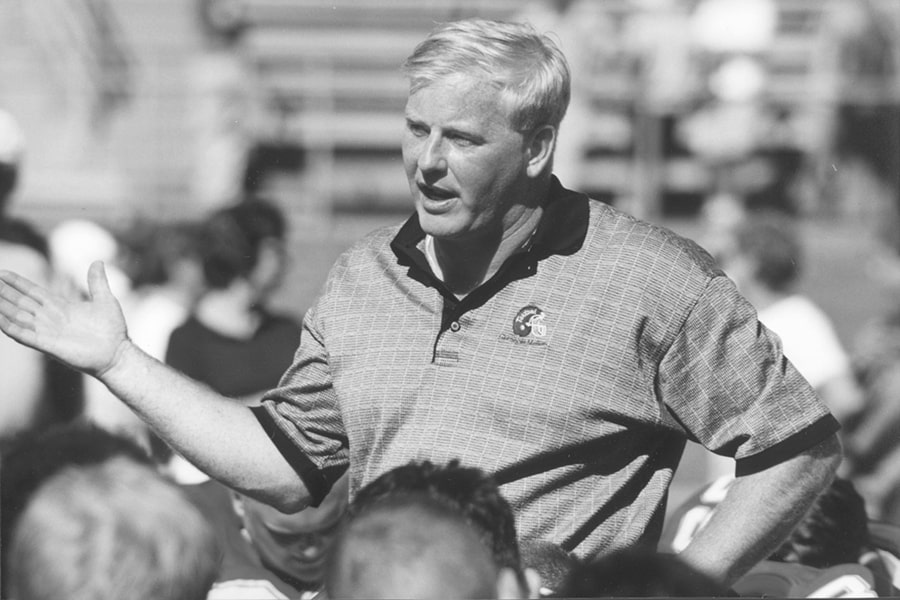 "I consider them all family. I want to know if they are having problems. I want them to know that I'm always here for them if they are ever in need of something," he said.
Josh Centor, associate vice president of Student Affairs and director of Athletics, Physical Education and Recreation, has seen first-hand Lackner's impact on the program.
"He is a role model to his students, to his peers and to anyone who knows him." — Josh Centor
"Rich epitomizes that Carnegie Mellon spirit — there isn't anything he wouldn't do to support a student or fellow Tartan," said Centor, who has worked with Lackner for the past 14 years. "He cares so deeply about us all, and about this place.
"Every skill he teaches is transferrable to our students' lives in the professional world. Rich has taught me so much during the time we have worked together — he has influenced me in all aspects of my own life. He is a role model to his students, to his peers and to anyone who knows him."
Father Figure 
This Saturday, Lackner will be coaching his final regular-season game for the Tartans after announcing his retirement last August. It's Senior Day and CMU hosts longtime rival Case Western Reserve University in the 35th annual Academic Bowl. Co-captain Sean Knight is one of 23 seniors who will be recognized in a pre-game ceremony. 
"It has been an absolute pleasure playing for Coach Lackner over the past four years," said Knight, a civil and environmental engineering major from New Canaan, Connecticut. "Through all the ups and downs, he has always been that steady backbone of the program that keeps us players focused on the task at hand, which has nothing to do with winning or losing, but rather giving our best effort and trying to do the right thing all the time." 
Knight, who will be working for the engineering consulting firm Kimley-Horn after graduating in May, said Lackner is a father figure to many of his teammates.
"He is someone who is always in your corner and will have your back, but also someone who will be honest with you and teach you those tough life lessons that are so important to learn. His sound moral values have had an influence on many of us. Honesty, integrity, hard work, respect and kindness are just a few of the values that Coach has instilled in us," Knight said.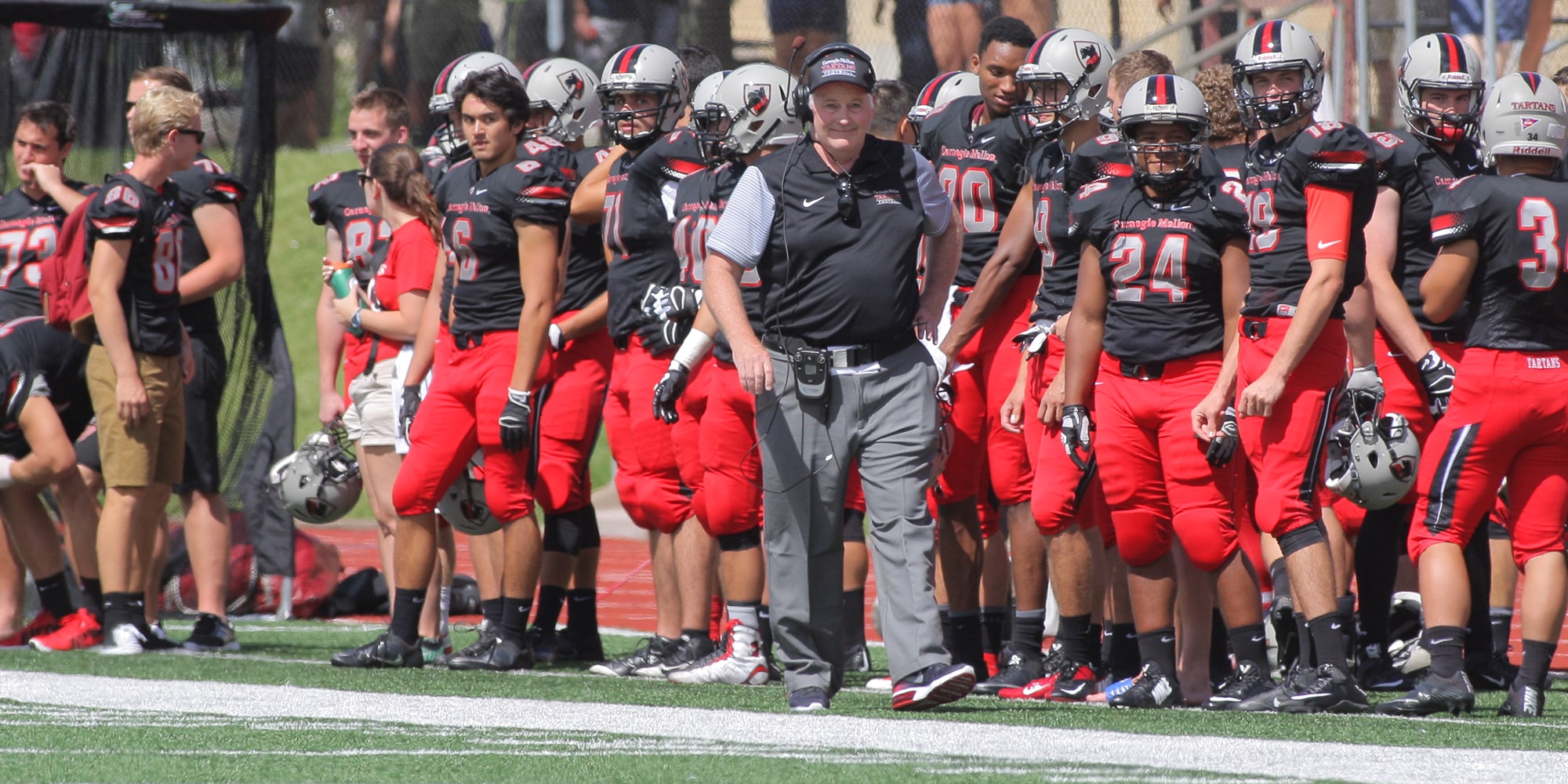 Lackner paces the sidelines.
More than 400 in the Tartan Football Family will be returning this Saturday to celebrate Lackner at a pre-game tailgate party and recognition ceremony. University leadership will pay tribute to Lackner and former players have been asked to wear their football jerseys for the on-field ceremony and group photo before kickoff.
"Honesty, integrity, hard work, respect and kindness are just a few of the values that Coach has instilled in us." — Sean Knight
Andy Helms will be there in a dual role as a former player under Lackner and current coach with him. The CMU associate head coach and offensive coordinator was an All-America safety and co-captain for the Tartans who graduated in 1993. His seven interceptions in his senior year is tied for the school record for most interceptions in a single season. 
As a player, Helms said Lackner was "authentic" and "easy to relate to." He recalls the 30-something-year-old head coach lifting weights with the team. As a Tartans' assistant coach for eight years, he appreciates the confidence and freedom Lackner affords his staff. 
"He's great to coach with. He lets us coach and do our job. He doesn't overstep, but when he does make a suggestion, it's usually … objectively … a good thing," he said.
When Helms joined the CMU staff in 2014, Lackner graciously offered him a place to stay while his family remained in Ohio for his daughter's senior year in high school. Today, Lackner picks him up on his way to work each morning.
"I can't remember when I laughed more," Helms said of the nine months he lived with the head coach. "He took me in like his own kid. He's been a friend and a mentor, personally and professionally. He's taken my kids to school. He's become part of my family.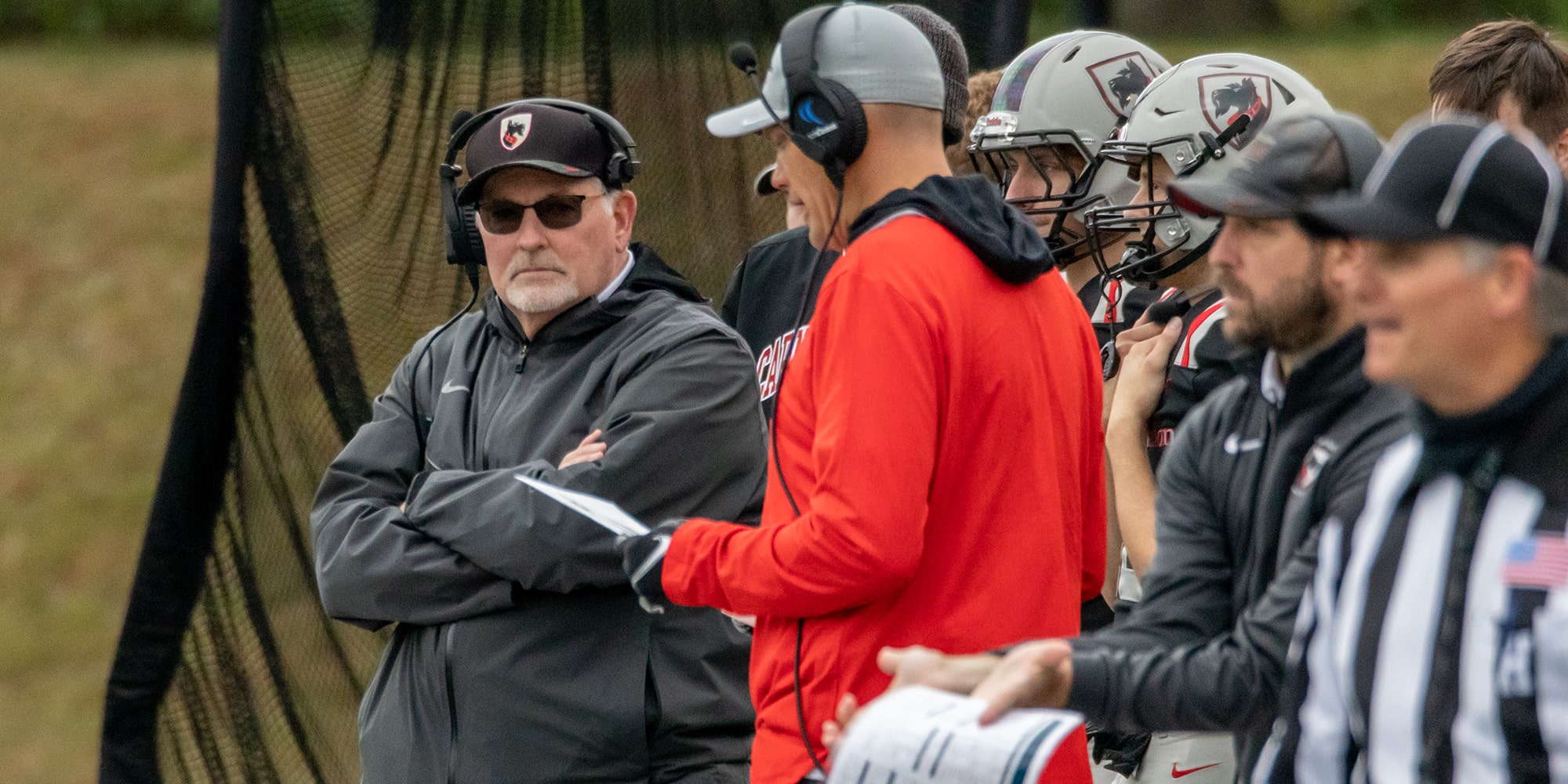 Lackner watches assistant coach Jeff Simmons call the play.

"I can't repay him for the things he's done for me, and that's how he wants it. He gives gifts that are not meant to be repaid. That's the lesson I learned from him — don't pay back the gifts, but pay it forward," Helms said.
"That's the lesson I learned from him — don't pay back the gifts, but pay it forward." — Andy Helms
Scott Barnyak, an All-America running back and two-time conference MVP, is planning to attend Saturday's game and pre-game festivities. The shifty Barnyak led all NCAA divisions in scoring (138 points) in 1990 to lead the Tartans to an undefeated 10-0 mark and a trip to the NCAA playoffs. When asked about Lackner, he spoke about the man rather than the coach.
"He cares about you as a player but most importantly as a person," said Barnyak, a 1991 graduate who will be inducted into CMU's Hall of Fame next year. "He gets to know you and your family. Still to this day, he asks how my wife, Patti, and my parents are when we talk. I hear this time and time again from current and former players across all years."
The Tartan Football Family also includes former coaches, most notably longtime offensive and defensive coordinators, Rich Erdelyi and Terry Bodnar, who spent a combined 62 years with Lackner. Both expressed tremendous admiration for what he has accomplished and for providing the tools they needed to succeed.
"In my humble opinion, they will never be able to replace Richie," Bodnar said. "He bleeds plaid and has done everything to honor and protect this university. Someone will follow him as the next football coach, but nobody can replace him."
Erdelyi said Lackner gave 47 years — 36 as head coach, seven as an assistant and four as a player — to a great university that he loves dearly. He praised his ability to build and maintain relationships with football alumni and help many to launch great careers.
"You can't put a price or a phrase on what he has done," Erdelyi said.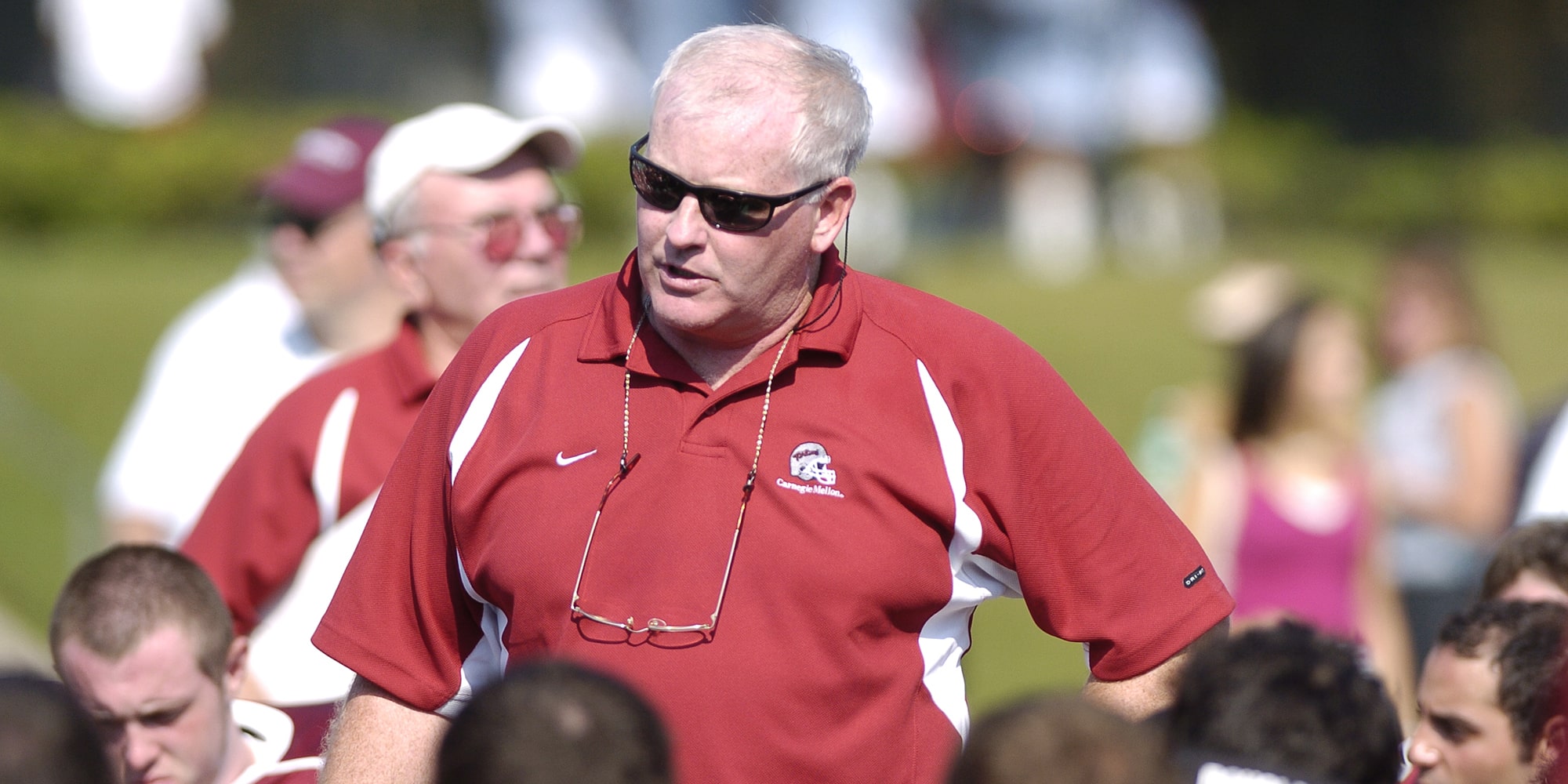 Lackner has been with the Tartans for 47 years, four as a player, seven as an assistant coach and 36 as head coach.
The 4th Quarter 
As Lackner prepares the Tartans for their final regular-season game Saturday, his pre-game talk to his team won't be a "win one for the Gipper" speech. He prefers to stick to the script.
"My pre-game will be the same as it always is," he said. "It's not about me, it's about playing Case Western Reserve and giving those seniors an opportunity to win that last game and the Academic Bowl.
"I tell my team every year: It's not about me, it's not about you, it's all about us. It won't be about me that day. It will be about getting ready to play a great football game."
Walking off the field after the game will be emotional for Lackner. But, with a 7-2 record and a shot at the playoffs, he hopes the season won't be over just yet. A victory Saturday will give the Tartans the Presidents' Athletic Conference Championship and an automatic berth in the NCAA Division III Playoffs.
"Hopefully after the game, I'm talking to the team about the following week and having the opportunity to continue what's been a great season so far," he said.
"I tell my team every year: It's not about me, it's not about you, it's all about us." — Rich Lackner
Once the season is over, Lackner is looking forward to traveling with his wife, Mary — a trip to Italy may be on the schedule — and spending more time with his three grandchildren who are active in youth sports.
"I would love to be involved in my grandkids' activities. I would love to help out coaching," he said. 
Once a coach, always a coach.
Campus Celebration
The Department of Athletics is hosting a campus-wide celebration for Rich Lackner at 4:30 p.m., Wednesday, December 8 in the Tepper School's Simmons Auditorium. Please RSVP if you'd like to attend.