March 15, 2021
Mesco Finds It All in the Archives
University Libraries' Ann Marie Mesco is building upon a 23-year career in the Digitization Lab
Ann Marie Mesco taught herself hypertext markup language in the 1990s while managing a culinary school's library. Ever since coding that first website, she has built a career around guiding libraries into a digital future.
As the digitization project manager, Mesco, a 2001 graduate of the Dietrich College, oversees the conversion of vast educational resources and intellectual assets into electronic items, all cataloged to be easily retrieved.
"The University Libraries is currently working to transform digital collections and reimagine how users will interact with them, whether it is alumni searching for photos or digital humanities researchers doing text and data mining. We are also working to expand the digital collections to encompass new formats, including photographs, video, audio and oral histories that have not previously been accessible online," Mesco said.
Her team at the Digitization Lab — located in a university warehouse at 6555 Penn Avenue — adapted to new demands when COVID-19 ushered in shutdowns and limited access to buildings and facilities. Mesco's team answered urgent requests to scan instructional materials as faculty transitioned to teaching online. The lab also focused on developing Virtual Reserves, a course digitization project in conjunction with Access Services.
"Our work has undergone a swift reinvention due to the pandemic and its unprecedented impact on our daily activities, requiring us to reprioritize and pivot to a new set of projects that expand on our core suite of services," Mesco said. 
Needs increased for Controlled Digital Lending (CDL), which allows the university's print collection to be made digital for the global CMU community while remaining compliant with copyright laws. Mesco's team shifted from scanning chapters and journal articles before the pandemic to making entire books available for online learning.
Mesco also supports innovation and outreach. In collaboration with University Libraries and CMU's Entertainment Technology Center, she is currently working on a photogrammetry project to develop an object-scanning service and teach students about the technology.
Other projects she enjoys are digitizing images for promoting the "600 Years in the Shadow of the Dome" exhibit, CMU's Athletics Hall of Fame and "Nuts, Bolts, & Wheels: 100 Years of Buggy" online book. She has worked on archiving projects in Pittsburgh, such as the Andrew Carnegie Online Archives and the Pittsburgh Jewish Newspaper Project.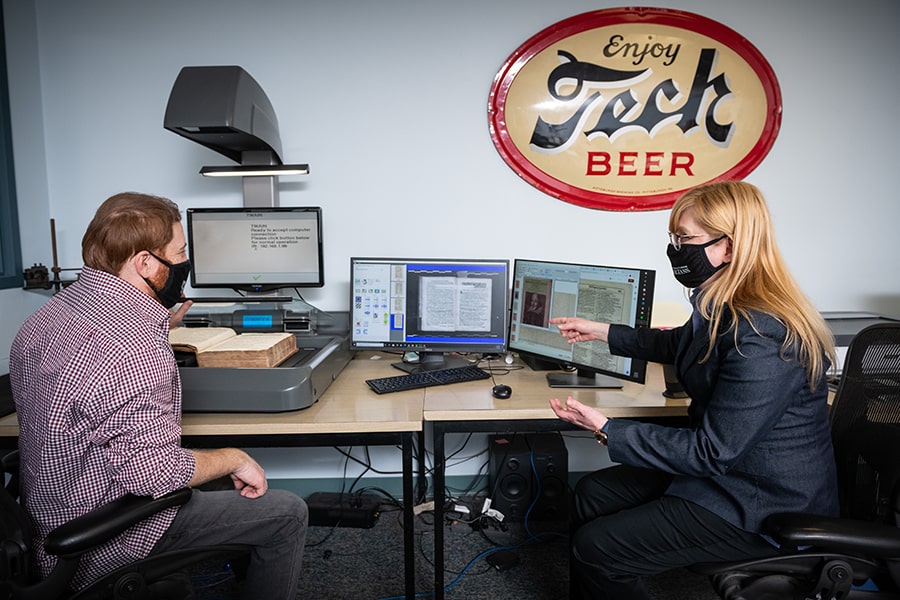 Digitization Projects Manager Ann Marie Mesco works with her brother, Digitization Technician Joe Mesco, to digitize Shakespeare's third (1664) and fourth (1685) folios from the University Libraries' Special Collections.
University Libraries' Brian Mathews, principal librarian, describes Mesco as user-centered and innovative.
"She becomes invested in the work, whether we are scanning a rare 400-year-old manuscript or CMU bond reports from the 1990s. She puts a lot of care into each project," Mathews said.
With at-home work increasing, Mesco undertook a data cleanup project helping to migrate the university's digital archive of records, newspapers, yearbooks and other documents to a new content management system. Her technicians created taxonomies for digitized items, a process of creating controlled vocabularies and subject headings. The project included 81,809 confirmed links, 420 new vocabulary items and more than 200 added photos. The team cleaned up 12,560 metadata fields to make assets easier to find.
"In short, they are enhancing the discoverability of CMU content," Mathews said.
Mesco joined CMU in 1997, three years after the lab started as the Senator H. John Heinz III Archives. She and the Digitization Lab team, which includes her brother Joe as a scanner operator, share a drive for excellence.
"Ann Marie is able to bring people together in a cohesive working unit, while creating a positive and uplifting work environment. Since she has been here for 23 years, she has the ability to draw from the past but look to the future, which is key in today's work environment," Joe Mesco said. 
Mesco earned an associate's degree in business management from Community College of Allegheny County, a bachelor's degree in history and policy from Carnegie Mellon, and a master's degree in library and information science from the University of Pittsburgh. In 2017, she completed the University of Maryland's certification program in the curation and management of digital assets. She is active in Code4Lib, an organization for technologies in libraries, archives and museums.
"Looking ahead to the next 25 years, the pioneering spirit of the Digitization Lab remains intact," Mesco said. 
Since building her first website, Mesco has applied a passion for lifelong learning to wrangle ever-changing technologies and address unexpected challenges. Thanks to her efforts, innovation and service-mindedness are coded into the culture of the Digitization Lab so that patrons appreciate the university's archives for generations to come.