June 24, 2021
Cortina Models How We Can Bridge Our Divides
By Kelly Saavedra ksaavedra(through)cmu.edu
A sense of belonging is crucial for people to thrive in their endeavors. Tom Cortina not only found it at Carnegie Mellon University, he models how we can help create it for others.
The associate dean for undergraduate programs and teaching professor in the School of Computer Science (SCS) never imagined he would leave Long Island, New York, for Pittsburgh; he had established roots in the New York metro area teaching for 16 years at Polytechnic University (now part of New York University) and then Stony Brook University.
But after completing his Ph.D., he became intrigued by all that was going on at CMU as well as the strong presence of teaching faculty in SCS.
"I was pleasantly surprised during the interviews on how well I fit in here at Carnegie Mellon, and how this felt like home," Cortina said.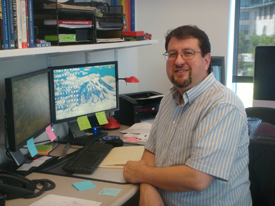 At the university level, Cortina represents SCS in various initiatives. He works closely with his counterparts in CMU's other schools and colleges to help clarify and improve policies for students, and he also develops training for faculty on how to address student mental health issues and help students who have gotten off-track.
In SCS, his primary role is to oversee the undergraduate programs. SCS has four majors along with a number of minors and concentrations.
"Although each program has a director to oversee the details, I need to make sure they all work well together," he said. "I continue to teach because I want to stay connected as much as I can to the students. I love teaching. Always have and always will."
"I love teaching. Always have, always will."
—Tom Cortina
He also loves dogs. Cortina's partner Arno, whom he's been with for 25 years, introduced him to greyhound adoption after they had to say goodbye to their dalmatian, Princess.
"Princess was a bundle of energy, so when Arno mentioned looking at a racing greyhound, my first thought was 'what have I done to deserve this?' But I learned quickly that racing greyhounds are big couch potatoes. They need a good walk or some play time in the backyard, but then they relax the rest of the day."
The couple's first racing greyhound was Charlotte, whom they adopted when she was 4 years old and lost earlier this year at age 12. They now have two more greyhounds, Benjamin, 9, and Porter, 3, who enjoy chasing after each other in the backyard, but otherwise prefer snoozing and treats. Through Three Rivers Greyhounds, they have shown their precious pups to people interested in adoption at local meet-and-greet events.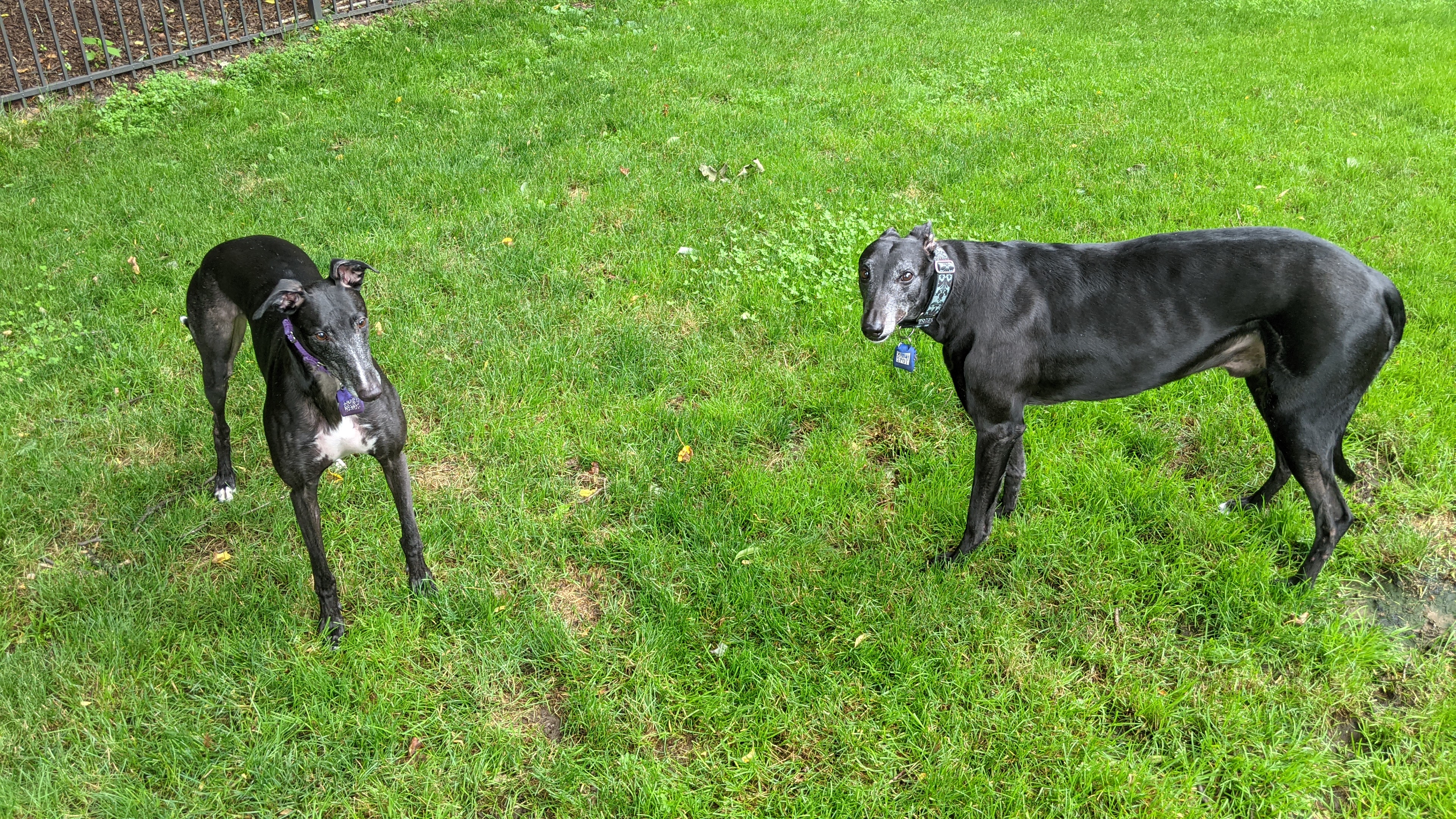 In 2019, Cortina was one of 62 computer scientists worldwide recognized by the Association for Computing Machinery (ACM) as a distinguished member for contributions to technologies that underpin how we live, work and play. He was one of nine members selected for their educational contributions to computing. A CMU faculty member since 2004, Cortina became assistant dean of SCS in 2012, overseeing a rapid expansion of the undergraduate program. He helped launch the popular CS4HS workshop for computer science high school teachers and ACTIVATE workshops, funded by the National Science Foundation, for science, technology, engineering and math teachers in the Pittsburgh region.
He is also the new chief reader for the Advanced Placement exam in Computer Science Principles, which requires him to oversee and guide the scoring by teachers and faculty of over 100,000 submissions of the performance task for the exam each year. 
Cortina always seems to find a way to connect with others, whether it's through an effort to discover shared interests or sharing a friendly game of cards or Monopoly. He encourages others to look beyond their differences and do the same.
Reflecting on Pride Month, he looks at his own life and others who have gone through the struggle of being accepted while being different.
"Life overall would be much better if we saw the good in people and accepted them as the sum of all the good that they do, rather than focus on just one part of their lives," he said.