June 15, 2021
Flying Club To Promote Aviation at CMU
By Kelly Saavedra ksaavedra(through)gmail.com
Make sure your seat belt is fastened. The Flying Club at Carnegie Mellon University is ready for take-off.
The newly formed club for aviation enthusiasts in the CMU community — which already boasts 30 members — is being led by two Ph.D. students in the Robotics Institute, Jay Patrikar and Azarakhsh Keipour.
The club is intended to be a platform through which people can gather, share experiences, help each other reach their flying goals and promote careers and diversity in aviation. However, they also hope the club can contribute to the aviation community and industry by creating and supporting new technology and research.
"A significant number of people in our CMU community enjoy flying as a hobby," Patrikar said. "The Flying Club provides a way for us to significantly impact each other's experiences and to promote aviation not only at the university but in the greater Pittsburgh area as well."
Members hail from various flight schools and fly mostly 2- to 5-seater, single- or multi-engine planes out of the Allegheny County, Pittsburgh-Butler Regional and Zelienople Municipal airports. The Cessna 172 is a popular trainer aircraft for new pilots.
"A significant number of people in our CMU community enjoy flying as a hobby."
— Jay Patrikar
While they have not yet met formally as a club — a general business meeting is scheduled tentatively for July — members have been meeting informally when they run into each other at the airports. Once the club gets off the ground, so to speak, they plan to meet formally four times per year.
"You do not need a license to be a part of the club. You can just hang around and hitch a ride with flying members. It's a great opportunity to explore a new hobby," Patrikar said. "We encourage people interested in photography, hiking or astronomy to join us in exploring new places, many of which are often not accessible by roads or just look cooler from the skies!" 
Patrikar — whose research lies at the intersection of artificial intelligence, field robotics and aerospace engineering — currently holds a student pilot certificate, which essentially is a license to learn, and a remote pilot license, which is necessary to operate a drone for commercial purposes.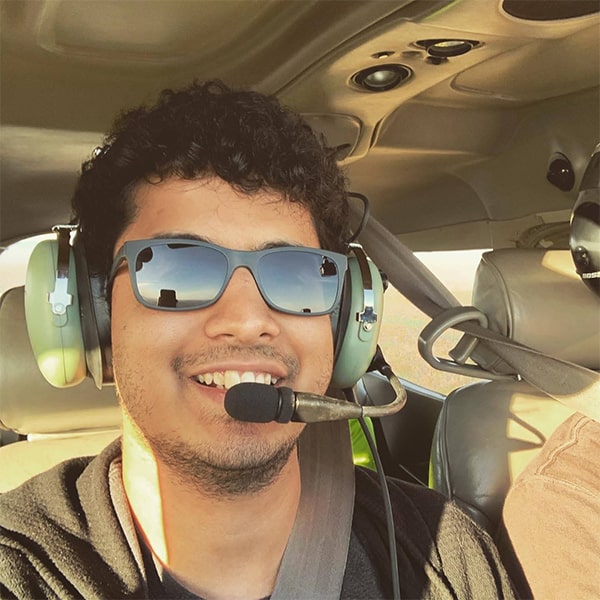 He has found that club members are often willing to act as co-pilots and share plane rental fees, which can help ensure a safe flight and mitigate costs. Members also frequently share books, charts, flight simulators and other resources as well as plenty of stories from their flying experiences.
Flying pros are invited to share a ride, write a blog, donate books and resources, upload photos to The Flying Club website, and answer questions in the club's online member forum. Rookies are invited to schedule a discovery flight through the website, which provides an opportunity to actually fly an aircraft with a certified instructor and requires no prior experience or authorizations.
"Discovery flights are meant to give you a taste of what it feels like to fly an aircraft, and the instructors are more than happy to answer any questions you may have," Patrikar said.
While there can be some uncertainty in taking your first steps in aviation, Patrikar says the most common questions are related to time commitment, visa status, processes, documentation and finances. Members of the club can help answer all of those questions.
For those who are interested in obtaining a student pilot certificate, the club can help guide the process. Student pilot certificates are provided by the Federal Aviation Administration (FAA) for a nominal fee if you can speak English and are at least 16 years old. The FAA also provides them to international students on an F-1 visa who are enrolled full-time in a college like CMU.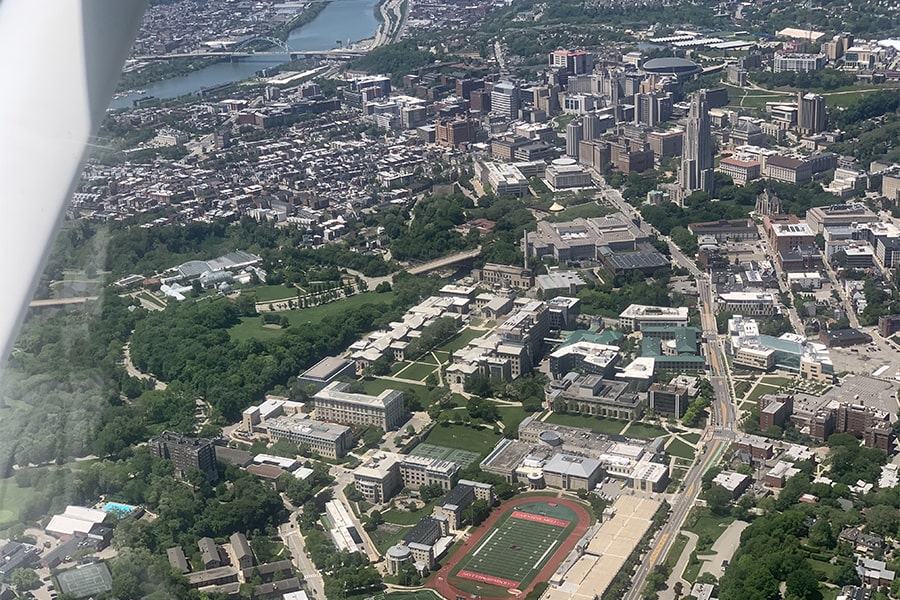 Patrikar holds a master's degree in robotics from CMU and Master and Bachelor of Technology in Engineering degrees from the Department of Aerospace Engineering at the Indian Institute of Technology Kanpur. His advisor, Sebastian Scherer, an associate research professor in CMU's Field Robotics Center, took Patrikar on his first flight over Pittsburgh.
"The Flying Club adds to the CMU experience by promoting safe flying and by building a community on campus for all types of flying, small to large," Scherer said. 
From a few thousand feet up, Patrikar said he truly got the feel for why Pittsburgh is known as the City of Bridges. He particularly enjoys looking at CMU's campus from above and the variety of interesting things he sees while flying along the three rivers.
"Pennsylvania is extremely beautiful, and one way to experience more of that natural beauty is to see it from a new perspective," he said.
To join the club, or for more information, visit The Flying Club website.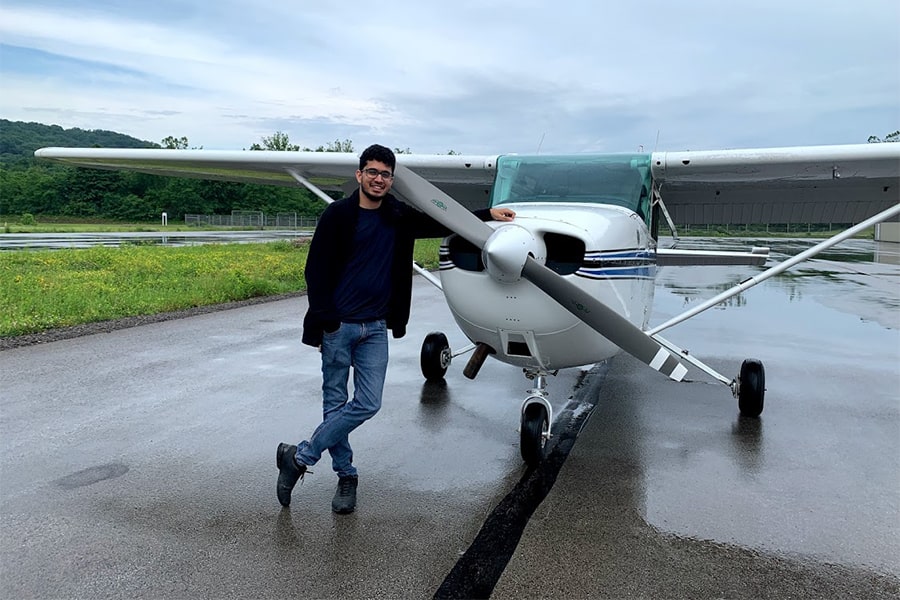 Jay Patrikar (pictured) has always enjoyed flying and hopes the club he has created with Azarakhsh Keipour will promote interest in aviation and aviation-related research at Carnegie Mellon University.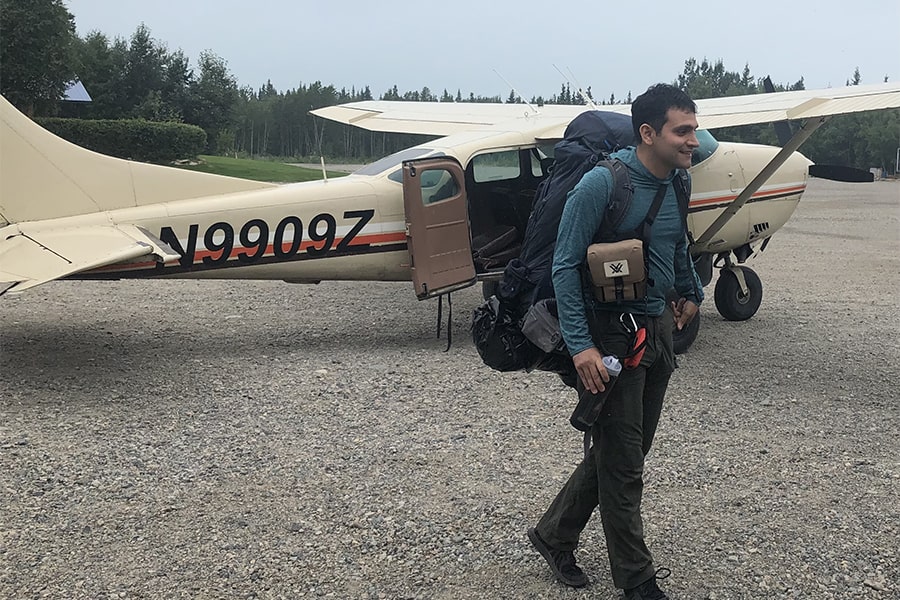 Azarakhsh Keipour, a Ph.D. student in the Robotics Institute and co-founder of The Flying Club at CMU, is pictured here during the backcountry backpacking trip he took with friends to Alaska's Lake Clark National Park in August 2019.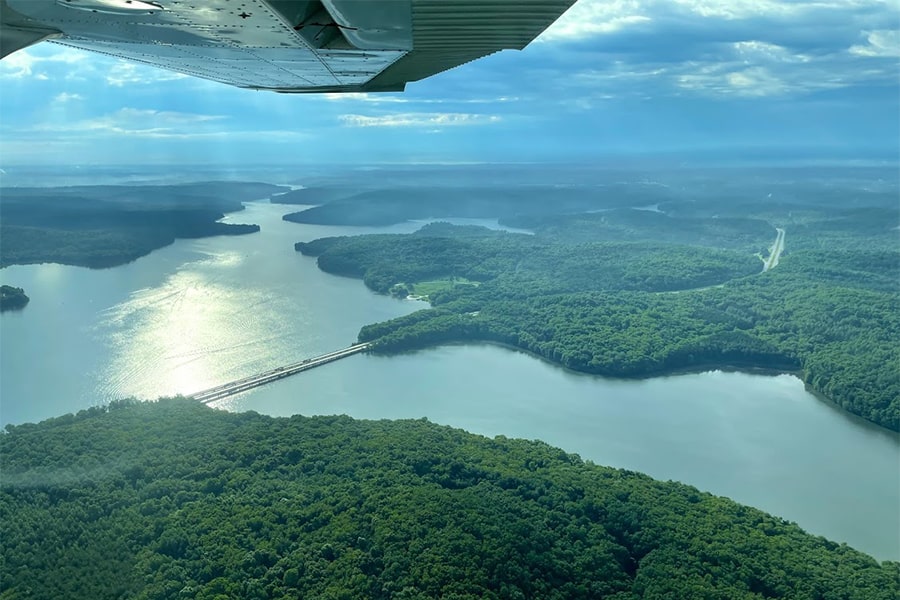 Jay Patrikar particularly enjoys flying along Pittsburgh's three rivers and seeing how the view changes from season to season.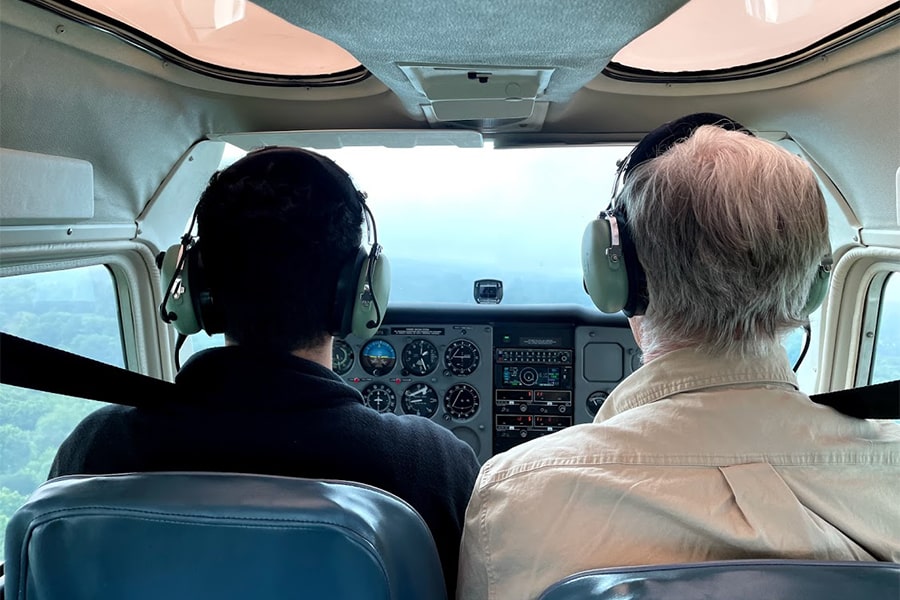 Jay Patrikar practices landing the plane on a rainy day alongside his instructor, Tim Weber.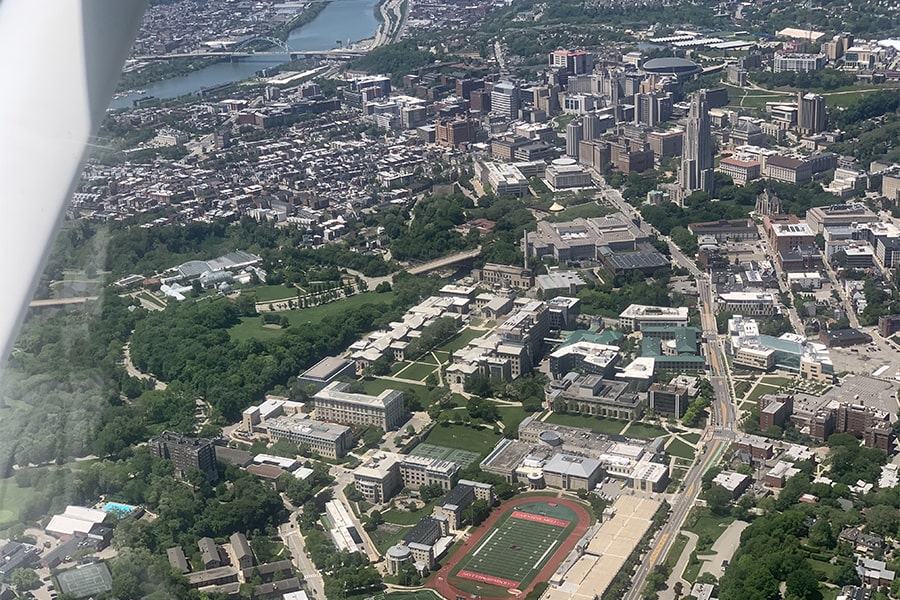 Members of The Flying Club enjoy seeing familiar places from the air, such as Carnegie Mellon University's Pittsburgh campus.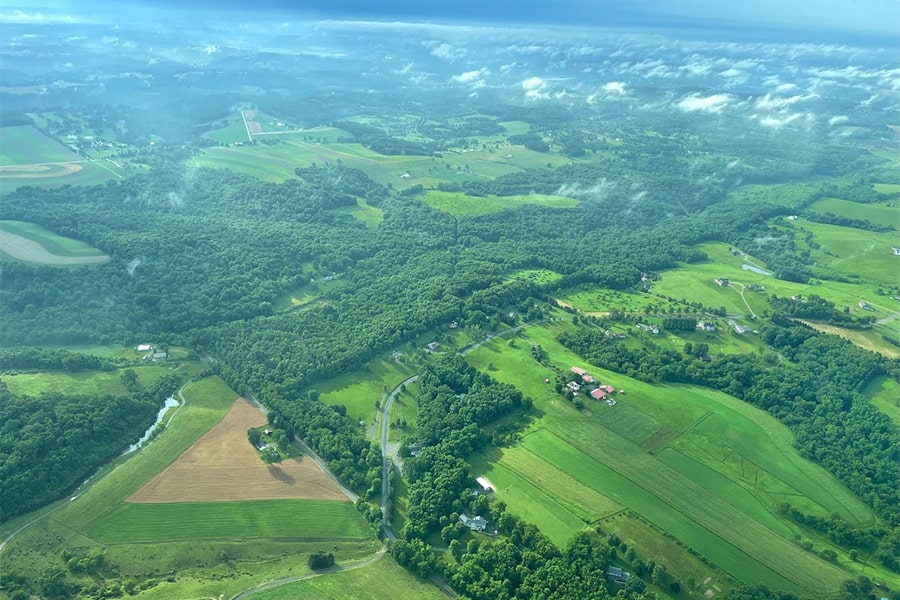 There is so much natural beauty to see in Pennsylvania. Flying provides the club's members with the ability to see more of it.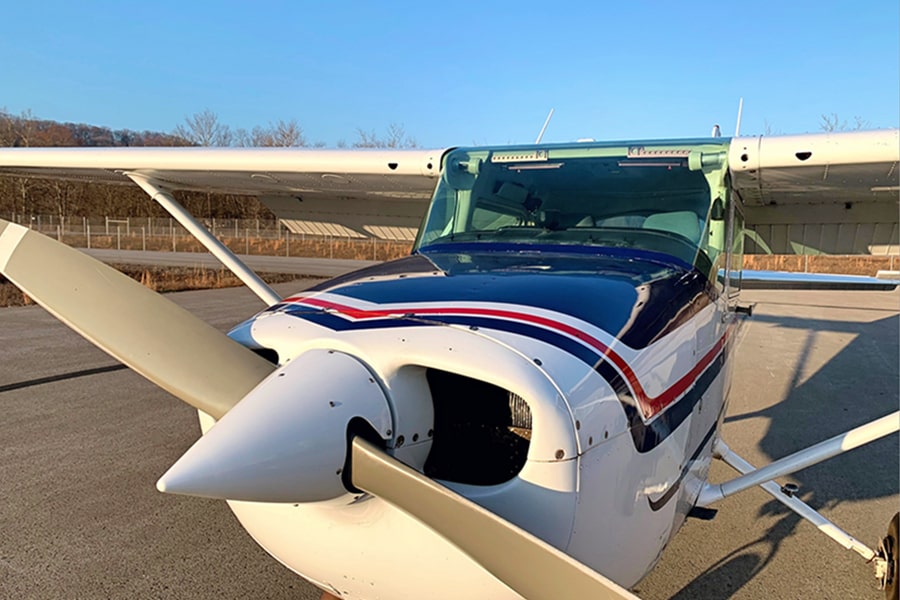 Learn more about The Flying Club at Carnegie Mellon University by visiting the club's website.