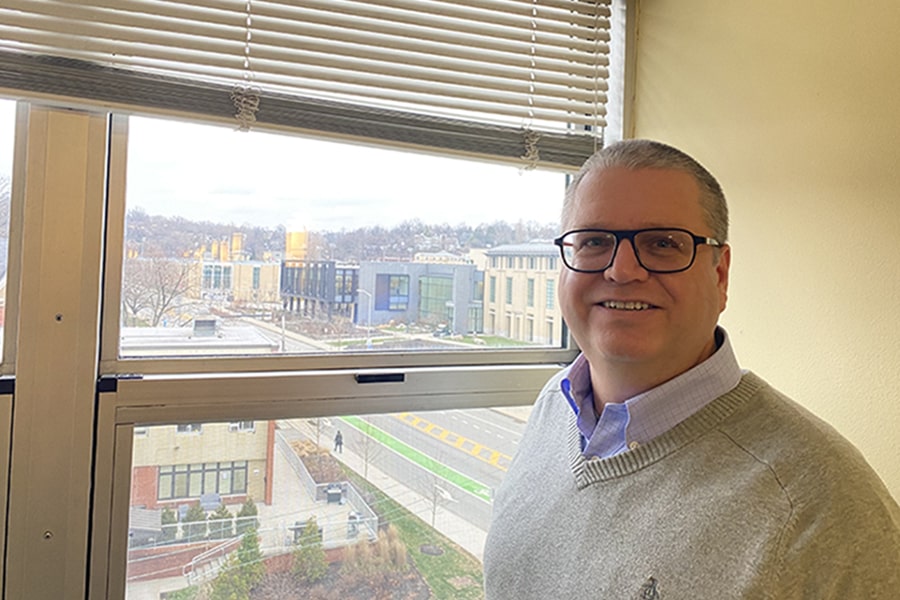 February 16, 2021
Chickering Cares, and It Shows
By Kelly Saavedra ksaavedra(through)cmu.edu
David Chickering may have some tips for Ted Danson as he tackles the lead role in his new TV series "Mr. Mayor."
With more than 15 years of experience in residential education at Carnegie Mellon University, Chickering says his job as a housefellow is a lot like being the mayor of a small town.
"Every resident has different things they need from me. My job is really about getting to know what those needs are and being very adaptive in playing that role," said Chickering, who is also associate director of residential education at CMU.
Being adaptive has meant becoming a personal chef, preparing food for students who are missing home cooking. It has meant acting as a personal assistant to residents temporarily in isolation housing, delivering their personal items and checking in to see how he can make them more comfortable.
He also has played postman while students were traveling, picking up their parcels in the mailroom and placing them in their rooms so they'll have them when they return. More often than not, he's a confidant, a cheerleader, encouraging them through the challenge du jour.
"If something comes up in a student's life that is impacting them personally or academically, I'm the person who meets with the student to help them get past that challenge," he said. "I also think my role is to ensure students are enjoying the place, and that students understand that there are people at CMU who care about how they're doing."
David Chickering takes pride in being "Iowa nice" to others.
Chickering enjoys supporting students through their CMU journey, and he'll wear whatever hat the moment calls for. Every morning during Move-In, he went out and set up the "fly guy," an inflatable dancing tube figure, so newcomers to campus could more easily find the entrance to Stever House.
His background in creative writing and theater coupled with his master's degree in higher education administration help him to infuse his work with humor, humanity and humility.
"Being a young person is a hard thing, and they are facing so many new things on their own," he said. "I approach everything with kindness and knowing that whatever is going on in a student's life is very important to them. It might not be something I completely understand, but if it's important to the student, it should be important to us."
In his free time, Chickering enjoys cooking, riding and repairing vintage scooters, listening to baseball games, and sharing all things CMU with his wife, two kids and his dog. 
"The students I work with are all amazing people who will go on to have very fulfilling lives, so getting to be a part of that is really exciting," he said. "The challenges they face at CMU are going to prepare them to be better people moving forward, better employees, better mothers, better fathers, and I get to see that growth."
Chickering says he is encouraged to incorporate who he is as a person into his work, and being from a small town in Iowa, that involves something near and dear to his heart — being "Iowa nice."
"Being from Iowa is very important to me, where people are known for being friendly and for helping out a neighbor in need," he said. "My philosophy is you never know what's going on in a student's life, so I try to be kind to everyone and to be very forgiving. For a student, if you're genuine and you truly do care about them, they see that."