February 16, 2021
CMU Launches Community Pandemic Safety Ambassador Program
By Kelly Saavedra ksaavedra(through)cmu.edu
Faculty and staff volunteers at Carnegie Mellon University are taking pandemic safety to the next level by expanding their Pandemic Safety Officer (PSO) roles in their departments or units to cover common areas on campus.
As Community Pandemic Safety Ambassadors (CPSA), these volunteers serve as a resource of information to the campus community and monitor the common area of their responsibility to identify any needs that arise. Their duties include performing cleaning spot-checks, assisting the campus community with implementing physical distancing protocols and submitting requests for assistance or supplies.
Marcia Gerwig says her role as a CPSA complements her primary function at the university.
"As director of the Cohon University Center, I stay up-to-date on what's happening on campus regarding COVID-19 protocols, and so the more knowledge I can share as a CPSA will help keep our patrons safe and informed and make the Cohon Center operate that much more efficiently," Gerwig said.
Paul Minor is helping to monitor common areas in the Mellon Institute and the Facilities and Management Services building. As a hazardous waste management specialist for Environmental Health and Safety (EHS), his regular duties have him covering many areas across the university, so he helps out as needed wherever he happens to be. Like Gerwig, Minor says being a CPSA dovetails with his regular responsibilities on campus and encourages him to share his knowledge with the broader community.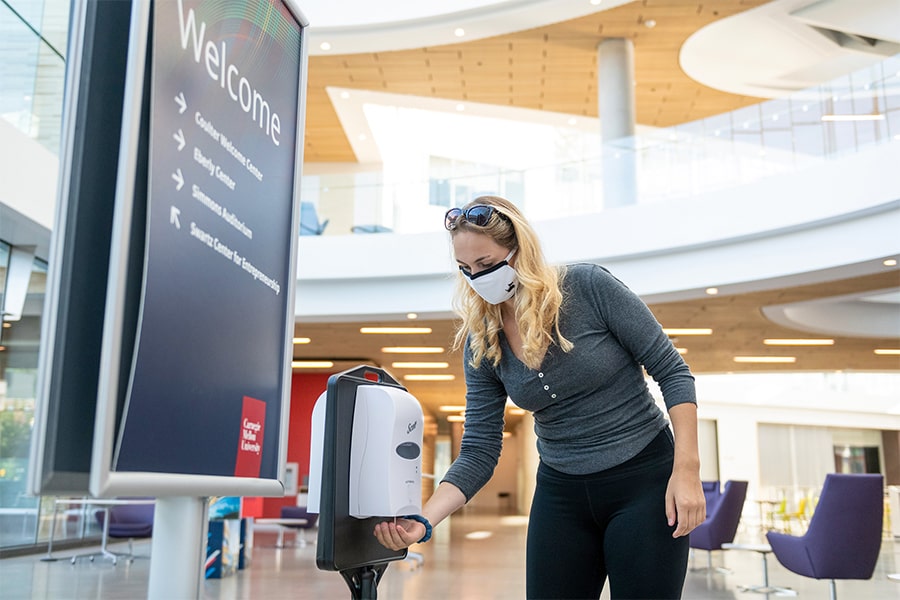 "As a member of EHS, I field a lot of questions from students, faculty, contractors and staff, so I want to make sure I am sharing the latest information," Minor said. "I also manage various contractors that serve the university with chemical waste and hazardous materials. It's important I make sure they comply with our safety guidelines."
Prior to CMU, Minor worked for the Pennsylvania Department of Environmental Protection, where he handled environmental compliance and inspections. It was his job to be on the lookout for public health, environmental and safety issues, so serving as a CPSA comes naturally to him.
"I've had a lot of experience dealing with the public in difficult situations. I find it easy to start a conversation about safety," he said. "My biggest challenge is to remain vigilant. It's easy to become complacent after a year of dealing with the pandemic."
Walter Pitts is likewise up to the task of being a CPSA. As building and facilities manager of Mellon Institute, Pitts says the job corresponds well with his responsibilities for the Mellon College of Science. He also is involved in building and renovation projects that have been impacted during the pandemic.       
"Every task has challenges, and the CPSA role is no different, but it does require a balance of addressing individual circumstances while adhering consistently to dynamic protocols," Pitts said. 
Pitts succeeds by maintaining a good balance of operational awareness and his enthusiasm for supporting the mission of the Mellon College of Science.
"Carnegie Mellon University has a truly transformative impact on society. I love that I can support cutting-edge science with my practical focus and interact with those who are actually conducting the research," Pitts said. "Acting as a CPSA helps me to better support the science by keeping the facilities and the people who work in them as safe as I can."
Visit the Pandemic Safety Initiative pages on the EHS website for more information, a list of the CPSAs on campus, or to register for training if you're interested in becoming a CPSA.