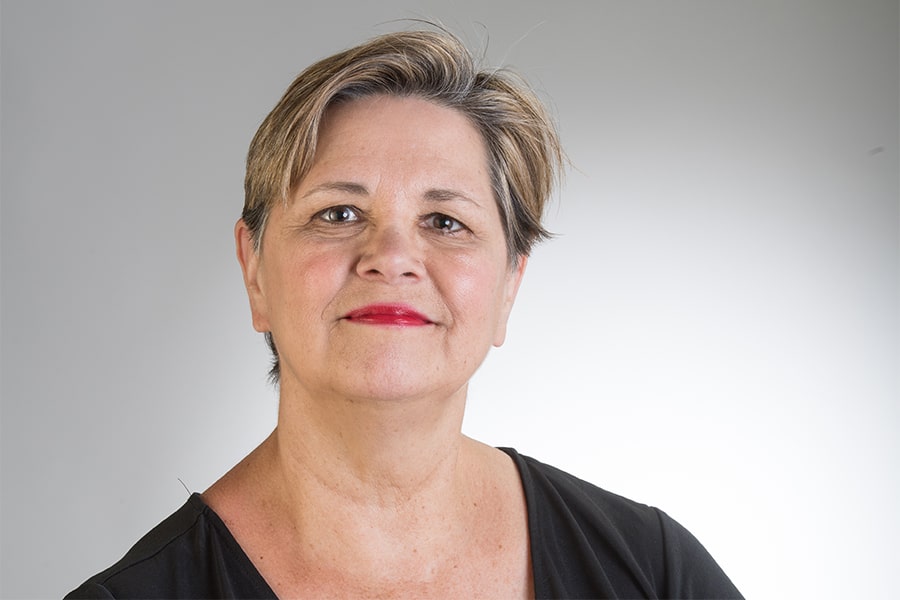 September 01, 2020
Ribarchak Retires with Rave Reviews
By Kelly Saavedra ksaavedra(through)cmu.edu
Like clockwork, the lunch crowd started to arrive at noon in the faculty dining room at Skibo Hall. Cathy Ribarchak, a new waitress at Carnegie Mellon University, exchanged pleasantries and began bringing beverages to a group of regulars who were placing their suitcoats on the backs of their chairs before heading to the buffet.
The same table was reserved for the group every day, and they sat in the same seats week after week as if their names were carved into them. Herb always ordered the apple pie, and nothing else. Ed would one day see the dining room named after him.
"Of course, I didn't know who they were, but our hostess would say, that's so-and-so. It wasn't until later when I started working full time at Carnegie Mellon that I realized the impact some of those individuals had on the university," Ribarchak said.
The apple pie lover was Herbert Simon, pioneer of artificial intelligence and a Nobel Laureate. The eatery, now located in the Cohon University Center, is named Schatz Dining Room after his pal, Ed Schatz, who was instrumental in bringing the first computers to CMU and served as provost before "provost" was even a thing.
Ribarchak loved the hustle and bustle of on-call hospitality, from serving the lunch crowds to catering the Madrigal Dinner. For a stay-at-home mom, she said, the hours were perfect, typically allowing her to leave for work after she sent her four children off to school and to arrive home before they were dismissed from school for the day. 
"Working for Dining Services was where I met so many faculty and, even though I felt I had no real connection to the university at that time, I loved talking with everyone I would meet. And I never minded the service role," she said.
"Cathy is a tireless professional, helpful coworker, trusted partner and treasured colleague."
Shari Zingle
Six years later, Ribarchak left Dining Services to work as a CMU Temporary Employment Services employee for five months: first in Facilities Management Services in the Service Response area, and then as the front-desk receptionist in Engineering and Public Policy. In March 2001, she accepted the position of administrative assistant to Indira Nair, vice provost for education. When Nair retired in July 2010, Ribarchak stayed on to support Amy Burkert as Burkert's senior administrative assistant.
"Cathy Ribarchak is my ideal for a support person with a smile, intelligence, good judgment and good humor," said Nair, professor and vice provost emeritus. "I could rely on Cathy to do a job perfectly and for the good of students especially. She knows the university so well that she knew whom to contact for the right job. That was invaluable when we worked together in the central administration."
For Ribarchak, service was the common thread that connected all of her roles at the university.
"It's the feeling of service, being of help to anyone no matter the capacity, that has always been what satisfies me personally," she said. "It brings me great satisfaction to know that I have done something nice for someone, or that I have lightened somebody's load."
Ribarchak feels her purpose in life has always been "to be a decent human being and to build up wherever I can, and not tear down." She holds a deep appreciation for spiritual things and says she lives her life, to the best of her ability, according to the principles and counsel she finds in God's Word, the Bible. 
"It helps me to make wise decisions," she said. "I can attest to the numerous times it has helped me to cope when things were overly stressful and to always treat others with respect and compassion."
"Cathy has been the cornerstone of the Office of the Vice Provost for Education."
Amy Burkert
Looking back over her 30-year journey at CMU, three words come to Ribarchak's mind: intense, enlightening and rewarding. She especially enjoyed working on and attending the University Lecture Series events.
"I probably would have sat at my desk and continued working, but Indira gently prompted me to step away for a while and take the opportunity to learn and see more," Ribarchak said. "I met a lot of very interesting people and saw how passionate others are about their life, their work and their personal journey. Everybody's journey is important!" 
Ribarchak's original plan was to retire in February 2021, but the impact of COVID-19, working remotely, and the overwhelming desire to devote more time to other pursuits while she is still able were driving forces that led her to retire a few months early. 
Her husband retired in January 2019, and they have four married children and five grandchildren spread across Pittsburgh, Ohio, New Jersey and North Carolina. 
"We will love being free to pick up and go whenever we would like," she said. "In fact, we are heading to North Carolina right after I retire. I am also looking forward to devoting more time to my congregation's preaching activities." 
"Cathy will leave the university a better place than she found it."
Patience Whitworth
Shari Zingle, executive assistant to the vice president for Student Affairs and dean of students, thinks the world of Ribarchak.
"To me, Cathy embodies the best of CMU and it's been a joy to work closely with someone so passionate, gracious and dedicated," Zingle said. "I always appreciated her thoughtful, steady approach in our work together and it's hard to imagine the workplace without Cathy — a tireless professional, helpful coworker, trusted partner and treasured colleague. With genuine warmth and good-heartedness at her core, she will be missed by many, no doubt."
Patience Whitworth, assistant vice provost of Operations and Strategic Initiatives, has worked with Ribarchak for more than three years and says she was the most welcoming person she's met at CMU.
"Cathy loves this institution and wants to make sure everyone sees the brilliance and the beauty of the CMU experience," Whitworth said. "I admire Cathy for her dedication, her kindness, and her thorough and high-quality work. It is wonderful to celebrate her service to CMU. She will leave the university a better place than she found it."
Burkert said Ribarchak has been the cornerstone of the Office of the Vice Provost for Education and feels honored to have worked side by side with her during her tenure in the position.
"For more than three decades, Cathy has made a positive impact on the Carnegie Mellon community. Faculty, staff and students from across the campus know her as the person to go to when you have a question or need assistance of any sort," Burkert said. "Her wide-ranging knowledge, commitment to excellence, friendly demeanor and dedication to helping others are distinctive. I join many in expressing gratitude for all Cathy has done and in wishing her well as she embarks upon this next phase of her life's work in retirement. I am confident her positive impact will continue on and beyond our campus."