October 06, 2020
Travaglia's Goats Take Yoga to Next Level
By Kelly Saavedra ksaavedra(through)cmu.edu
It's that time of year when city folks head to local farms to breathe crisp autumn air, collect a few pumpkins, sip apple cider and see fall foliage.
But some yoga enthusiasts have been visiting Tiny Trax Farm in Leechburg, Pa., since summertime to take outdoor yoga classes — and to see the farm's goats.
"I always say, you can't be around goats and not smile," said farm owner Bradley Travaglia, who is a mason at Carnegie Mellon University. One of his goats is named Piper.
In April, Angie Lusk, program director for Student Affairs Wellness Initiatives at CMU, texted Travaglia and asked if a virtual goat yoga class for students during finals week would be possible. Travaglia was all in; his yoga instructor, Aly from Be Yoga Oakmont, had already been conducting virtual classes from her studio.
With a little ingenuity and a lot of luck, they gathered the goats and gave CMU students a restorative break from finals week via a Facebook livestream straight from the farm. Lusk said the students loved it.
"Yoga is a lot of different things for a lot of people, but I'd have to say the majority is done for a relaxing, therapeutic, mindful experience. Goats just take it to the next level," Travaglia said. "Although they are a distraction from one's yoga flow, they add a calming, loving element to taking the time to care for oneself. To be able to leave class relaxed, happy and get to hug one of our cutest little creatures … It's just the best!"
Travaglia has been caring for the university's brick and mortar for the past 15 years. His responsibilities fall mainly into three categories: safety, emergency and aesthetics. From a trip hazard on a concrete sidewalk to a waterlogged, crumbling wall, every situation requires a quick response from Travaglia to patch things up and make it look good as new.
"You can't be around goats and not smile."
Bradley Travaglia
"Since 1924, someone in my family has been in the plastering business. It was just something that I grew up with and enjoyed being part of all my life," Travaglia said. "It's hard work, but it's also very satisfying work."  
Being one of only two university masons, he has worked in every campus building and housing facility — inside and out — where he has managed to leave his mark without leaving a mark.
"The secret to a good mason is not knowing they've been there and made the repair!" he said.
Travaglia says the best part of his job is the diverse group of people he gets to interact with every day, and so not having everyone on campus due to the pandemic has made this his hardest year.  
"It'll be so nice to have students and staff back to full capacity," he said, "hopefully sometime real soon."
Until then, he'll find peace of mind at Tiny Trax Farm. "The yoga is just our chance to share some of that peace of mind with others," he said.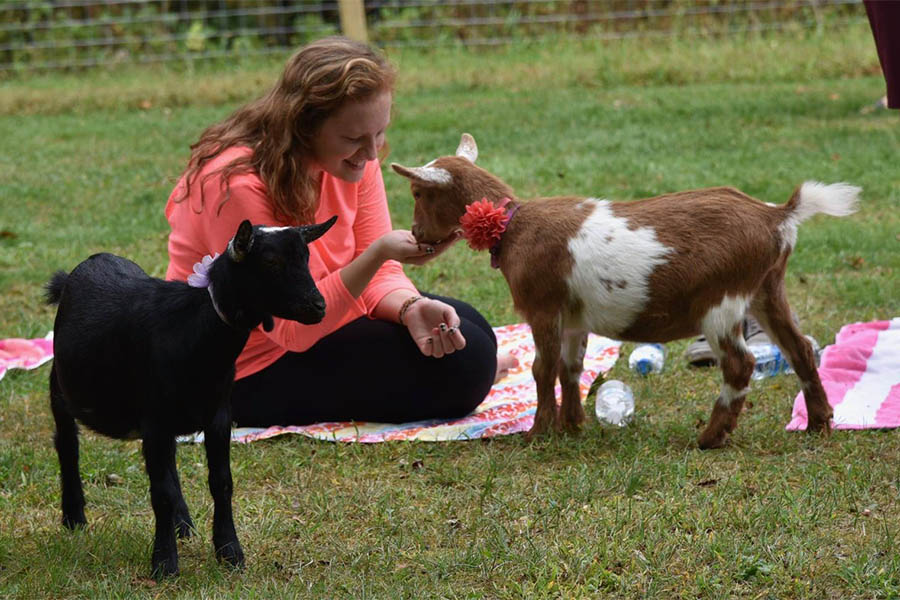 A yoga enthusiast pauses between poses to feed one of Travaglia's goats.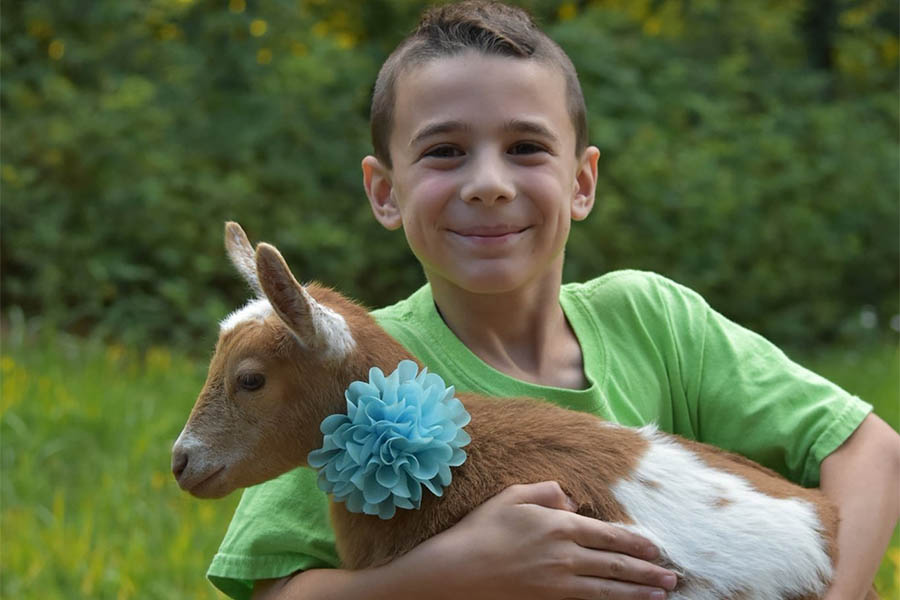 Can I keep this one?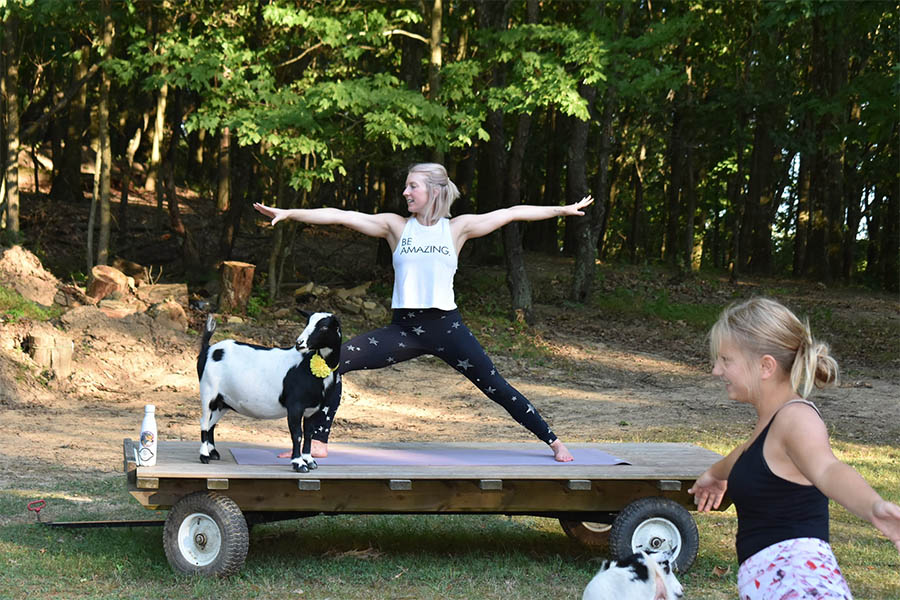 Instructor Aly leads an outdoor yoga class on the farm.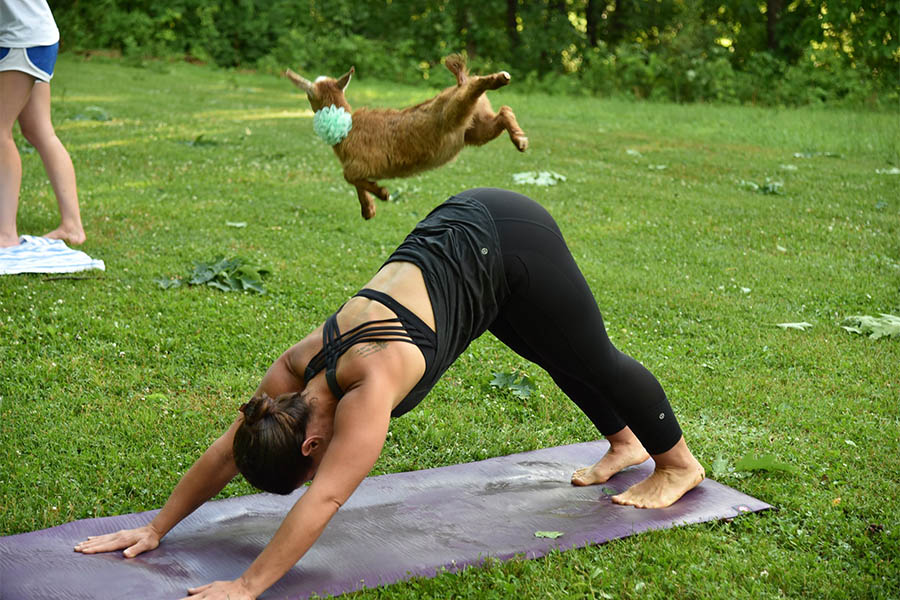 Hard to tell who has more fun at the outdoor yoga classes — the yogis or the goats!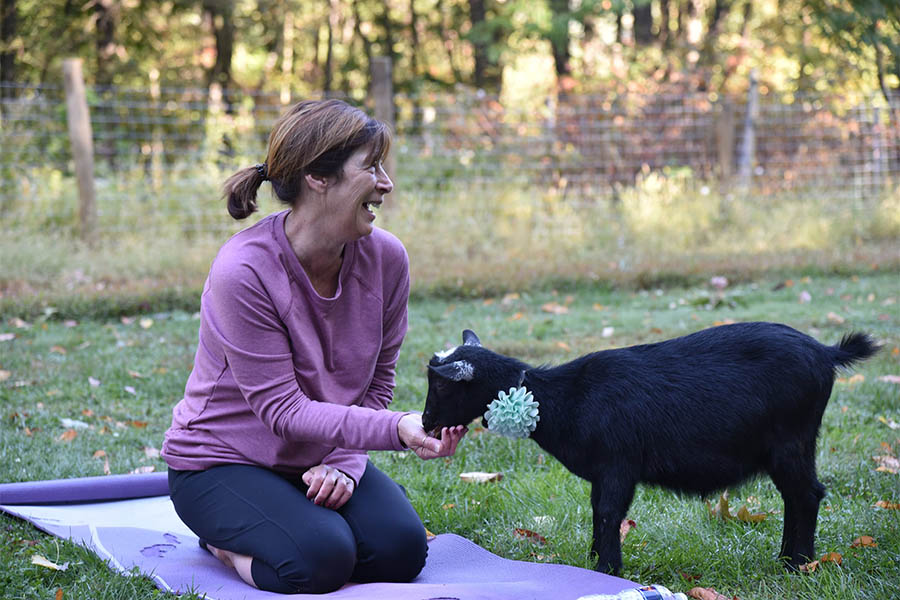 As far as smiles go, the goat yoga classes have a 100% success rate.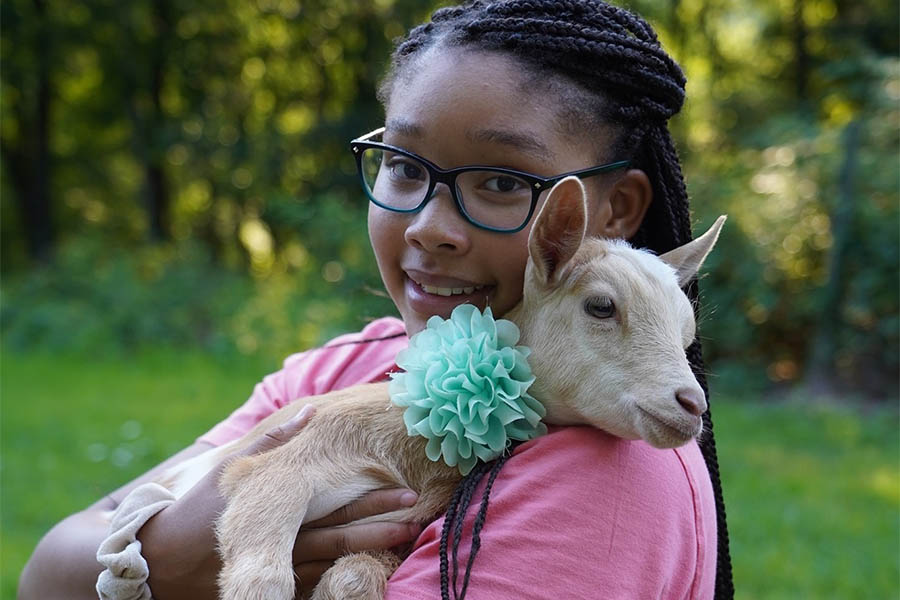 Hugs are good for your health.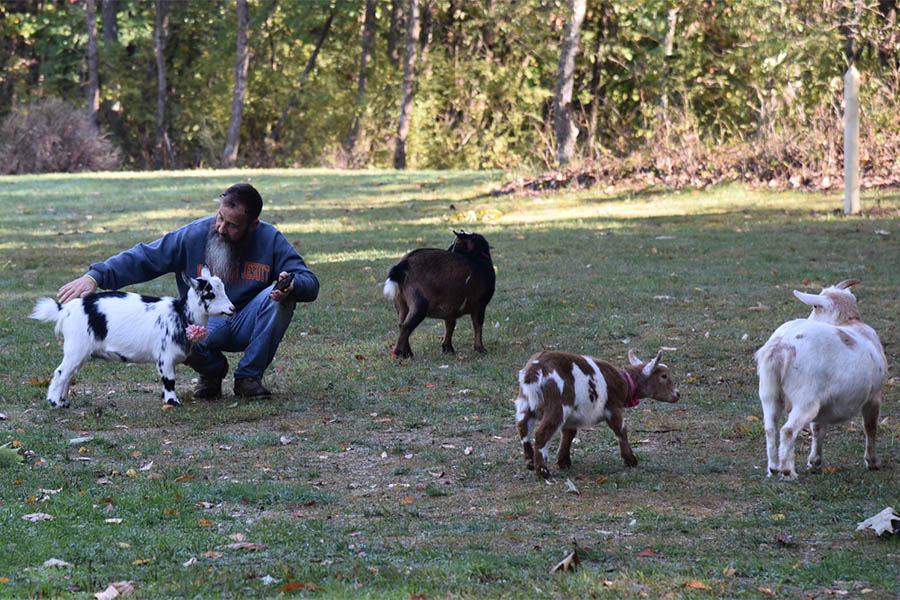 Travaglia, a mason at CMU for the past 15 years, enjoys peace of mind on his farm in Leechburg, Pa.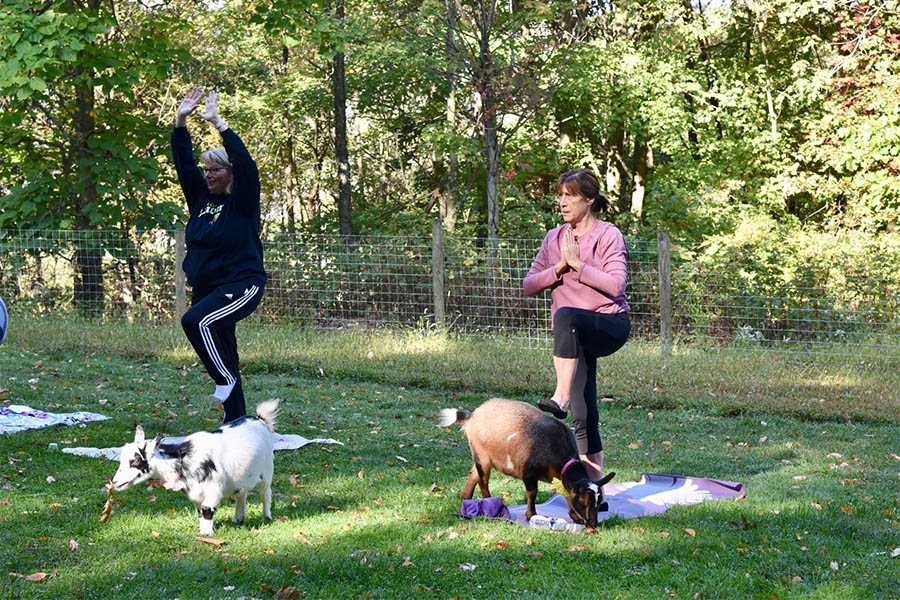 Although they can distract from yoga flow, Travaglia believes being around the goats and getting to hug them reduces stress.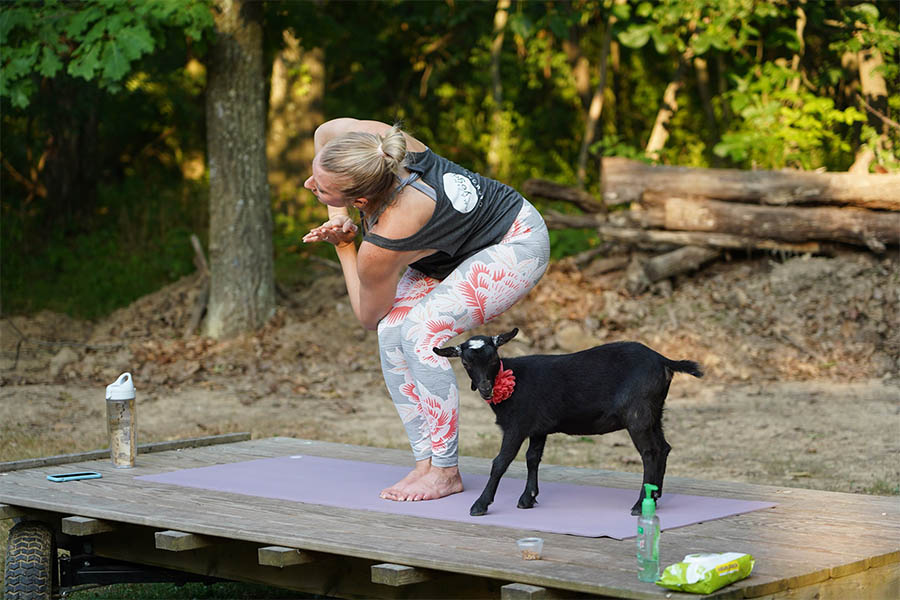 Travaglia's goat named Piper assists instructor Aly with teaching class.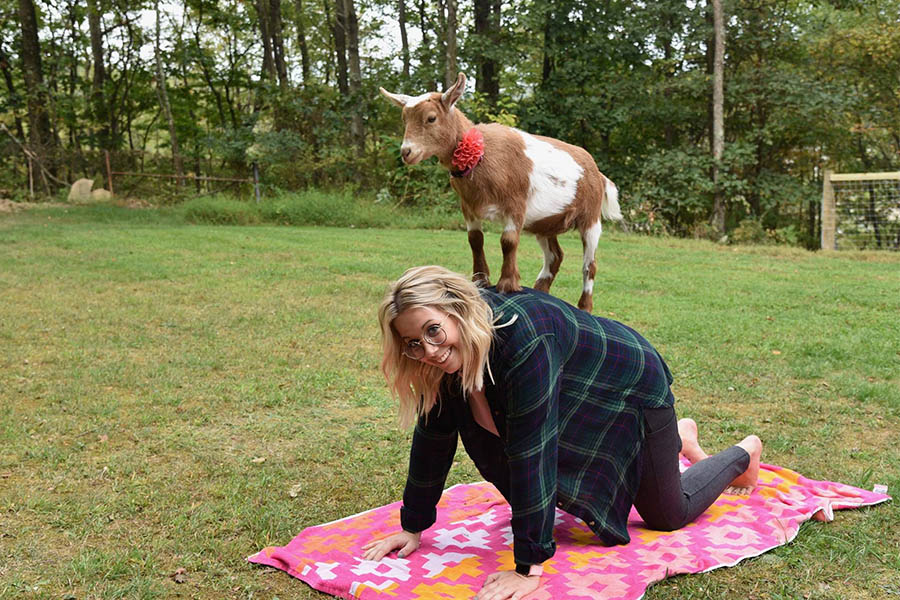 The goats on Travaglia's farm take yoga to the next level.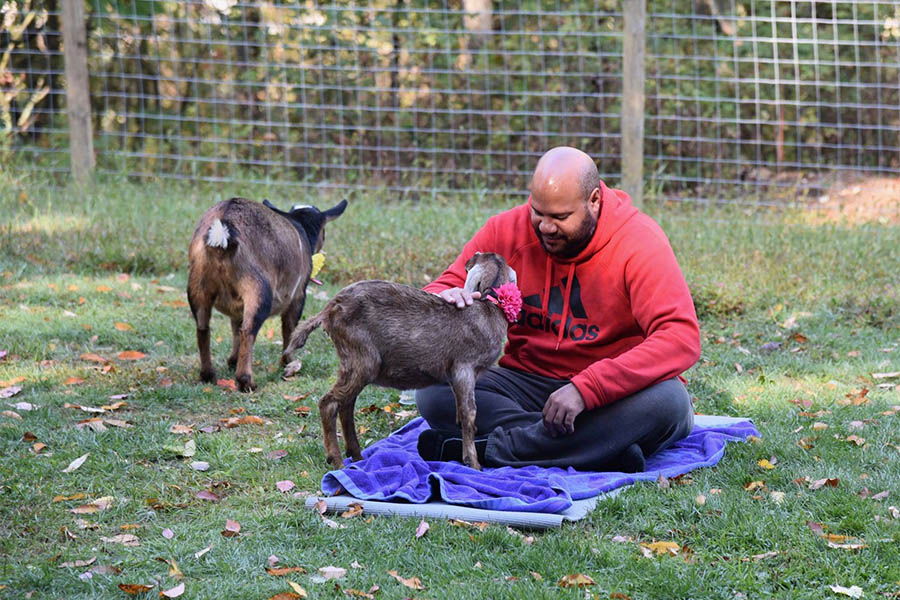 A yoga enthusiast pauses between poses to pet a goat.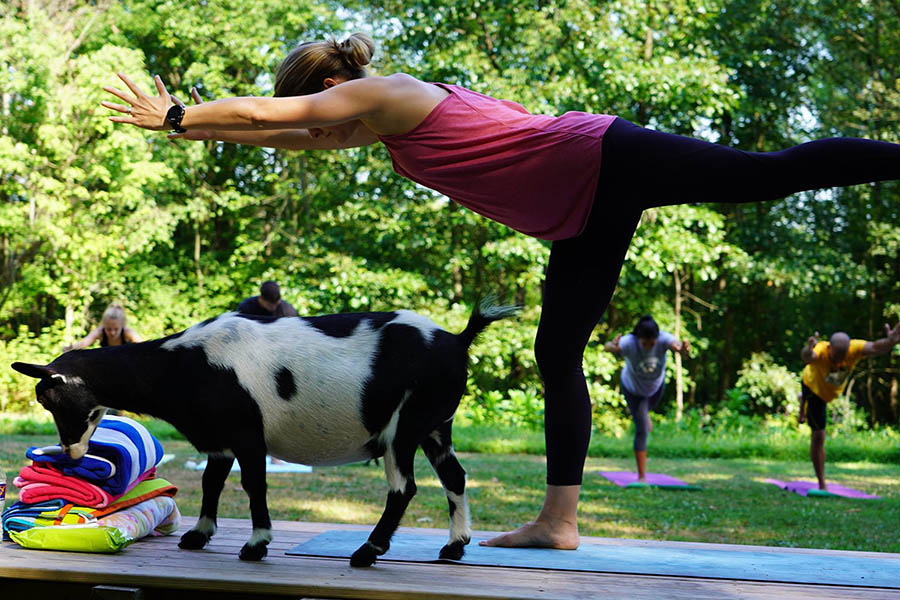 A goat assists the yoga instructor with teaching classes.