CMU's Food Drive is Underway; Together We can Make a Difference
Carnegie Mellon's 27th Annual Food Drive, sponsored by Staff Council, has begun and will run through Monday, Nov. 16. This year's honorary chair is Provost Jim Garrett.
In 2019, CMU raised $28,787.41 and collected 6,805.3 pounds of nonperishable items to support the Greater Pittsburgh Community Food Bank. This year, the need is greater than ever!  
There are two easy ways to give this year:
If you'd rather contribute nonperishable items, you can participate in one of two Drive and Drop events:
Wednesday, November 11, 11 a.m. to 1 p.m., Tepper Garage;  and
Monday, November 16, 1 to 3 p.m., Tepper Garage.
Requested items include peanut butter, fruit snacks, granola bars, snack crackers, pudding cups, juice boxes and CAN OPENERS, though all non-perishable contributions are welcome! We are striving to collect 100 manual can openers to give directly to the CMU Food Pantry. Our partners at the pantry have identified this as a "most needed item."
If you are interested in volunteering for either Drive and Drop event, please contact Michelle Porter.
Visit the Food Drive website to learn more.
If you have questions regarding this year's drive, contact committee chair Carole Panno at cp1g@andrew.cmu.edu.
CMU to Honor 13 New Career Development Chair Recipients
President Farnam Jahanian, Provost Jim Garrett and the college and school deans will recognize 13 newly appointed career development chair recipients across the university in a virtual program at 5 p.m., Wednesday, November 11.  The recipients are being honored for delivering exceptional research and education at the cutting edge of innovation and collaboration. Their chairs are made possible through the support of generous donors who value the contributions our outstanding faculty make to the university and society at-large.
All participants must register for the event. A Zoom login link will be provided before the virtual program in a confirmation email.
The 13 recipients are:
Alexandra Chouldechova, Estella Loomis McCandless Assistant Professor of Statistics and Public Policy,
Heinz College of Information Systems and Public Policy;
Ulrike Endesfelder, Cooper-Siegel Associate Professor of Physics, Mellon College of Science;
Geoff Kaufman, Robert E. Kraut Assistant Professor, School of Computer Science;
Fatma Kilinc-Karzan, Associate Professor of Operations Research, Frank A. and Helen E. Risch Faculty Development Chair in Business, Tepper School of Business;
Tae Wan Kim, Associate Professor of Business Ethics, Xerox Junior Faculty Chair, Tepper School of Business;
Hui Li, Assistant Professor of Marketing, Carnegie Bosch Junior Faculty Chair, Tepper School of Business;
Zachary Lipton, Assistant Professor of Operations Research and Machine Learning, BP Junior Faculty Chair, Tepper School of Business;
Brandon Lucia, Sathaye Family Foundation Career Development Associate Professor of Electrical and Computer Engineering, College of Engineering;
Benjamin Moseley, Associate Professor of Operations Research, Carnegie Bosch Junior Faculty Chair, Tepper School of Business;
Nida Rehman, Lucian & Rita Caste Assistant Professor of Architecture and Urbanism, College of Fine Arts;
Thomas Ruchti, Assistant Professor of Accounting, Richard C. Green Junior Faculty Development Chair, Tepper School of Business;
Conrad Tucker, Arthur Hamerschlag Career Development Professor of Mechanical Engineering and Machine Learning, College of Engineering; and
Haiyi Zhu, Daniel P. Siewiorek Assistant Professor of Human-Computer Interaction, School of Computer Science.
Andy Award Nominees Announced; Virtual Ceremony November 16
Forty-nine individuals and 18 teams have been nominated for this years' Andy Awards, CMU's annual recognition program that honors staff for their exceptional job performance and dedication. Staff are nominated in five categories — Commitment to Excellence, Commitment to Students, Innovative and Creative Contributions, Spirit, and Teamwork and Collaboration. A sixth category, Community Champion, has been added this year to recognize staff who have met 2020's unique challenges with extraordinary action and commitment.
Andy Award recipients will be named during a virtual awards ceremony at noon, Monday, November 16. More details about the virtual ceremony will be sent via email. Leading up to the event, cheer for your colleagues by using #AndyAwards on Facebook, Twitter and Instagram.
See this year's nominees and plan your virtual celebration today!
Researchers Named to World Economic Forum Global Future Councils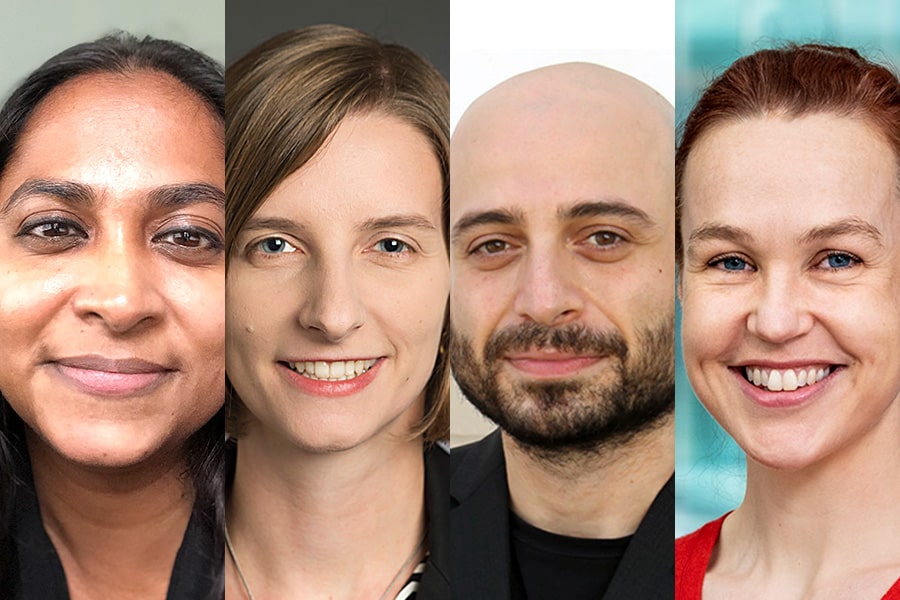 Beatrice Dias, Kate Whitefoot, Sina Fazelpour and Erina Ytsma
Four researchers from Carnegie Mellon have been named to the World Economic Forum's network of Global Future Councils for the 2020-21 term, which runs from October 2020 to September 2021. During the term, members will contribute insight and ideas for the World Economic Forum's Great Reset initiative to help world leaders and the global public to better understand, address and prepare for the post-COVID world.
CMU researchers chosen for the 2020-21 term include Beatrice Dias, co-director of outreach in The CREATE Lab in the School of Computer Science who will serve on the Artificial Intelligence for Humanity Council; Sina Fazelpour, Social Sciences and Humanities Research Council postdoctoral fellow in the Dietrich College of Humanities & Social Sciences' Department of Philosophy who will serve on the Data Policy Council; Kate Whitefoot, assistant professor of mechanical engineering and engineering & public policy in the College of Engineering who will serve on the Clean Air Council; and Erina Ytsma, assistant professor of accounting in the Tepper School of Business who will serve on the New Agenda for Work, Wages and Job Creation Council.

The 2020-21 term comprises 40 councils around themes such as the "New Agenda for Economic Growth and Recovery"; "Systemic Inequalities and Social Cohesion"; "Net-Zero Transition"; and "Artificial Intelligence for Humanity." Each council has 20-30 experts from academia, government, international organizations, business and civil society.
The network of Global Future Councils brings together more than 1,000 experts from 31 industries and 81 countries and serves as a brain trust for leaders from all walks of life.
Updated Job Descriptions Will Create a More Equitable Campus
As part of the Office of Human Resources' (OHR) strategic plan and in conjunction with President Jahanian's campus climate initiative, OHR has been working with divisions and departments across campus to update job profiles and descriptions in Workday. This work on job descriptions will allow the university to undergo a staff equity study.
To successfully accomplish these goals, the campus community will undergo a review and validation process of all staff job descriptions to ensure:
Job descriptions are up to date, accurate and meet minimum standards;
Components are appropriately added to the correct sections of the job descriptions in Workday; and
Classification/grading is correct.
Job descriptions are vital because they outline the duties, requirements and responsibilities of the job. They are used to define the position and to create a standard by which an incumbent's performance is evaluated and rewarded. Additionally, accurate job descriptions help to recruit candidates to fill a position and to establish a hiring salary. Finally, an accurate job description establishes the market value of the position, compares the position to others on campus to classify appropriately and determines the Fair Labor Standards Act (FLSA) status.
Learn more about the work to update job descriptions.
Barbara Smith Women's Mentoring Program Is Seeking Applications
The Barbara Smith Women's Mentoring Program (BSWMP) is now accepting applications for both mentors and mentees. Applications are open to staff who are members of the Carnegie Mellon Women's Association (CMWA).
This staff-to-staff mentoring program is an opportunity to engage with a fellow CMWA member in conversations around professional interests and aspirations including career advancement, educational opportunities and job-related issues. Women who wish to be mentored will be matched with those volunteering to mentor others based on their experience and needs.
This program is intended to be completely voluntary, with no compensation tied to participation. The program is named in honor of Barbara B. Smith, who was chief human resources officer at Carnegie Mellon for 22 years before retiring in 2011.
To learn more about the program, and if you haven't already done so, become a CMWA member, please visit the BSWMP website. For questions, contact CMWA Mentoring Programs Co-Chairs, Sonia Reed (sreed@andrew.cmu.edu) or Alicia Gorman (aliciag@andrew.cmu.edu).
The application deadline is November 20 at 11:59PM EST. Apply today to be a mentor or to be mentored.
New Program Aims to Attract Staff from Underrepresented Populations
The Office of Human Resources (OHR), in conjunction with the Learning and Development Team and the HR Talent Team, is launching a new initiative: the Diversity Recruitment Advocate program.
The purpose of the program is to advance Carnegie Mellon's efforts to attract staff from underrepresented populations and embrace our mission to cultivate a transformative university community committed to attracting and retaining diverse, world-class talent. Diversity Recruitment Advocates will work directly with recruiters within OHR to develop more diverse applicant pools, reinforce inclusive selection practices and promote equitable hiring for all staff positions across the university.