Be a Part of Giving CMU Day this Year
Giving CMU Day is your chance to make an extraordinary impact on Carnegie Mellon students at a time when they need support most. On December 1, you are invited to come together with the entire CMU community to give to an area of the university that's dear to you as part of this global day of giving!
This year, your Giving CMU Day gift will count toward our faculty and staff challenge: If 450 current faculty and staff members make a gift to any CMU fund on Giving CMU Day, a supporter will give $3,000 to the Tartan Emergency Support Fund, which improves undergraduate and graduate students' lives by providing support for emergency situations in these unprecedented times.
Last year, 4,995 donors supported more than 500 areas of CMU — scholarships, colleges, athletics, research, student organizations and so much more.
In this new teaching and learning landscape, each and every gift makes a tangible difference as we provide a world-class CMU education to our students, no matter where in the world they are. Your support is urgently needed — and more meaningful than ever.
Visit givingcmuday.cmu.edu to learn more.
Provost Hosts Virtual Office Hours Monday, November 30
Provost Jim Garrett will host virtual office hours for students, faculty and staff from 2 - 3:30 p.m. ET on Monday, November 30. Participants can register for a timeslot within the designated hours. To sign up, email provost@andrew.cmu.edu to receive the meeting ID and timeslot.
Fall Career Fairs Combine and Go Virtual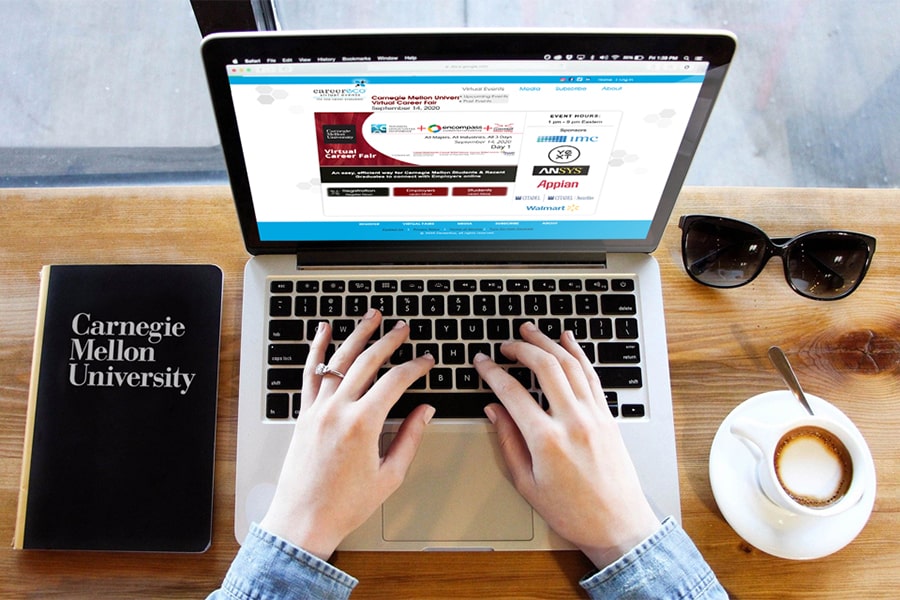 This fall, for the first time, three of Carnegie Mellon s annual career fairs combined into one large Virtual Career Fair, bringing together 168 employers and over 3,500 graduate and undergraduate students worldwide.
Drawing students from engineering, computer science and the other sciences, the Technical Opportunities Conference (TOC) has been Carnegie Mellon's largest career fair for more than 40 years and brings back the most alumni of any event on campus. The student chapter of the Society of Women Engineers (SWE) regularly participates in planning the event, represented this year by TOC Co-chairs Tanvi Bhargava and Meghana Keeta, both students in electrical and computer engineering.
"Overall, I think it's nice to have students more involved in planning because you get their perspective firsthand and how they react to all of these changes, especially during a strange year like this," Bhargava said.
The TOC organizers joined staff from the Career and Professional Development Center (CPDC), who are responsible for planning Encompass, the biannual career fair for all majors featuring employers spanning a full range of industries. The virtual fair planning committee was rounded out by staff from CMU Silicon Valley, whose annual Converge Silicon Valley fair has previously attracted graduate-level students from technical degree programs aimed at careers in mobility, security, data science, software engineering, product management, product design, development and entrepreneurship. 
Employers were able to access student resumes and information prior to the beginning of the event, enabling greater planning and targeted networking than would have been possible under normal conditions. Their fair "booth" also included greater functionality and capacity than any physical space. Each booth was essentially a chat room for employers to post jobs and information, or where up to eight recruiters could chat with students via text or video.
Learn more about the Virtual Career Fair.
CMU Honored for Supporting Employees Serving in the Military
Carnegie Mellon's Office of Human Resources (OHR) has once again received the Above and Beyond and Pro Patria awards in recognition of its support of employees who serve in military guard and reserve organizations.
The awards are presented by the Pennsylvania Committee for Employer Support of the Guard and Reserve (ESGR), a Department of Defense program that develops and promotes supportive work environments for military reservists. Employer support of employees who serve in the military reserve enhances retention rates in the Armed Forces and, ultimately, strengthens national security.
OHR remains committed to those dedicating their time to support the defense of the United States, and would like to thank Stephen McCarty, director of safety and security at CMU-Qatar, and Dan Phelps, associate teaching professor of informations systems at CMU-Q, who nominated CMU for the awards.
Thunder Nation Releases Album Recorded at CMU
Thunder Nation, the Pittsburgh region's only powwow group, released its first digital album Nov. 18 as part of the Indigenous Pittsburgh Music Series hosted by Alexa Woloshyn's North American Indigenous Music Seminar. Thunder Nation recorded the album in CMU's Vlahakis Recording Studio prior to the pandemic.
Riccardo Schulz, a teaching professor in CMU's School of Music, manages the studio, which is used for teaching classes and recording projects for faculty, students and members of the community. He and several students assisted with the recording.
Woloshyn is working on a three-year project to understand the history and future of indigenous people in the Pittsburgh region. She teaches courses such as "North American Indigenous Music," "Contemporary Soundscapes" and "World Music."
As part of her work, CMU has collaborated with the Council of Three Rivers American Indian Center, the East Coast River Two Spirits Society and Echoes of the Four Directions to produce programming for students and the public on various indigenous cultural practices and history.
Calling All Student Entrepreneurs!
Registration is now open for the Swartz Center for Entrepreneurship's 2021 McGinnis Venture Competition.
The McGinnis Venture Competition is a platform exclusively for Carnegie Mellon's global community of student entrepreneurs, bringing together the best and brightest to compete for $60K in investments. All participants receive coaching, valuable feedback and an opportunity to raise capital.
The multi-round competition begins with two virtual rounds, and will culminate in a final live-round celebration on March 23, 2021. Check out the requirements and guidelines.
Information Session November 20
Students are invited to learn more about the competition and hear from past winners about their experiences during an information session from 11 a.m. – 12 p.m., Friday, November 20. The session will be hosted virtually and advanced registration is required. Zoom information to all registered attendees will be send out the day before the event.
Contact Allyson Hince with questions.
Support the Children's School Library; Virtual Book Fair, Nov. 23-Dec. 6
Carnegie Mellon's Children's School is hosting a virtual book fair to help purchase books for the school's library. The Children's School will receive 30% of the purchase price of every book purchased between November 23 and December 6.
Please note that if you purchase books either before or after the book fair dates, the Children's School will still receive 15% of the purchase price. Contact Maggie Rosenblum with questions.  Happy shopping!