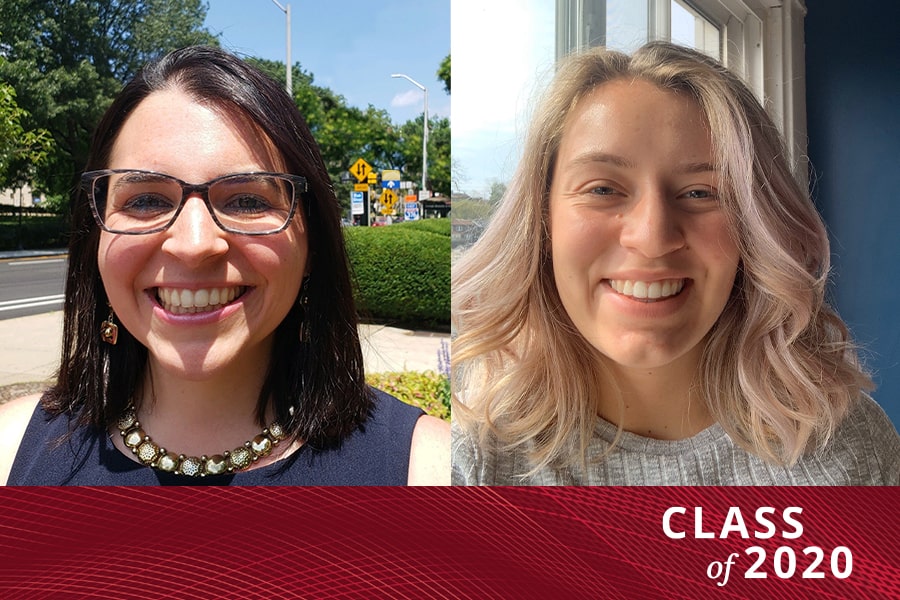 May 12, 2020
Meet Sunday's Student Speakers
This school year has been different, to say the least. In the last quarter, students learned, faculty taught and staff worked remotely due to the pandemic. This Sunday, the Class of 2020 will have their degrees conferred virtually, and not one, but two students will address classmates, families and friends tuning in to the online celebration.
This year's student speakers are Shannon Gallagher, a three-time CMU alumna who is earning her Ph.D. in statistics and data science, and Ana Torubara, who is earning her bachelor's degree in social and decision sciences with a minor in cognitive neuroscience.
Gallagher has earned many honors and awards at CMU, including the Judith A. Resnik Award for Outstanding Women in the Sciences, an Institute in Statistics and Modeling summer scholarship and induction into the Phi Beta Kappa Honor Society. 
"Well we are certainly never going to forget this occasion!" she said about the virtual conferral of degrees. "I am glad we are celebrating because it is important to highlight the accomplishments of the talented CMU students, even when, or especially when, we face difficult circumstances."
Gallagher earned her bachelor's degree in mathematical sciences and her master's degree in statistics and data sciences. She was a fellow and a research and teaching assistant as well.
"I spent a decade at Carnegie Mellon University, and I can say truly that I have met the most amazing people in the world here," she said. "I also will remember that things often do not go according to my plans, and I am better off for that.
Torubara said she is glad CMU is hosting a virtual ceremony and hopes to inspire her online audience.
"I hope people feel a sense of strength that will empower them to persevere through the difficult times we're living in," Torubara said. "But I also hope people take a moment to step back and appreciate all the positivity that exists too."
Torubara was active in the campus community. She was a resident assistant (RA), a member of the executive board of Chabad and chief financial officer for Kappa Alpha Theta sorority.
She said among her fondest memories of CMU will be her time as an RA.
"I shared and will continue to share an incredible bond with the Morewood Gardens staff and my residents," she said.
Find out more about CMU's virtual conferral of degrees.