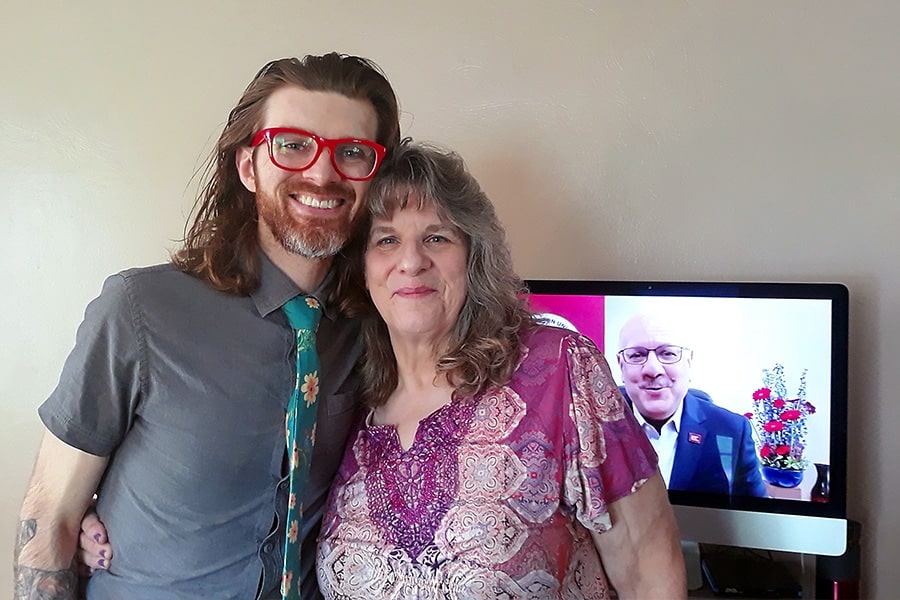 May 18, 2020
Chabassol Persists to Become First-Gen College Grad
By Bruce Gerson bgerson(through)cmu.edu
Steve Chabassol has finished his "draft" with an exclamation point.
A story of a Carnegie Mellon staff member who earned her CMU degree after a decade has hung in Chabassol's workspace for seven years. He stamped a red-ink "DRAFT" on it for motivation.
"It inspired me. I thought I can do this, too," said Chabassol, who became a  first-generation college graduate last Sunday. "I stamped it that way because I was still in draft mode."
A user interface designer and web developer for Marketing & Communications (M&C), Chabassol has finished his draft in style, graduating with a Bachelor of Humanities and Arts (BXA) degree in creative writing and music technology, with a minor in sound design. He earned university and BXA honors and received a Senior Leadership Recognition Award. He virtually accepted his degree last Sunday at home, celebrating with his wife, two children and proud parents.
Chabassol's educational pursuit at CMU has been a long, 13-year journey.
"I like to stick with things," he said. "I'm a pretty consistent person. I like stability, reliability and predictability."
After earning an associate degree in multimedia at Pittsburgh Technical College, Chabassol joined CMU in 2007 to work on images for the CMU homepage. He began taking classes for fun six months later, and became more serious about it after encouragement from family.
Steve Chabassol and his wife, Elissa. Elissa encouraged Steve to pursue a degree at CMU.
"My Dad and future wife convinced me to take advantage of the opportunity," he said.  "It's pretty cool that my career at CMU has allowed me to become the first person in my family to get a college education."
Chabassol is quintessential CMU. He's an artist with a passion for music and poetry, and an accomplished web developer who "makes the internet pretty." He plays guitar, drums and bass, among other instruments, and has been writing and recording his own music since he was 14. The music technology and creative writing BXA was a perfect fit.
Chabassol is quintessential CMU. He's an artist with a passion for music and poetry, and an accomplished web developer who "makes the internet pretty."
"Audio engineering and sound design taught me how to be more efficient producing music — it made me a better engineer. And the creative writing skills will help me become a better songwriter," he said. "Every poem I write could be converted into a song someday."
His writing skills also have helped him to author "help" pages on the web and other documentation for CMU's content management system.
"It's helped me to be concise and creative, and to be impactful with the least amount of words possible," he said.
Chabassol's biggest challenge over the past several years has been balancing work, school and family. Two-thirds of his time — as a staff member and student — revolved around CMU.
"I had to be intentional to make sure I was spending quality time with my family," he said.
Chabassol is grateful for the support from his family and M&C colleagues.
"CMU has been patient with me and has allowed me to grow and learn," he said. "I didn't start out to be a web developer. If CMU wasn't open to me learning and experimenting and trying new things, I wouldn't be in the role I am today."
While Sunday's celebration was virtual, CMU is committed to bringing the Class of 2020 together for an in-person commencement on the Pittsburgh campus at a later date. Chabassol said he's looking forward to that. 
"That will be awesome. My parents will come," he said.