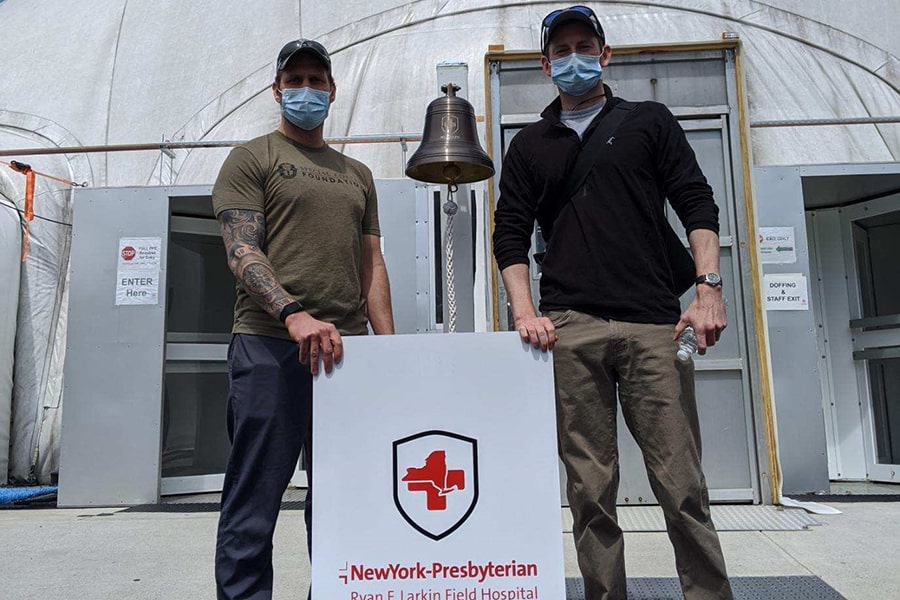 May 18, 2020
CMU Trauma Care Researcher Joins Fight Against COVID-19 in NYC
By Byron Spice bspice(through)cs.cmu.edu
One expects a Green Beret medic to readily respond to calls for help, so it's not that surprising that Luke Sciulli packed his bags in early April and left Pittsburgh for New York City, an epicenter for the COVID-19 pandemic, to volunteer in a field hospital.
Sciulli, a senior research analyst in the School of Computer Science's Auton Lab, explains his motivations more humbly: his house had burned down and he was living in a camping trailer. When he heard that former Special Forces medics and medical personnel were opening an ad hoc hospital in New York, he figured, why not?
Whatever his motivation, Sciulli began work on April 16 at the NewYork-Presbyterian Ryan F. Larkin Field Hospital, named for a Navy SEAL and medic who took his own life three years ago after suffering traumatic brain injury. Located in an indoor soccer stadium at Columbia University, the temporary hospital has served as a step-down unit for COVID-19 patients, providing a place for the recovering patients to convalesce a few more days before heading home.
"It's been successful and has served a lot of patients," said Sciulli, who provided treatment as well as being a unit leader and hospital supervisor. The hospital closed May 15, as the number of patients began to dwindle.
Since joining the Auton Lab in October 2019, Sciulli has been involved in two sister projects: TRAuma Care in a Rucksack (TRACIR) and Autonomous Delivery of Trauma Care in the Field (RoboTRAC), together a joint effort by CMU and the University of Pittsburgh School of Medicine. The researchers are developing an autonomous trauma care system that fits in a backpack and can treat and stabilize soldiers injured in remote locations.
Artur Dubrawski, a research professor who runs the Auton Lab, said Sciulli's experience as a medic in Afghanistan, Ukraine and a couple of African nations has been invaluable to the project by providing insights into battlefield care. RoboTRAC, Dubrawski said, will be "a robotic version of Luke."
Even while he volunteered with the COVID-19 patients, Sciulli continued to work on RoboTRAC in his off-hours.
"I keep asking him to stay safe and healthy," Dubrawski said during Sciulli's sojourn, "and I sincerely hope he listens to these requests, and that he will be back home soon and sound."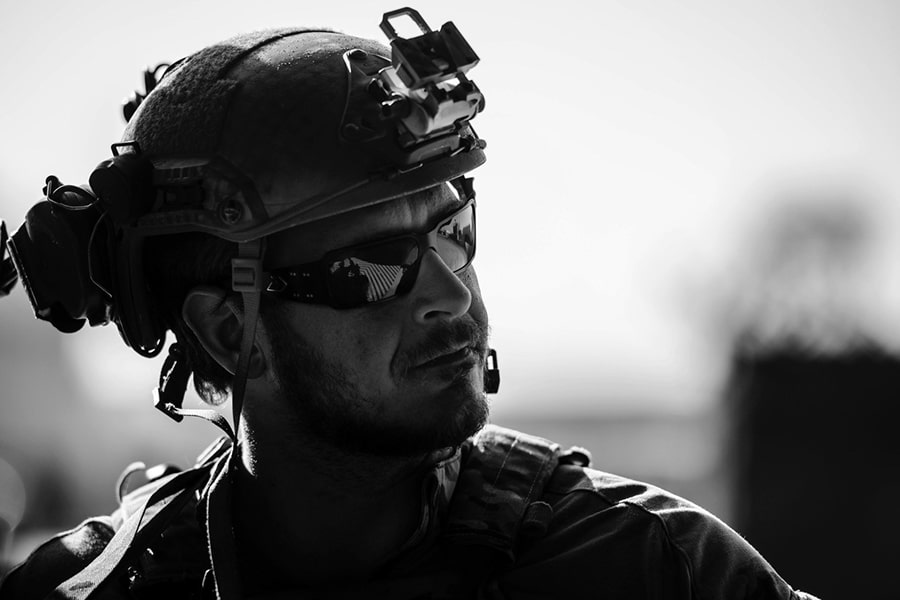 Green Beret medic Luke Sciulli has served in Afghanistan, Ukraine and a couple of African nations.
Sciulli's own field exploits came to a sudden end in January 2018 when he was caught in a collapsing building in southern Afghanistan. He was left with broken bones in his neck, shoulders and pelvis, among other injuries. Those included traumatic brain injury, which made his service at the Ryan F. Larkin Hospital — and the chance to meet Ryan's father — particularly meaningful to him.
While Sciulli was recuperating from his Afghanistan injuries in Walter Reed Medical Center, Dr. Ron Poropatich, a retired U.S. Army colonel and director of Pitt's Center for Military Medicine Research, visited him and talked to him about the TRACIR program. As Sciulli's recuperation progressed and he began to look for ways to get closer to home in Beaver County, he connected again with Poropatich, who put him in touch with Dubrawski.
When he began work on TRACIR and RoboTRAC, Sciulli said he had some hesitation about trying to develop robotic technology that would replace a person with years of specialized training. But as he's become more deeply involved in the project, he's realized the potential for an intelligent autonomous device that could stabilize a wounded soldier long enough for evacuation.
"This is the future of military medical intervention," said Sciulli, who officially retired from the U.S. Army on May 18. "We're pushing the envelope on something I never would have thought of myself. We're making it happen."
Sciulli emphasizes that this use of AI and robotics is important for saving the lives of Americans who are in combat situations around the world every day.
"Even though I can't help by being there with them," he added, "I can help now by doing things such as the TRACIR and RoboTRAC projects — and that's what I'm going to do."