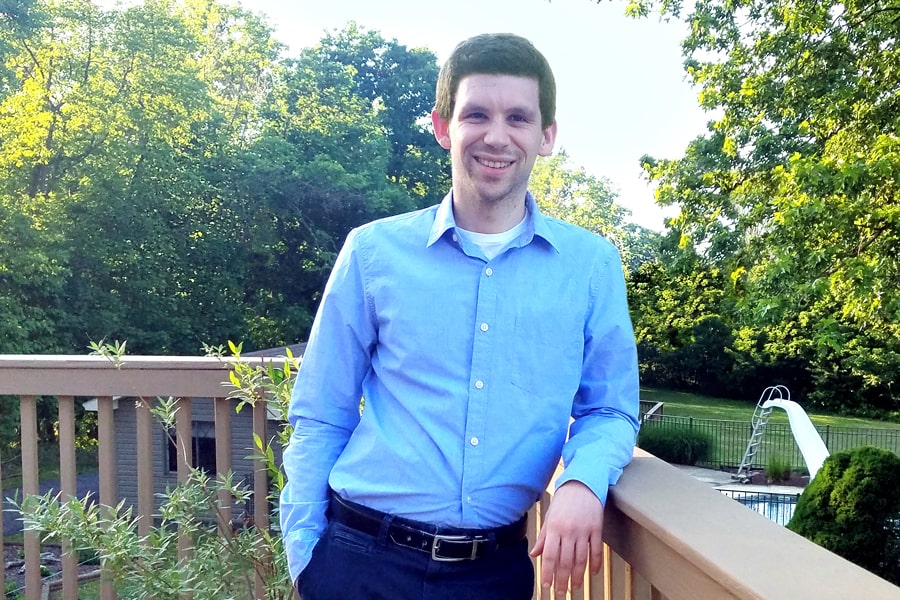 June 09, 2020
Gyory Puts Emphasis on Engaging Students as GSA President
By Bruce Gerson bgerson(through)cmu.edu
With an impressive track record, Josh Gyory is hitting the ground running as the new president of Carnegie Mellon University's Graduate Student Assembly.
Gyory isn't waiting for fall to reach out to the more than 8,000 incoming and returning graduate students. He's contacting them this summer to start the conversation. 
"My main focus for this year is engagement with graduate students, specifically incoming graduate students, and making sure they feel a sense of community before they get here," said Gyory, who officially assumed his post June 1.
"How do we engage returning students and new students to help them feel their place at CMU early on? It's critical during this time of the pandemic," he said. "How can we feel a sense of community and engage with one another while being socially isolated? That's my main emphasis as president."
Gyory knows a little something about community at CMU. The mechanical engineering Ph.D. candidate became involved in the GSA three years ago and he's made a big impact ever since.
In his first year as a Mechanical Engineering Department representative to the GSA, he organized town hall meetings in his department and the College of Engineering to gain insight into student concerns, and co-organized  a comprehensive effort to reduce the cost of health insurance for Ph.D. students. He and several of his colleagues authored an extensive report, benchmarking the practices at peer institutions, and presented it to the college dean and provost. CMU now covers 50% of the health insurance cost for Ph.D. students.  
"It was a good two-year effort. My graduate academic adviser in mechanical engineering said it was probably the biggest impact he's seen in his 10 years at CMU," Gyory said.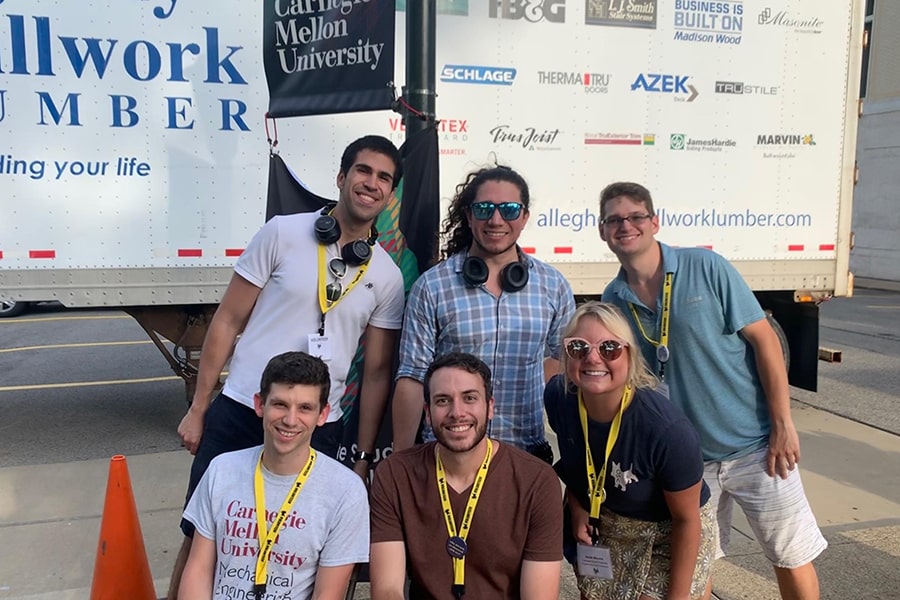 Josh Gyory (bottom left) with fellow GSA executive committee members at the Fall 2019 Graduate Student Orientation.
This past year, Gyory was the first GSA vice president for academic affairs and represented graduate students as a member of several university-wide academic committees. Along with GSA's vice president for campus affairs, he implemented a town hall listening tour for master's degree students that stopped in each of the colleges. About half of the town halls were held in person before COVID-19 forced the rest to be held on Zoom. 
"We wanted to understand what their needs were and what their concerns were," he said. 
Gyory said common themes among master students included advising and professional development opportunities. Feedback from the town halls are being summarized and will be presented to university leadership in the fall.
"As a vice president, I had monthly meetings with Amy Burkert, vice provost for education. I saw her passion for graduate students, and I know she's really interested in seeing this data," he said.  
Gyory is looking forward to a big year, which will include researching, writing and defending his thesis.
"Reaching out to grad students this summer is critical now."
In his fifth year as a Ph.D. student, he recently presented his thesis proposal to his review committee. He studies the application of machine learning techniques to the engineering design process. The title of his thesis proposal is Facilitating the Problem-Solving Design Process via Real-time Computational Process Management.
"Specifically, my research looks at human and artificial intelligence design teams and how they can work together to solve problems," said Gyory, who was drawn to CMU because of its expertise in interdisciplinary collaboration. "My research is very interdisciplinary as it intersects with psychology, machine learning and engineering. That's one of the unique things at CMU."
Away from his studies, his focus will be building community and striving to make a positive impact on the graduate student population.
"Reaching out to grad students this summer is critical now," he said. "And we need to be innovative to bring students together socially."
Aside from its advocacy work, the GSA hosts fall and spring social events. Last fall the Heinz History Center provided the backdrop. This spring's event at the Zoo and PPG Aquarium was cancelled.
"I see this COVID situation as a challenge and I'm up for it. I want to see what I can do with it," he said.
In his spare time, Gyory, who was a mainstay in the CMU fitness center, enjoys running, yoga and binge-watching television shows.
"And, of course, the GSA takes some of my free time, too," he said.