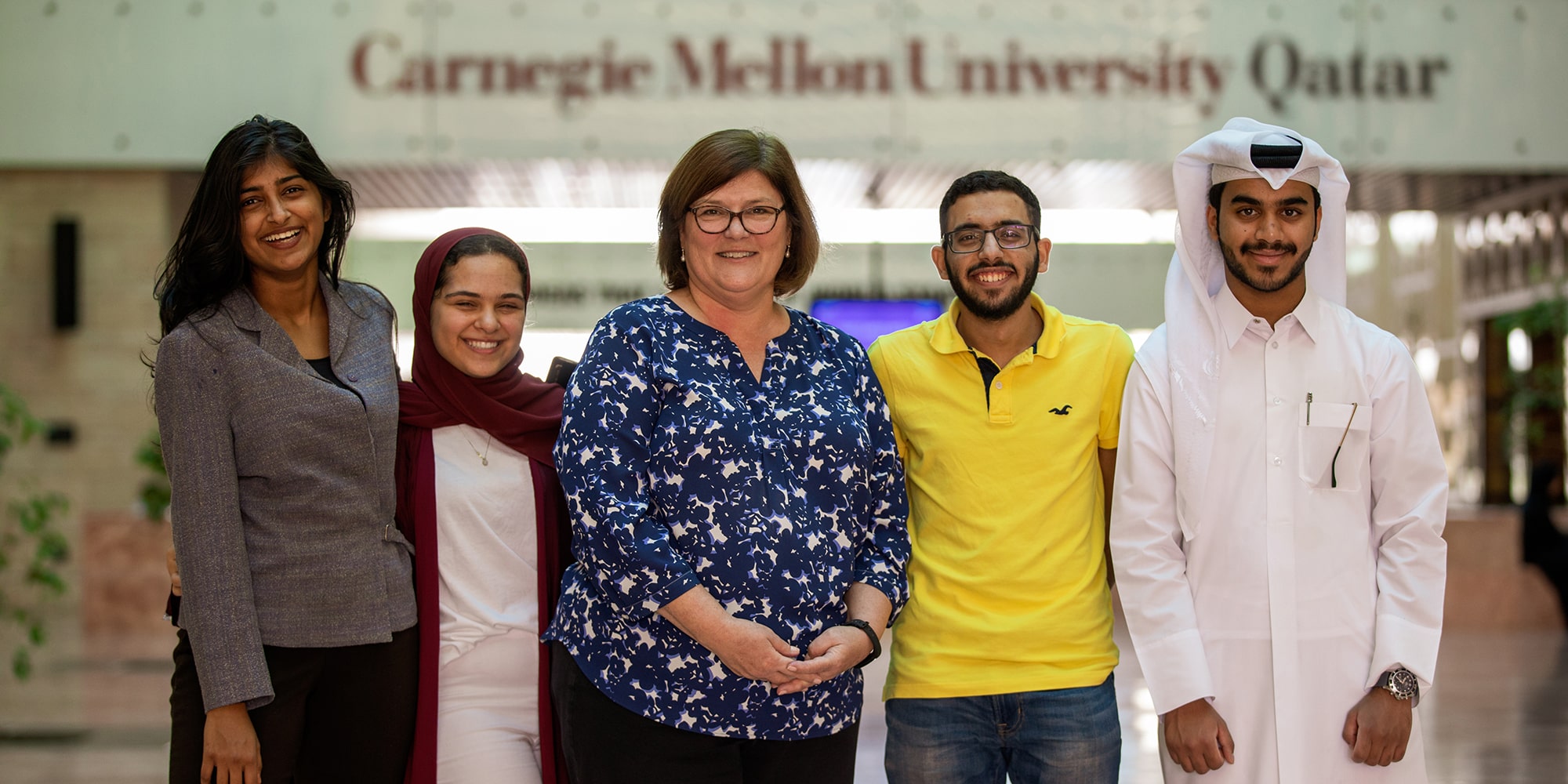 January 21, 2020
Camerlengo Helps Students Craft Their Experience at CMU-Q
Long before she moved to Doha, Qatar, in January 2019, Renee Camerlengo was a champion of Carnegie Mellon's Qatar campus. Her first visit there was transformative.
"There was something about this place and CMU's mission here in Qatar that resonated with me," said Camerlengo, who as director of student life accompanied student musicians to perform at a groundbreaking ceremony for CMU-Q's new building in 2005. "The Qatar campus provides such potentially life-changing opportunities, and this seemed to align so well with CMU's values."
Camerlengo moved to Pittsburgh in 1998 from Rochester, New York, where she was associate director of residence life at the Rochester Institute of Technology. Before the move, she informally inquired about a position at CMU.
"I remember thinking, Carnegie Mellon's a cool school, I would love to work there some day," she said.
She got her wish after a phone call from Michael Murphy, former dean of student affairs.
"It was a quarter to eight in the morning, I was in my office in Rochester and I got a phone call. 'Hi, this is Mike Murphy at Carnegie Mellon.' He said, 'I have your resume on my desk and I have a job I think you should apply for.' I was very grateful that my kids cooperated that morning on the way to daycare, or I wouldn't have been in my office that early," she said.
The job was an excellent fit for Camerlengo, who found herself energized by Carnegie Mellon's approach in student affairs.
"We are embedded in the academic mission, and you don't find that at a lot of universities. CMU's approach is innovative, it's creative, it's entrepreneurial," she said.
Camerlengo describes her work as "partnering with students to help them craft their student experience." She said a key to her role is listening carefully and with an open mind. She reflects on a time several years ago when a student leader came to her with an idea for a first-year orientation activity. He imagined all of the residential houses would compete in a giant field day, called House Wars.
"I said, 'it's college, no one's going to want to do a sixth-grade field day.'"
The student persisted in developing his idea, in spite of her hesitancy. Today, House Wars is a beloved tradition of CMU Orientation.
"What I should have said was, hmm … that's interesting. What do we need to think about?" she said. "My job is not about gatekeeping their decisions, it's about helping them make well-informed decisions."
A Decade of Connecting with the Qatar Campus
In 2009, Camerlengo was offered the opportunity to spend 50% of her time as the Qatar campus liaison. Working in partnership with the Doha team, she would represent Qatar in Pittsburgh and be a friendly face and point of contact for Qatar students studying on the main campus in Pittsburgh.
"I looked at it as an opportunity to bring good ideas happening in Qatar to the main campus," Camerlengo said. "I felt like a prospector: what's an initiative in Doha that we can scale to Pittsburgh?"
That same year, a group of fifth-year scholars travelled to Doha, and were taken with how Carnegie Mellon can happen 7,000 miles away in the Arabian desert.
"They wanted to sustain the link between campuses, so they wrote a proposal for IMPAQT (Initiating Meaningful Pittsburgh and Qatar Ties)," Camerlengo remembers.
Camerlengo has advised IMPAQT every year since 2009, helping coordinate teams of students in Pittsburgh and Qatar. During spring break, a student team from Qatar travels to Pittsburgh to learn about the campus, and the following week a Pittsburgh group visits Doha. For many students, the experience is transformative, like it was for Camerlengo years ago.
Camerlengo also served as a touchpoint for dozens of CMU-Q students who each year spend a semester on the main campus.
"It's hard to go from a campus of a few hundred to one of 13,000," she said. "I would host events, and co-host opportunities for them to meet faculty and students, so they felt like they had a network.
"I've always admired the sense of pride that CMU-Q students have for being part of Carnegie Mellon. There's a sense here of belonging to something bigger. That has always been really palpable to me," she said.
Serving Students in Qatar Full-Time
In January 2019, Camerlengo agreed to fill the role of interim assistant dean of student affairs at the Qatar campus. When the semester ended, she and her husband made an important decision — she would remain at CMU-Q as the new associate dean of student affairs.
"It feels new and comfortable at the same time," she said. "I'm really so taken with the region and all that I have to learn about it. I find myself observing something and thinking to myself, okay, take off your Western-bias lens and try to understand what's really happening."
Although she now helps students in a different cultural context, she sees many similarities between the two campuses.
"There's a dear student who's a senior now, and I steal this quote from him all the time: 'CMU is rigorous and rejuvenating.' That's what I like about being part of the CMU community," she said.