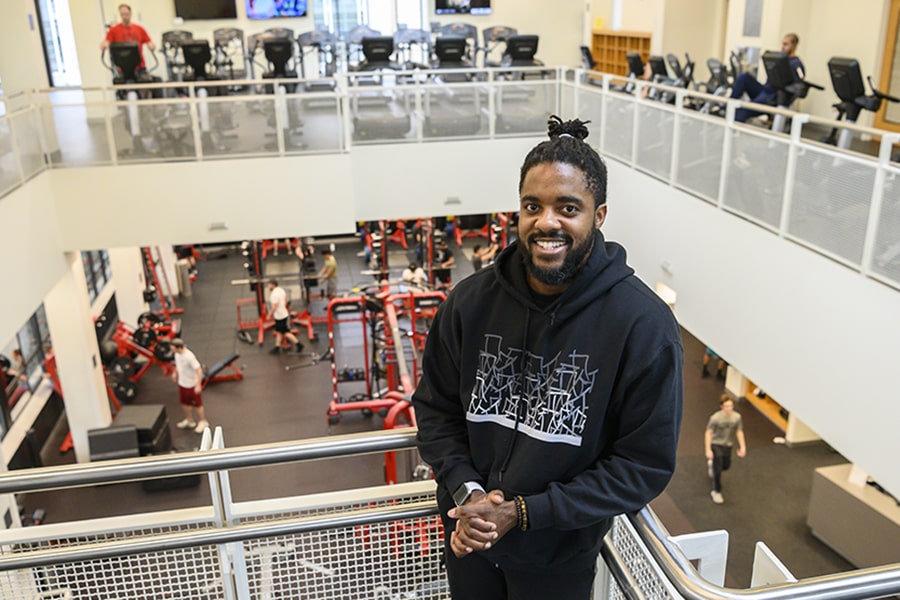 January 07, 2020
Frezzell Inspires Campus To Fit In Fitness in 2020
By Kelly Saavedra ksaavedra(through)cmu.edu
Nate Frezzell is fired up and ready to help you set attainable fitness goals for the New Year.
From balance, strength, flexibility and cardio workouts to cycling and restorative yoga, Frezzell teaches every type of group exercise class on campus and is one of nine fitness trainers at CMU who can prepare individualized workouts to meet any need.
There's even an app for that. Delta Trainer, co-founded by CMU student Matt Spettel and his childhood friend Gabe Madonna, is free; all you need is an iPhone and an Apple watch. After first connecting you with a personal trainer to create an individualized workout that fits your needs, Delta Trainer records the progress you are making during your workout by tracking your movements, and then provides feedback in real time. No Apple watch? No worries. Watches can be rented through the app for the duration of your training.
Frezzell said the app has expanded his clientele beyond what he can accommodate face-to-face, enabling him and his colleagues to help more people maintain a healthy lifestyle.
"Delta Trainer is fun and interactive, and we have a ton of different exercises. We can build anyone a workout from the ground up. You don't even need a gym membership," he said.
When Frezzell was a kid, he said, he was weak and skinny but he really wanted to play football. The first time he tried lifting weights, he could only bench-press the bar with no weights on it. By sticking to a plan, he made himself stronger without making himself slower, he said, and his efforts paid off. Not only did he play sports in college but he proved himself to be a formidable competitor against student-athletes who went on to play professional football. Other athletes noticed and began asking him how they could achieve similar results, so he started helping them along, even through their injuries.
"Injuries are inevitable when you're an athlete. Not only did I learn how to continue exercising through injuries, I also learned how to not get injured in the first place and live a pain-free life while keeping fit," he said. "So, even if you have back issues or a knee issue you've been dealing with, whatever it is, we can work around that."
A personal trainer and health coach certified through the National Academy of Sports Medicine, Frezzell has coached and trained both athletes and non-athletes of all ages since 2003. His first client at CMU was a student who had never even done a jumping jack. He said his most inspiring clients are often 60-, 70- and 80-year-olds who insist on staying active.
"I see them on the track warming up to run a 100-meter dash, and I think, 'Wow! I want to still be running when I'm in my 80s, too!'" he said.
Whether you love to lift weights or hate going to the gym, Frezzell says becoming a healthy person starts with setting attainable goals and following a plan. Detailed information about group exercise classes, personal training, aquatics, how to use the weight room, nearby running and walking trails, Walking Wednesdays and much more is available on the athletics website under the recreation tab. 
Members of the campus community are invited to help kick off "Healthy Campus 2020" at noon on Wed., Jan. 15 in Wiegand Gym. Frezzell and his colleagues from Delta Trainer, along with interns from the University of Pittsburgh seeking personal training clients, will be on hand to answer questions and lead a group walk around the gym.
"Exercise is my life," Frezzell said. "I love helping people get healthy and reach their goals. I know it's my job, but it really isn't work for me."
Need some motivation? Take the Fitness Challenge! Sign up and receive a free pair of sunglasses for your commitment to exercising for 20 minutes four times a week for six weeks. The Fitness Challenge starts Jan. 27 and ends March 8.