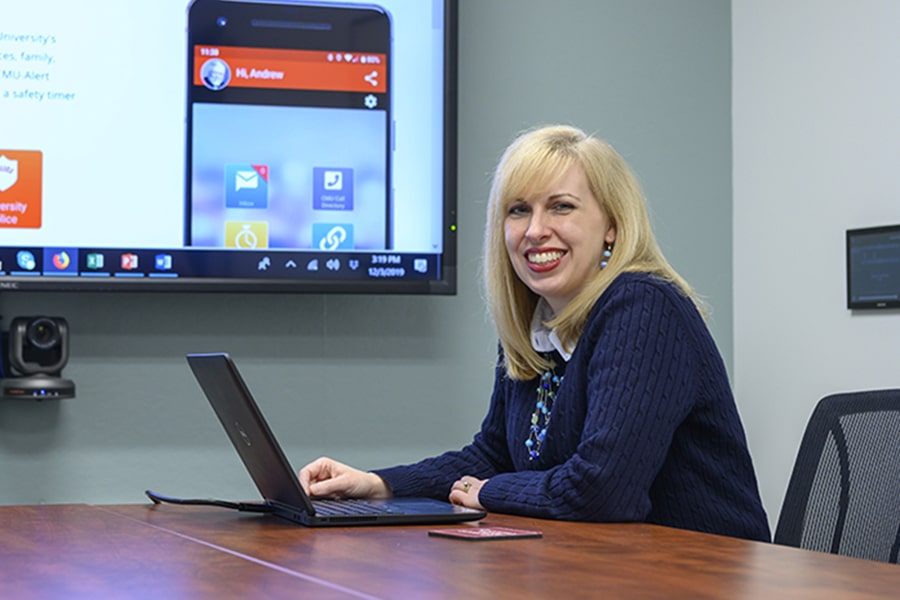 January 29, 2020
Lucht Leans on Family Values
For Melanie Lucht, safety is both business and personal.
At Carnegie Mellon University, Lucht serves as associate vice president and chief risk officer of Enterprise Risk Management (ERM). She hails from Bradford, Pennsylvania, home of the Zippo lighter and where law enforcement was the family business.
"On every holiday, at every birthday party and every picnic growing up, I was surrounded by law enforcement, and it was more than just my immediate family," she said. "There is a deep sense of 'family' in a law enforcement community, a camaraderie that is nothing like I've ever experienced before. I went to college fully expecting to pursue a career in the field."
But after earning undergraduate and graduate degrees in criminal justice from Mercyhurst University, she found herself drawn to work as an insurance underwriter, reviewing applications for homeowner's and auto policies, assessing risk and determining how much premium to charge.
"It was very interesting work to me," she said. "Underwriting trained me to look at safety through the lens of risk management. I learned to think two and three steps ahead, as in what is the worst-case scenario and what do I need to put in place in order to make this risk acceptable."
Lucht began her career at CMU in the Computing Services Department, where she grew the business continuity program. Its initial focus was on life/health safety and ensuring the university could continue providing critical services in the event of an emergency.
Under the direction of Vice President for Operations Rodney McClendon, Enterprise Risk Management was restructured into a comprehensive department, bringing business continuity, risk assessment and environmental health and safety all together under one umbrella. After conducting a national search for the university's chief risk officer, McClendon promoted Lucht to lead the effort and build an expanded team.
"Dr. McClendon's top priority is the safety of our students, staff and faculty, and he recognizes the importance of risk management in that context," Lucht said. "Our team is incredibly driven, incredibly dedicated and brings so much expertise to the table. We have had the opportunity to hire subject matter experts with very diverse perspectives, and that has really raised our game."
In addition to risk assessment and business continuity plans, regularly scheduled emergency preparedness exercises and communication tools, such as the Rave Guardian app and CMU's emergency alert system are continually being enhanced and refined by the team.
When considering a new strategy or a new program to implement, Lucht says she always tries to look at it through the eyes of a parent, aware that her decisions may influence whether a parent ultimately chooses to send their child to CMU or another institution.
"Sending your child away to an institution of higher education is giving them to another parent, and I share in Dr. McClendon's passion that safety has to be the top priority. If you don't feel safe, you're not going to be able to do much else," she said.
"When you have that separation with your child who is leaving the nest, you want to feel confident that they're going somewhere where they're going to receive an incredible education that is world-renowned, where they will be exposed to positive experiences that will help to shape their character and who they are as an adult for years to come, and where you feel confident that they will be safe."
When she's not at work, Lucht spends quality family time with her husband and son, and finds that binge-watching British television and HGTV can be a great way to unwind.
"I really admire people who can do home makeovers. It's so far removed from my skillset," she said. "I can sit there for hours on a Sunday afternoon over a cup of tea, fascinated by their creativity."

Have a suggestion for Staff Spotlight? Send it to piperweekly@andrew.cmu.edu.