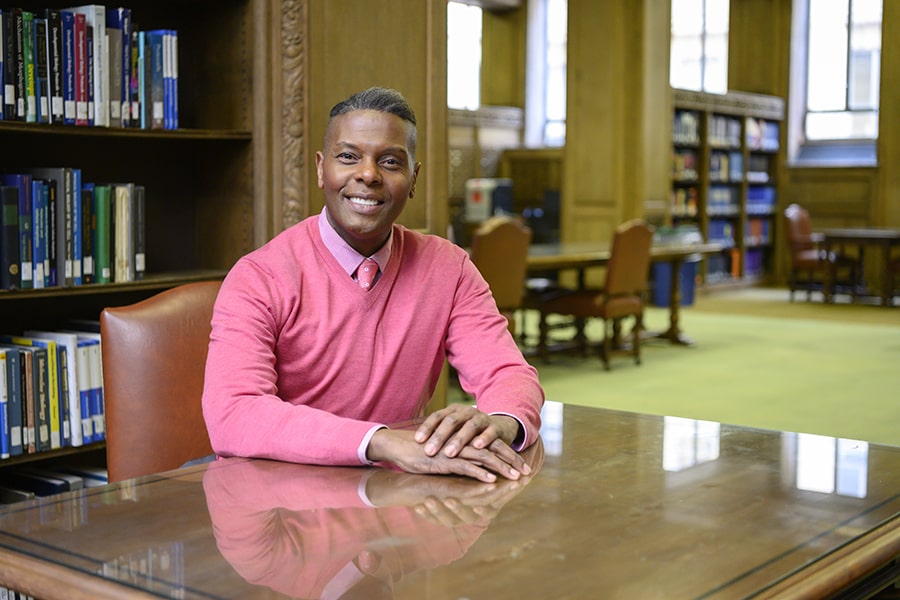 February 04, 2020
Lacy Energizes Staff Through Engagement
By Kelly Saavedra ksaavedra(through)cmu.edu
Sebastian Lacy is a people person.

As a seasoned Human Resources professional, Lacy combines his passion for education with his HR experience in an advisory role for the Mellon College of Science Dean's Office.

He says he has always felt called to inspire and motivate youth and young adults to pursue higher education, and Carnegie Mellon University's commitments to excellence and to the community provide him with the ideal environment for carrying out his mission.

"Education is quintessential to changing lives regardless of one's socioeconomic background, race, gender, sexual orientation, creed or nationality," he said. "It affords you the opportunity to transcend all barriers to accomplish your dreams and aspirations."

Lacy serves CMU faculty and staff in the Pittsburgh Supercomputing Center; Mathematics, Biological Sciences, Chemistry, and Physics departments; and the MCS Office of Undergraduate Studies. Some of his primary responsibilities include answering their questions and helping them navigate internal management tools such as Workday and Servicenow. He is the point person for MCS's performance management system, staff engagement and recognition programs.

He is a passionate believer in recognizing and engaging staff, and he walks the talk — overseeing MCS's staff recognition program and representing MCS on the Andy Awards Committee, which selects the annual winners of the university's most prestigious staff award.
"Staff are so often the unsung heroes and life blood of an organization's success. It's essential for an organization to celebrate them."
"Staff are so often the unsung heroes and life blood of an organization's success. It's essential for an organization to celebrate them," he said. "Saying thank you for their countless, tireless hours, and for their unwavering dedication to CMU's mission and vision, should be celebrated and recognized in a formalized setting. It may seem like a small token, but it goes a long way."

It's work that matters. As a result of his engagement with staff, colleagues have become energized to partner with other departments, volunteer for committees, nominate their colleagues for awards and attend MCS-sponsored events.

Lacy has been an active member of Staff Council since 2014. He is chair of its Relations Guidance Advisory Committee, serving as a confidential and objective peer resource to university staff and helping to ensure fair staff relations and support the university's commitment to equality, ethical behavior and respect for others.

He also chairs the ad hoc All-Gender Inclusive Restroom Committee comprised of representatives from across campus, which strives to have at least one all-gender restroom in every campus building in the near future to serve not only CMU faculty, staff and students but campus visitors, family and vendors.

As a member of Staff Council's Benefits Committee, Lacy played a key role in the university's adoption of its new parental leave policy. This year, he will serve as the MCS team captain for the United Way Campaign.

"I enjoy my staff engagement and recognition roles immensely," he said. "I take great pride in supporting our staff and showing them appreciation for their dedication and commitment to our students and to making CMU one of the world's leading higher learning institutions."

From on-boarding to retirement, Lacy says his secret to success is employing good old-fashioned customer service.

"I feel my role is to ensure they have the best service, experience and outcome," he said. "My interactions are more than just a Workday transaction, an email or a voicemail. That is a person on the other end who deserves the highest quality response and your best effort possible."