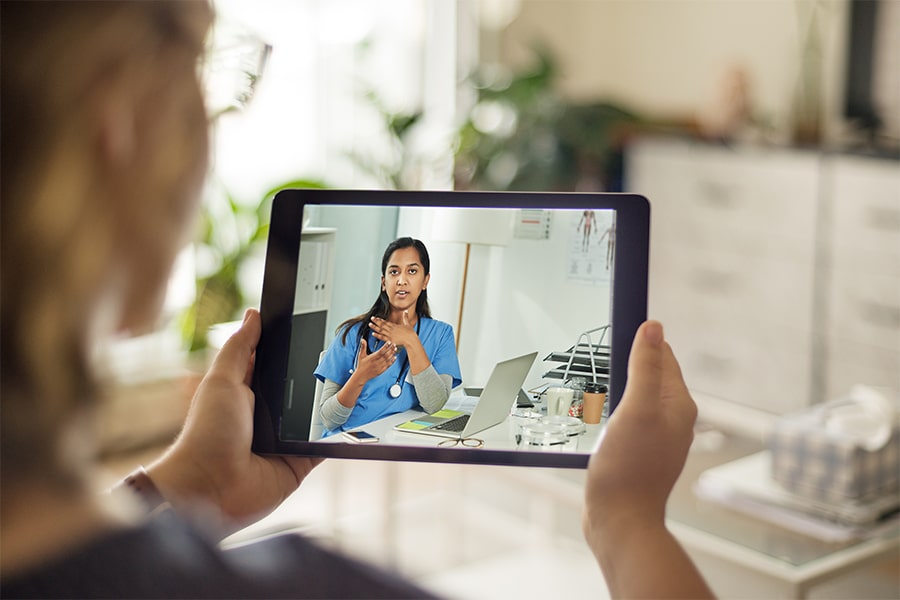 April 22, 2020
University Health Services: Telehealth, Public Health Recommendations and Stopping the Spread of Coronavirus
By Beth Kotarski, Executive Director of University Health Services bkotarsk(through)andrew.cmu.edu
COVID-19 has interrupted lives across the globe. It has changed the way we interact with each other, shop, eat, work, learn and play. It has also changed the way we access our healthcare.
While the world rushes to learn more about the virus and ways to defeat it, many public health interventions have proven effective at slowing the spread of the disease. Two such practices that Carnegie Mellon University and University Health Services (UHS) have adopted are telehealth care and the general use of facial coverings.
Telehealth Care
Until recently, telehealth was rare. Given the need for physical distancing to control the spread of COVID-19, patients and healthcare providers have turned quickly to telehealth platforms to provide the care that patients need.
Currently, UHS is serving students via virtual services. For students who are living outside of the Pittsburgh area, UHS nurses and staff answer telephone calls and direct students to medical care where they are currently residing. Nurses also assist students to refill medications they receive through UHS and receive laboratory services needed for ongoing therapy.
For students who continue live in the Pittsburgh area, UHS can provide an added service of virtual medical appointments. These appointments are conducted via a Zoom link that is compliant with medical laws and confidentiality. The virtual visit takes place between the student and a healthcare provider at UHS. The service is a medical appointment that achieves much of what an in-person appointment does. It can generate a diagnosis and treatment plan that may result in a patient receiving a prescription that will be called to a pharmacy or advice to care for a condition at home.  UHS is also able to discuss continuing plans of care for patients who may have ongoing medical conditions that they seek treatment for routinely at UHS. We also provide ongoing appointments for students who use UHS for psychiatry services.
Public Health Recommendations
After the Pennsylvania Department of Health determined that face coverings most likely help to slow spread of the coronavirus, Pennsylvania put forth new requirements about wearing a face covering in public.
Experts believe that the virus spreads by coughing or sneezing, propelling the virus through respiratory droplets that can land on surfaces or suspend briefly in the air before dropping to surfaces. Frequently touched surfaces where the virus may be concentrated are doorknobs, elevator buttons, counters, desktops, store checkout counters and payment pads, and bathroom surfaces. Public health officials added the face covering requirements after newer data have indicated that infected people may be able to spread the virus just by talking, laughing or even breathing.
By covering the mouth and nose, a person who may feel well, but who is carrying the virus, will decrease the chances of unknowingly spreading it to others.
The face covering requirement is not a surgical or N95 mask, as these medical grade masks should be reserved for healthcare workers or people who are ill. Instead, any cloth covering over the nose and mouth such as a bandana or even an old pillow case or tee shirt may be used. Learn more about making a face covering.
Wearing a face covering does not negate the need for staying at least six feet from another person in public or for frequent and effective handwashing. Used together, these three practices are the cornerstone of infection control measures that will keep us safer.
Carnegie Mellon University is a deeply caring and committed place. By following the recommendations of public health officials, we can all do our part to protect and support one another and bring our world closer to life, post-coronavirus.