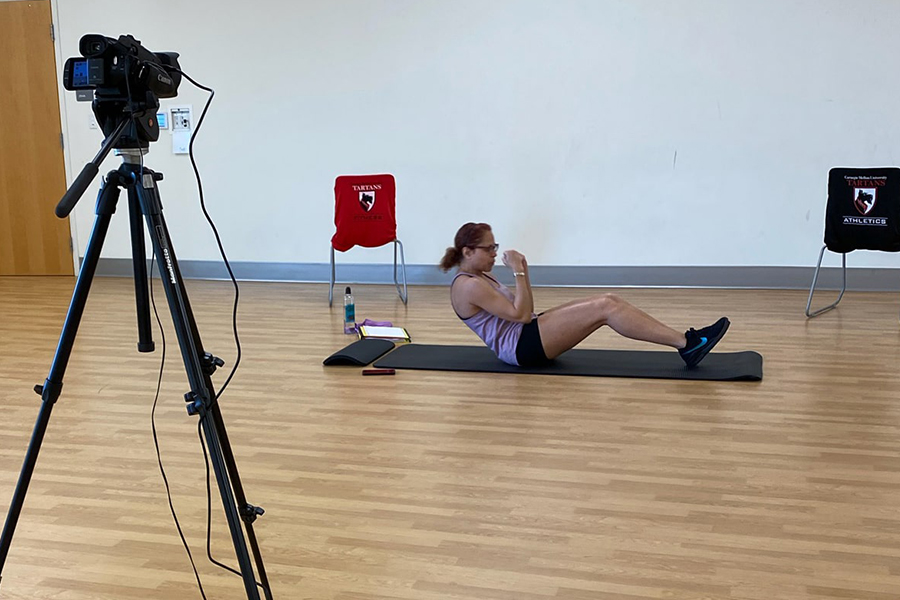 April 01, 2020
Stay Home, Stay Fit
By Kelly Saavedra ksaavedra(through)cmu.edu
Pattye Stragar and her fellow fitness gurus at Carnegie Mellon are making it easy for us to stay fit despite our inability to get to the gym.
"We're happy to bring the gym to you," she said.
Stragar, who is fitness operations manager at the university, has been using this "pause" during regularly scheduled life to learn how to record fitness videos.
"We filmed an At Home Total Body Workout with Randy to show you don't need equipment to work out," she said. "You can use common items found in the home, such as your backpack filled with books, gallon water jugs, or cans of vegetables from your kitchen cupboard. Be creative with your workouts!"
If you're missing the social aspect of working out, Stragar encourages you to join the live classes offered at 4:30 p.m. ET every day, Monday through Thursday.
Monday's class was Abs, Glutes and Boots with Karen. The 45-minute workout focuses on sculpting and strengthening your core and glutes with additional toning of your arms and legs.
On Tuesdays and Thursdays, Randy will lead you through balance, strength and flexibility exercises. This class uses body weight for a full-body exercise experience.
The movements are challenging, but Stragar says people of every fitness level — from beginners to advanced — will benefit from each successive class.
"As someone who went religiously to CMU's Group-X fitness classes, I have found staying home to be really tough," said Cassie Eng, a Ph.D. candidate in cognitive and developmental psychology, who was thrilled to join the live class Monday with several of her friends. "I think some people are having a hard time sitting all day; they're filling up their time by cooking, eating and binging on Netflix series."
Prior to the start of live classes, Eng said she has been going virtually with her friends via Zoom to some of the 70 Group-X exercise classes already available on demand. The classes range from yoga, dance and cardio workouts to kickboxing, indoor cycling and strength training.
"We use the share screen and audio so that we can take the classes together!" Eng said.
Nick Golio, a Ph.D. candidate in chemical engineering, is another member of the campus community who misses going to Group-X fitness classes, where he learned exercises that require minimal to no equipment.
"While staying at home, I've been using the skills I've learned in these classes to stay fit from the comfort of my apartment," Golio said. "But I am also really enjoying the virtual Group-X classes that premiered this week. I intend to follow along for all of the live-streams."
Stragar invites anyone looking to stay motivated to consider joining the Isolate Your Fitness Challenge and log your workouts online alongside others in the campus community.
"I think the greatest challenge is just to keep people motivated to do something," Stragar said. "Fitness is social, and the online challenge brings in that social component where you can see what your friends and other people are doing, maybe get some ideas for how you'd like to enhance your own workout."
The point of it all, Stragar said, is to use this time at home to take care of yourself and maybe learn something new.
"We are so grateful to be able to continue doing this for the campus community, and to have the support of the Athletics Department and our university leadership," Stragar said.