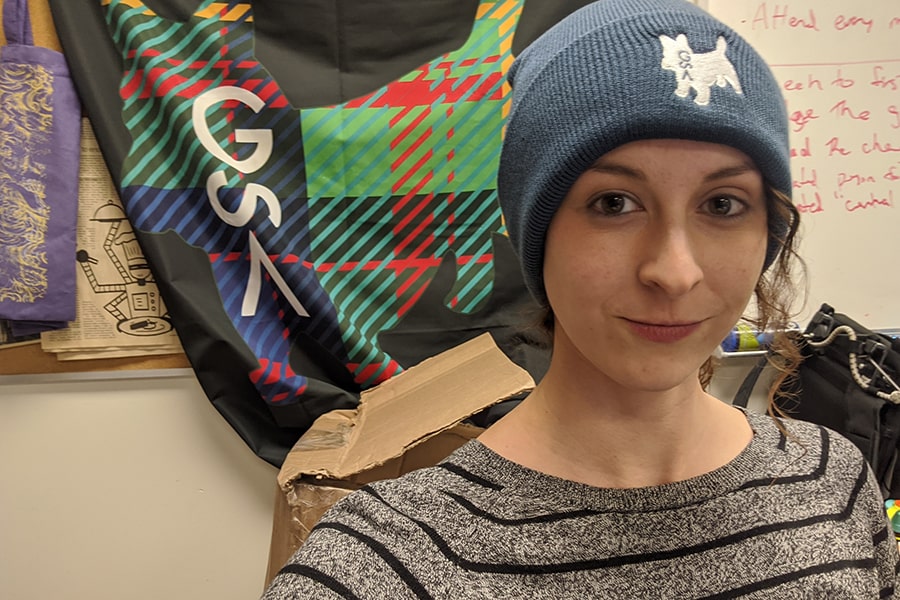 April 01, 2020
Working at Wellness as a Grad Student
By Kristen Allen, Graduate Student Assemby Vice President for Campus Affairs gsa-vpca(through)andrew.cmu.edu
In the best of times, the graduate student experience is intense, and we are not currently in the best of times. Students are understandably distressed by changing circumstances and concerns around social isolation, visa statuses, food and housing security, and faculty expectations for research output, along with plenty of general uncertainty about the future. 
In times like these, we need our institution more than ever. CMU has given us reasons to trust — they are, for example, finding remote work and financial assistance for students who held jobs on campus and offering health and wellness support services remotely and online.
As CMU navigates students, faculty, and staff through various uncharted territories, graduate students are working on the crucial personal task of taking care of ourselves and each other.  
Financial Support
If you can't pay the rent, it's hard to prioritize mental and physical wellness. To help with new financial stressors, reps in the Graduate Student Assembly will soon vote on contributing $62,000 in unspent student activities fees to support students in urgent financial need through university-administered emergency grants. The reps will be voting online Friday through Wednesday, April 3-8. The Undergraduate Student Senate and several student organizations have already pledged over $30,000 to these funds. The university has shared information on applying for the Emergency Support Fund.
Wellness Techniques
Digital Yoga Class
You will need:
yoga mat or blanket
webcam (salute the sun with a friend) 
an online yoga instructor (DownDog is free until July 1)
blasé attitude about camera angles and whether your buddies can see your face
Sign up for the live experience or just set a Zoom date!
Pro tips: add a playlist. Mute your mic.
Cyber Board Gaming
You will need:
Pro tip: include friends of friends — they won't know when you're lying about being Percival.
Web Therapy
Like therapy, but on Zoom. Counseling and Psychological Services (CaPS) can help you find someone if you are out of state, or try Thriving Campus with the "telehealth" filter. If you are in Pennsylvania, CaPS offers distance counseling via telephone or video conferencing.
Grad Wellness Challenge
The Grad Wellness Challenge is open to all graduate students, partners, and family. Stay motivated and get internet points for working out, meditating or eating something you cooked yourself. Participation prizes included. Sign up here. Bonus points if you attend GSA e-workshops and Zoom offerings from StuGov. 
We'll Get Through This Together
This change hasn't been easy, and a lot of us are still figuring out how to carry on somewhat normally. Remember that it's okay not to be on top of everything. Our lives were already less stable (and our resources more limited) than those of most faculty and staff, so students need extra help and understanding right now. If you need help, let someone know, and look around for relevant resources. If you're doing fine, remember to keep taking care of yourself, and offer a hand to others when you can — we're in this together, and we'll get through this together. 
Kristen Allen is a fourth-year Ph.D. student in engineering and public policy. She earned her bachelor's degree in linguistics, with minors in computer science and cognitive science, from Swarthmore College in 2012.