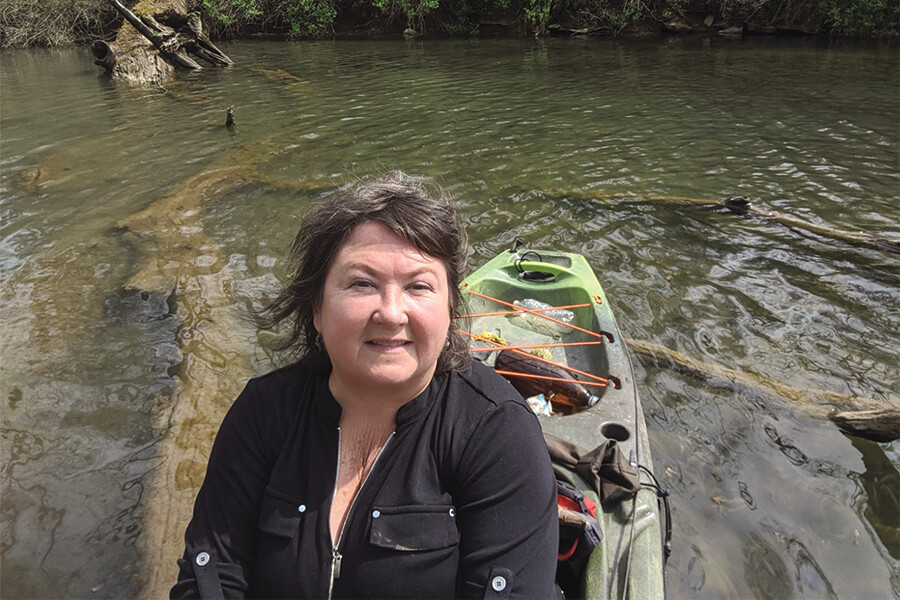 April 28, 2020
The Benefits of Gratitude
By Mandi Semple msemple(through)andrew.cmu.edu
Since COVID-19 upended daily life's familiar routine and structure, Angie Lusk, program director of Student Affairs Wellness Initiatives, has offered a virtual Weekly Gratitude Session.
"I was delighted, but not surprised, when I read in The Piper that Carnegie Mellon was offering an opportunity like this to the community," said Nora Tallmon, senior administrative coordinator and office manager for Housing Services. "In my experience, CMU has been the most proactive workplace I have been part of when it comes to putting time and attention into genuinely supporting a healthy work/life balance."
For Tallmon, the weekly session supports her lifelong practice of being intentionally grateful on a daily basis and is a boon in her workweek that fuels her positive attitude.
"I am not only grateful for the large, life sustaining things like a loyal partner, a job in which I am well matched, a safe home, food, and healthy children and grandchildren, but also for all the minutiae that add up to create a full, vibrant life like books, nature, fellowship, music, silence, laughter and global kinship and goodwill," she said.
Lusk kicks off each 30-minute session with an inspirational quote and then a prompt for participants to consider, such as 'what silver linings have you had during this period of change and home isolation,' 'who and what are you grateful to nurture,' or 'as we adjust to a new wave of education, what teachers do we admire from our past and what have they taught us.'
"We know from literature that gratitude practices boost our psychological health and increase our connectivity to others," Lusk said. "Setting up time for our community to practice together has been a weekly highlight for me. It's been great to get to know people from around the university in such a personal way."
"I feel lucky to have a workplace that offers me the opportunity to pause and reflect," said Shari Zingle, executive assistant to the vice president for Student Affairs and dean of students. "Angie's calming guidance and uplifting energy make the sessions time well spent and rewarding. All the more reason to be grateful."
Practicing gratitude can inspire a renewed interest in hobbies and stronger bonds in relationships.
"I have a daily gratitude text chat with a group of friends, where we practice the habit of gratitude, similar to how others run a lap, roll through a melody over and over on a piano, or go through Tai Chi's movements," Tallmon said. "I see the rewards of this practice in my daily life — more joy, more vitality and more strength of character."
Tallmon also finds solace in two of her passions — kayaking and gardening — both of which she finds very meditative.
"I witness hope and rebirth through the sight of ravens and blue herons nest building, snakes and turtles coming out of hibernation and vegetable sprouts peeking out of the soil," she said. "I'm grateful even for the minor physical aches and pains that kayaking and gardening bring. They remind me as I'm approaching 60 years of age that I'm still alive, still have hope, and still have a valuable role in the daily life of others."
For the participants in these sessions, the act of listening to students, staff, and faculty share and reflect on gratitude allows them to discover how full and rich the lives of CMU community members are.
"These gratitude sessions are like a powerful happiness intervention," Zingle said. "With all the news on the pandemic weighing so heavily these days, the sessions are a welcome reminder to appreciate the positive in all things, people and circumstances of our lives."
For Jennifer Kong, a fifth-year senior majoring in art and human-computer interaction, the sessions bring appreciation.
"Gratitude offers a moment to appreciate the joys — big or small — in your life," Kong said.
To participate in the Weekly Gratitude Session or other community building programs, please visit the
Student Affairs calendar
.