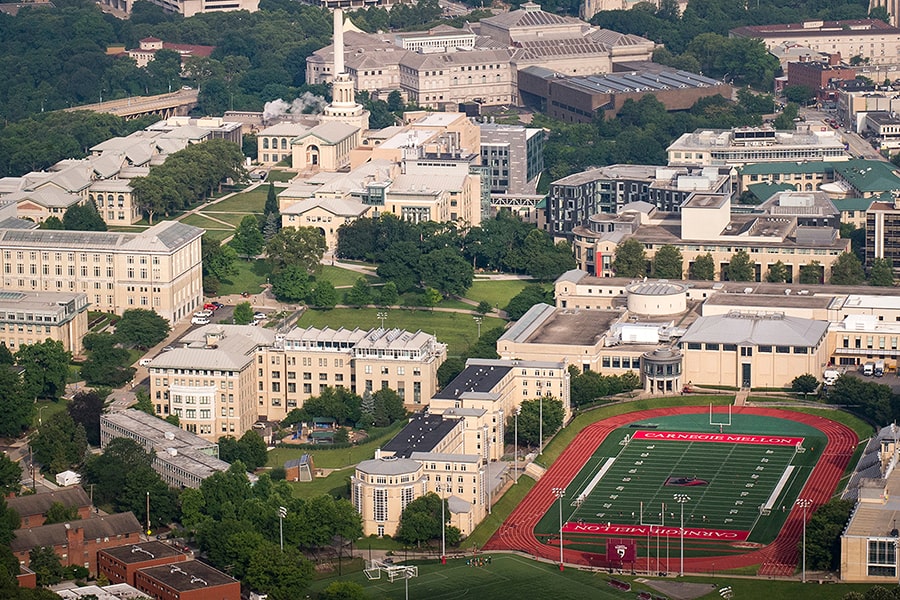 April 01, 2020
News Briefs
Get More Zoom Backgrounds from Marketing & Communications
The Marketing & Communications Division has created a Box folder with campus images to be used as custom backgrounds for Zoom. Options include aerial views of campus, the Fence, the Hamerschlag Hall tower, the Tartan wave, the Kraus Campo, the Pausch Bridge at night, the Carnegie Mellon wordmark and other various campus scenes. Check them out.
Share Your Remote Activities, Suggestions
Staying connected while remote is important to preserving our sense of community. Fill out this form to share remote activities and opportunities you'd like to see offered.
PSC Resources Available for Urgent COVID-19 Research
The Pittsburgh Supercomputing Center (PSC), a joint effort between Carnegie Mellon University and the University of Pittsburgh, has allotted computing time on its Bridges and Bridges-AI platforms for urgent COVID-19 computational research. These resources are available at no cost to scientists. 
PSC is part of the COVID-19 HPC Consortium, which encompasses computing capabilities from some of the most powerful and advanced computers in the world. By contributing to this combined effort, the PSC aims to empower researchers around the world to accelerate understanding of the COVID-19 virus and the development of treatments and vaccines that will help to address infections and limit the spread of the virus.
Scientists wishing to obtain computing time on Bridges and other resources in XSEDE, the National Science Foundation cyberinfrastructure in which PSC is a leading member, can find more information at https://www.xsede.org/covid19-hpc-consortium.
Provost Announces New Online Office Hours
Provost Jim Garrett has office hours on Thursday, April 2, from 4:30 - 6 p.m. via Zoom. He welcomes you to use this time as an opportunity to tell him what's on your mind, and share your experiences, ideas, and aspirations for Carnegie Mellon. Send email to provost@andrew.cmu.edu to get the meeting ID on Zoom. 
Career Center Offers Virtual Resources
The Career and Professional Development Center (CPDC) is available to you no matter where you are in the world. The CPDC website shares new CPDC practices, FAQs and virtual resources.
Partnership Launches Digital Transformation Institute
Carnegie Mellon is joining five other leading universities, C3.ai and Microsoft Corporation to form a research consortium dedicated to accelerating the application of artificial intelligence to speed the pace of digital transformation within business, government and society. The C3.ai Digital Transformation Institute (C3.ai DTI) will attract the world's leading scientists, innovators and industry experts to spark advanced research that will propel the new Science of Digital Transformation.

C3.ai DTI's first call for research proposals focuses on embracing the challenge of reducing the spread of COVID-19 and advancing the knowledge, science and technologies for mitigating the impact of future pandemics using AI. This is the first in what will be a series of biannual calls for Digital Transformation research proposals.

In addition to Carnegie Melllon, C3.ai DTI includes the University of Illinois at Urbana-Champaign (UIUC); University of California, Berkeley; Princeton University; University of Chicago; Massachusetts Institute of Technology; Lawrence Berkeley National Laboratory; and the National Center for Supercomputing Applications at UIUC.
FMCS Leads Energy Saving Campaign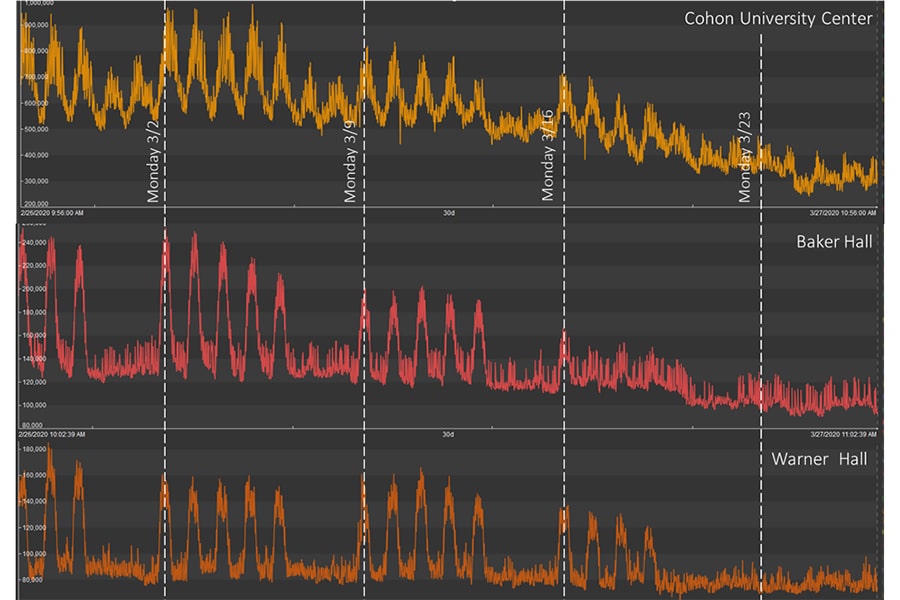 The electric meter readings from the Cohon Center, Baker Hall and Warner Hall show a decline in electricity usage in March. 
With fewer people on campus, Facilities Management and Campus Services (FMCS) is leading a campaign to save energy. From turning off the lights to draining the swimming pools, FMCS is working with more than 80 facility coordinators to reduce energy waste during the pandemic.
"Sustainability is a university value and making a positive contribution during these challenging times is really motivating," said Mike Frenak of FMCS. "We are making sure the waste reductions don't negatively impact ongoing research, remote learning infrastructure, valuable books or art. Support and insight from the departments have been fantastic."
Frenak said the sustainability efforts are paying off. He estimated that CMU will save more than $600,000 in campus utilities. Water consumption is 80% lower than normal in the residence halls and electricity usage across campus has declined. 
Lights in the Cohon Center will be on at night this week because custodial services is deep cleaning the athletic spaces. The spaces will go dark after the cleaning is done. 
Mark Your Calendar
The Student Affairs calendar is a great resource for virtual events and opportunities. While most events are student-focused, there are opportunities for staff and faculty as well.
Gelfand Center Seeks Students for Educational Outreach Awards
Each year the Gelfand Center recognizes three students who have made a commitment to sharing their knowledge, talents, skills and time to make a difference in the lives of children in the community. Awardees will each earn a $250 prize! This is a self-nomination process, with letters of support provided by on-campus or community partners. Click for self-nomination form or email GelfandCenter@andrew.cmu.edu for information.  All nomination materials are due by Friday, April 17.

Forgot Your Plants on Campus? FMCS Can Help
Since most of us are studying and working remotely, Facilities Management and Campus Services (FMCS) is offering to care for the plants in your campus workspaces and study areas.
If you have plants in your areas that need to be watered while you are away, send email to fixit@andrew.cmu.edu and a CMU gardener will be happy to help. Please include the following in your email:
The location of your plant(s); and
Detailed instructions for caring for your plant(s).
Please provide as much detail as possible. As an added bonus, FMCS can send you a picture of your plant(s) upon request!
If you have any questions regarding this service, please email our FMCS Service Response Center at fixit@andrew.cmu.edu.
Who's New at CMU? 
Carnegie Mellon welcomes the following new staff members.
Rajanie Prabha, Machine Learning Research Scientist, Pittsburgh Supercomputing Center;
Rachelle Harvey, Shuttle Driver, Parking and Transportation Services;
Jesse Holdaway, Technical Project Manager, Robotics Institute;
June Jahn, Senior Administrative Coordinator, Biological Sciences Department;
Joy Mann, Senior Administrative Assistant, Heinz College;
Pingping Liang, Research Associate III, Molecular Biosensor and Imaging Center;
Christopher Gongloff, Dispatcher, University Police; and
Olga Inglis, Associate Director, MSCF Career Services, Tepper School of Business Masters Program.
Sharing Knowledge, Stories of Success from Down Under
CMU-Australia launched a new virtual event platform, "Red Ladders," to encourage alumni in different parts of the world to return to the campus virtually and share their success, knowledge and inspiration with students and each other.
"Red Ladders" events highlight how the master's degrees at CMU-A have changed the careers of graduates and propelled them into new and interesting ventures. While all CMU-A alumni have their own "red ladder," all share the passion to solve difficult problems and seek to make the most of the skills gained at CMU-A. Their career ladders have been truly transformational.
Red Ladders first guest speaker was Marco Salinas from Mexico, where he worked with the local government. A desire to make a difference in the world brought him to CMU-A, where he completed the Master of Science in Information Technology (MSIT) program in 2013. Today, Salinas is the co-founder and CEO at Hubble, a startup that uses AI to design eco-friendly buildings.
Read more success stories from CMU-A alumni. 
Did You Know?
Carnegie Mellon junior Kermin Fleming, an electrical and computer engineering major, won the 2004 Jeopardy! College Championship to win the $100,000 first prize.
"There was some thought I'd buy my parents a car, but they're refusing," Fleming told the Pittsburgh Post-Gazette. "I'm gonna work on them a little bit, but if they tell me, 'No,' it's 'No,' I guess. They think I need to spend the money on myself."
Fleming, who was raised in Lexington, Kentucky, said he would enjoy a shot at the all-time Jeopardy! champion.
"I'd like to take a shot at Ken Jennings," Fleming told the P-G. "I don't think I can beat him, but it would be fun to play him. He's the master."
Fleming went on to complete his master's degree at CMU before earning a Ph.D. at MIT.