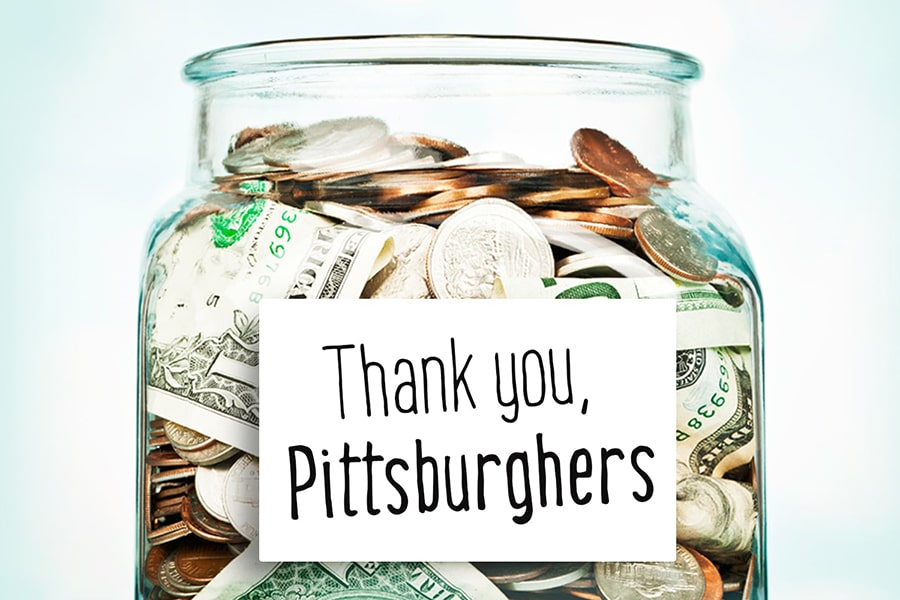 April 15, 2020
News Briefs
Wenner Creates Virtual Tip Jar for Pittsburgh Service Workers
In nationwide efforts to flatten the curve and slow the spread of the coronavirus, many service workers find themselves out of work. Waitresses, barbers and bartenders are without their main source of income: tips.
Danielle Wenner, an assistant professor in the Department of Philosophy and the associate director for the Center for Ethics and Policy, created the Pittsburgh Virtual Tip Jar in response to the high amount of service workers suddenly finding themselves unemployed. Wenner decided to find a way so she and others can help local workers as well as the greater Pittsburgh community.
"Those of us who have a steady income and whose jobs aren't threatened by the virus [need to] take responsibility to help support the people around us who aren't as lucky as we are," Wenner said. "One of the most important things that people need to [do is] make sending tips a part of their regular routine."
U.S. Army Selects CMU to Lead AI Innovation Framework
Carnegie Mellon has been selected by the U.S. Army Futures Command (AFC) to lead a five-year contract to support research and development of an innovation framework for Advanced Algorithms, Autonomy and Artificial Intelligence (A4I).

Carnegie Mellon's A4I Innovation Framework will accelerate the development and deployment of advanced algorithms, autonomy and AI for the U.S. Army.

"As the pace of innovation grows at an unprecedented rate, Carnegie Mellon will continue to define what's possible in advanced algorithms, autonomy and AI," said President Farnam Jahanian. "We are delighted to continue working with the U.S. Army to pursue advances that fortify the nation's security and defense and accelerate technology-enabled economic growth."
Say "Thank You" to CMU's Custodial Staff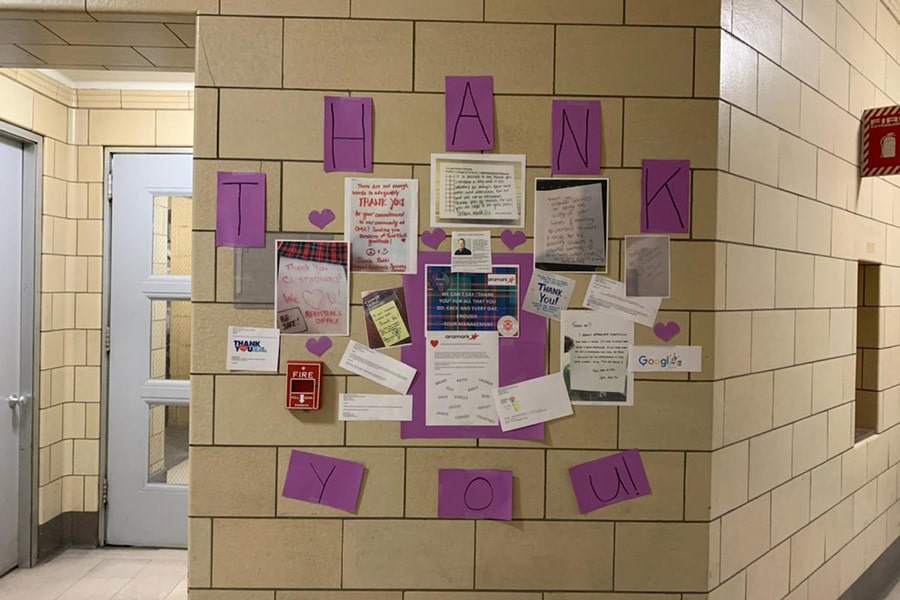 Facilities Management and Campus Services (FMCS) is asking members of the CMU community to send their thanks to the custodians on campus who are making it safe for the remaining students and essential workers on campus. Hand write a note and send a picture of it to cleanit@andrew.cmu.edu and FMCS will display your thanks in various locations around campus.
New Play-in-Place Series Features Student Musicians
This week's Play-in-Place series features musical performances by Brian Kelley and John Quinlan.
Kelley, a 2019 graduate and current Advanced Music Studies student, performs his own arrangement of "The Swan" from Camille Saint-Saëns' Carnival of the Animals for tuba and harp, from his apartment in Pittsburgh.
Quinlan is in the BXA interdisciplinary degree program, studying oboe performance and computer science. Here he performs the introduction to Camille Saint-Saëns' Sonata for Oboe and Piano, from his home in La Grange Park, Illinois. "I wanted to thank my oboe professor, Cynthia DeAlmeida, for helping me with this piece in our Zoom lessons!" Qunlan said.
Students Can Order Online from the CMU Pantry
Students who are still living on campus can now order food online from the CMU Pantry. During the pandemic, the pantry is taking online orders and preparing food in bags for pick-up to protect the health and safety of shoppers, staff and volunteers.
All orders from the pantry will include a standardized package of staple foods (fresh produce, protein, canned fruits/vegetables, quick meals, soups, pasta/rice, potatoes, cereal, snacks, miscellaneous items if available, and a cleaning/hygiene item).
Students should follow these steps to place their order:
Compete the Pantry Registration Survey: cmu.is/PantryRS
Complete the Online Order Form: cmu.is/PantryOrder
Pick up your food during the pantry pick-up hours — 3 - 5 p.m., Monday, Wednesday and Friday — and bring your CMU ID.
The CMU Pantry is committed to reducing hunger among students by providing nutritious food at no cost. It is dedicated to serving CMU's student community with accessible food resources to promote a healthier, balanced university experience.

Find out more.
Podcast Looks at Pandemics, Public Data and Privacy
The Block Center for Technology and Society's podcast series, titled Consequential, has released its latest episode on Pandemics, Public Data and Privacy, featuring Wilbert Van Panhuis, an infectious disease epidemiologist at the University of Pittsburgh; Tom Mitchell, lead technologist of the Block Center and a computer scientist at Carnegie Mellon; and Scott Andes, executive director of the Block Center. The experts discuss the importance of collecting and using data for public health, the individual privacy concerns that arise as a result of this data collection, and the challenges of striking a balance between societal benefit and personal privacy. The episode is part one of a two-episode look at large-scale public health data analytics. Listen to the podcast. 
Swartz Center Seeks Applicants for Innovation Fellows Program
The Swartz Center for Entrepreneurship is seeking applications for its 2020 Innovation Fellows program. Innovation Fellows is a year-long entrepreneurial program offered to graduate students, postdoctoral fellows and young faculty working with faculty investigators on university research. The goal of the program is to support researchers in exploring the potential for creating a successful company based on their technology. 
Along with cohort-based educational workshops and expert one-on-one mentoring, Innovation Fellows will receive a $50K contribution from the Swartz Center, with a required $50K match from another source, to assist them in the process of commercializing university research. 
Further details on the program and eligibility can be found at the Swartz Center website. Questions can be directed to Melanie Simko at msimko@andrew.cmu.edu. The deadline to apply is Monday, April 27. 
Who's New at CMU? 
Carnegie Mellon welcomes the following new staff members.
Laura Caton, Temporary Employment Service; and
Yuheng Qiu, Research Associate I, Robotics Institute.
Did You Know?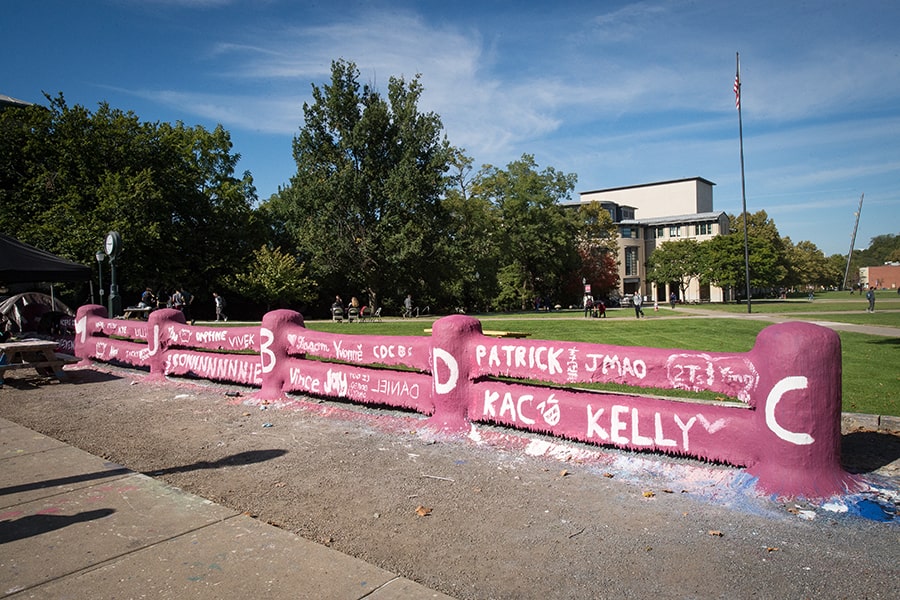 CMU's unofficial university billboard, the Fence, is usually painted between midnight and sunrise by students who then stand guard as long as they want their message to stay. But, that has changed due to the COVID-19 pandemic. Students can now paint the Fence virtually.
Fun Fact: The original Fence was once the "most painted object in the world" until it collapsed and was replaced by a steel-concrete fence.