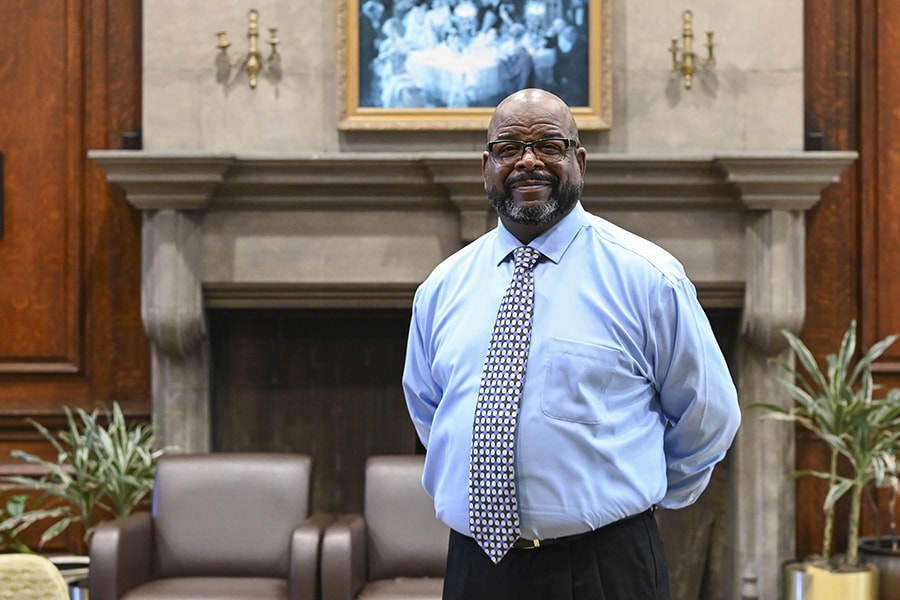 September 11, 2019
McCauley Masterfully Crafts Residential Living Experience
By Kelly Saavedra ksaavedra(through)cmu.edu
A custom kitchen Louis McCauley built for a friend opened the door to a decades-long career in housing at Carnegie Mellon University.
McCauley, director of facilities for Housing Services and a United States Navy veteran, had earned a reputation as a jack-of-all-trades in home remodeling when his friend suggested he apply for a position at Carnegie Mellon.
That was 20 years ago, and McCauley has been applying his master craftsmanship to residential living for students at Carnegie Mellon ever since. Working closely with Campus Design and Facilities Development and Facilities Management and Campus Services, he and his team have completed over $100 million worth of renovations, from assessing repairs to selecting finishes.
"Every day I'm looking at something and thinking how can we make this better," he said. "Our primary goal is safety and security. Everything else comes after that. I tell my team, you have to look at campus as your own home and with panoramic vision, not tunnel vision — the front yard, the porch, the entryway, the rooms, you want all of it to be right. The challenge here is that you have buildings that are 100 years old and ones that are 20 years old."
This fall, Carnegie Mellon will begin construction on a new residence hall. McCauley said it's time.
"There is a lot of competition around. To stay relevant, you have to keep updating and doing something different, and our university leadership sees that," he said.
Once the new residence hall is built, the housing team will assist architects with finishes and furnishings. That includes presenting products from different manufacturers to students and getting their feedback.
McCauley, who was raised by his grandparents, combines traditional values with a drive to innovate. He said he has passed down the "old school" values he learned to his three children, who are now passing them down to his nine grandchildren, and he enjoys working with young people. Every summer, his team hires a handful of architecture and engineering students to work as interns and see firsthand how the whole process works.
"It's important. We get student feedback for every piece of furniture I buy, every piece of fabric. it's a teachable moment for them," he said.
Many of the students who have assisted him on projects send him notes long after they've graduated to share good news as they reach life's milestones, such as getting married or having a baby.
One graduate student who worked for McCauley called him on the phone to share her excitement over getting hired as assistant director of facilities at a company in Florida.
"That's probably one of the best things about this job," he said. "You get to see that you touched someone's life in a way that they're making a difference."