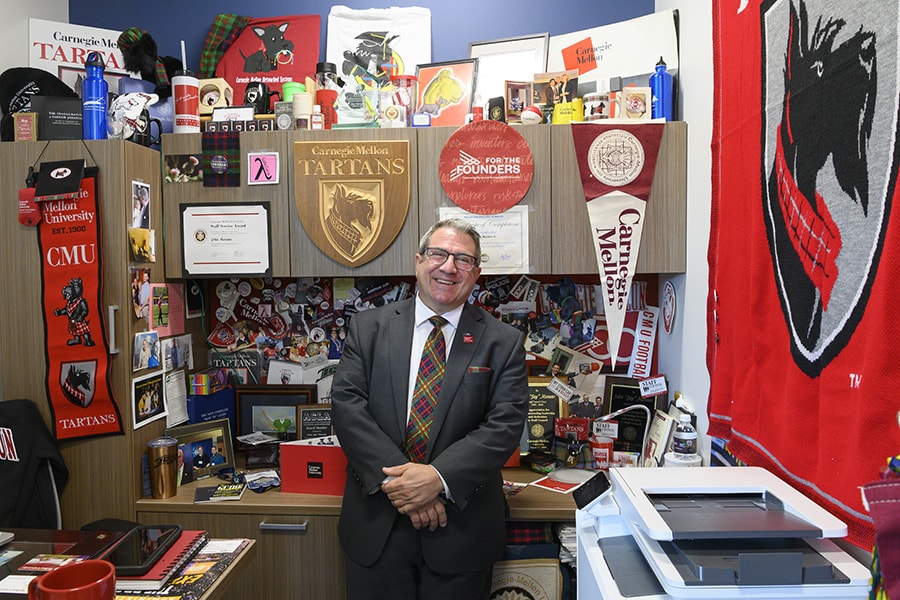 October 01, 2019
Marano's Successes Spring from Leaps of Faith
By Kelly Saavedra ksaavedra(through)cmu.edu
John "Jay" Marano says he's afraid of heights, but the evidence suggests otherwise.

The director of trademark licensing at CMU — and a two-time skydiver — Marano boldly climbed the career ladder and created the university's Trademark Licensing Office along the way.

Back in the mid-1990s, Marano was looking to expand his career opportunities by building on his background in retail and higher education. Self-taught on the topic of trademark licensing — he spent an entire beach vacation memorizing a how-to book on the subject — Marano landed his first job in the field as a licensing coordinator for CMU. The rest, as they say, is history.

"I've been blessed to work for two wonderful supervisors these past 24 years who have allowed me to learn on the fly and grow the program," he said.

Marano has made a career out of protecting and promoting the university's trademarks, ensuring they are correctly displayed on merchandise.

"If you're going to put CMU's name or the Scotty dog on merchandise, it has to be produced by a trademark licensed supplier. That means the supplier has signed a contract with me as a representative of the university, and that I will have an opportunity to see the artwork and approve it before the merchandise is produced," he explained.

Marano's office is stuffed to the ceiling with CMU-branded merchandise he has either paid for out of his own pocket or been given by someone as a "thank you" or to add to his collection. Most of the items feature the Scotty dog because Marano is the one who submitted the original proposal in 2006 to select, create and authorize the official mascot for the university.

Two of the items in his collection, however, serve as reminders for him to remain humble.

"They're my mistakes," Marano said, pointing to a Tepper School mug and a College of Engineering Christmas tree ornament. The mug features a stock ticker going in a downward direction instead of upward, and Hamerschlag is misspelled on the ornament.

Those two experiences have influenced how Marano approaches others who make mistakes, such as when a student group used an artist's licensed image on their t-shirts. Marano involved the artist, who wrote the students a letter to explain they had to ask his permission before using copyrighted images. Rather than demanding a monetary payment, the artist requested they send him two dozen of the t-shirts.

"I used it as a teachable moment, and the students learned something about trademark licensing," he said.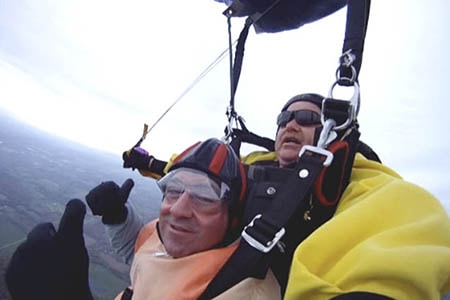 Marano earned his bachelor's degree in business administration and master's degree in public administration from West Virginia University. He has been a member of the International Collegiate Licensing Association for 24 years, serving twice on its board of directors. He serves on the Total Compensation Committee, CMU's liaison to the Fair Labor Association and the Worker Rights Consortium (WRC). He has served on the WRC's board of directors and was chair of CMU's Staff Council twice.

Marano said one of his proudest moments at CMU was when domestic partner health benefits were approved at the university. Today, he and his partner, Mike, live a quiet life in their home in Green Tree Borough — a home that, he assures people, looks completely the opposite of his office — and are appreciative of CMU's inclusive environment.

"One of the things I like best about working at CMU is I can be myself here, and I'm accepted," he said.

When he's not at work, Marano devotes his time to the pastoral council of his parish and as ritual adviser to the undergraduate chapter of his Greek fraternity. He enjoys photography, hot air ballooning, collecting pottery, attending Pittsburgh Ballet Theater productions and football. Marano is a third generation Steelers season-ticket holder; his grandfather watched the Steelers play at Forbes Field.

But if there is one thing he would like to do more of, it's skydiving.

"I'm afraid of heights. No one believed I would ever leap out of a plane," Marano said. "So, on my 50th birthday I just decided to do it."