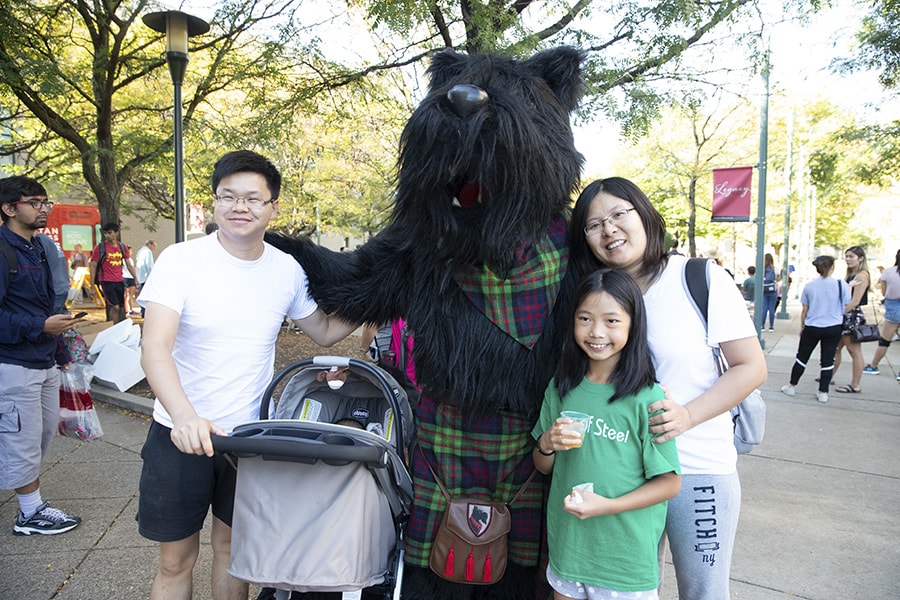 October 09, 2019
Family Weekend Gives Parents, Friends the CMU Experience
By Mandi Semple msemple(through)andrew.cmu.edu
With more than 60 events, Family Weekend has something for everyone!

All members of the Carnegie Mellon University community are invited to join in the celebrations with students, families and friends Friday, Oct. 11, through Sunday, Oct. 13.

"This is a special weekend for our students as they get to show off their campus and talents – on the field or on the stage – with their friends and loved ones," said Julie Schultz, associate dean for First-Year Orientation and Family Engagement. "Likewise, CMU's families and friends get to experience what life at Carnegie Mellon is all about, from productions by student organizations, to a full slate of athletic competitions, to academic sessions."

While advanced registration has closed, on-site registration in the Cohon University Center will be available to those who want to attend.
Check out the full weekend schedule either on the Family and Parents' website or by downloading the Events at Carnegie Mellon University App (available for download via iTunes or Google Play). While some events require advanced ticket purchase or RSVP, most are open on a first-come, first-served basis during the weekend. Feel free to attend as many or as few events as you are interested in joining. Family Weekend's featured events are highlighted for first-time participants.

Here are just a few events to get excited about:

Friday, October 11
President's Welcome Reception, 4:30 – 6 p.m.
President Jahanian welcomes families to campus.

Diwali Mela, 6 – 11 p.m.
Come out and join CMU's OM and Mayur SASA in celebrating Diwali, the Indian Festival of Lights!

12th Annual Benefit Cabaret, 8 – 9 p.m.
Get ready for a night of music with Scotch'n'Soda Theatre, CMU's premier student theatre organization!

Saturday, October 12
Academic Sessions and Receptions, 10:30 a.m. – 1:30 p.m.
Meet with faculty and learn more about CMU's colleges.

16th Annual Chili Cookoff, 11 a.m. – 1 p.m.
Grab a mug, sample chili and vote for your favorite.

"Tiger at the Gates," 2 – 4 p.m. and 8 – 10 p.m. (also on Friday at 8 p.m.)
Presented by CMU's School of Drama.

Center for Student Diversity and Inclusion Open House, 2 – 3 p.m.
Gather with members of the community from across campus and learn more about the initiative for first generation college students, FIRST Together.

The Festival on Scotty Saturday, 3 – 6 p.m.
Join us for activities, free food, family fun, CMU swag and lots of Tartan spirit.

Football vs. Waynesburg, 7 – 9 p.m.
Go Tartans!

"With more than 1,441 already registered for Family Weekend, we are sure to have a campus filled with activity, engagement and excitement," said Gina Casalegno, vice president for Student Affairs and dean of students. "I am looking forward to meeting many of our students' family members and friends this weekend as we come together and celebrate all that makes CMU so special."