November 13, 2019
News Briefs
President Outlines Eight Steps To Improve Campus Climate
In a Nov. 8 email to the university community, President Farnam Jahanian released the findings of the Task Force on Campus Climate and identified its eight areas of focus moving forward.
"The task force's work uncovered serious concerns that require our attention," Jahanian said. "There have been accounts of 'divisive, hostile, and generally non-inclusive behavior by individuals in positions of structural power,' most notably affecting staff and graduate students. Furthermore, they found that women and underrepresented minorities also were unduly affected by these incidents and by climate issues across the board.
"To begin to combat these challenges, the task force has made five broad recommendations and identified eight areas of focus, outlined in their reports. They lay out an aspirational vision for a community in which "all groups have equal access to resources along with the opportunity to work collaboratively in problem-solving and advancing CMU's mission." 
The eight areas of focus, or action items are: 
Form an implementation steering committee to prioritize and oversee execution of the action items;
Create an office under the provost dedicated to diversity, equity and inclusion;
Create a Target of Opportunity Fund to support recruitment and retention;
Develop five-year strategic equity, diversity and inclusion plans for academic and administrative units;
Develop and improve policies and processes for faculty, staff and leadership searches, service, awards and recognitions;
Improve awareness programming, training and communication;
Expand faculty and staff leadership development; and
Increase and sustain investment in student success and experience.
"This work matters," Jahanian said. "My entire senior leadership team and the deans are committed to this, but we cannot do it alone. Each one of the actions we commit to take today will require the support and participation of everyone on campus. We all bear responsibility to build and sustain a campus climate in which each one of us can experience a sense of belonging, feel empowered to contribute our best work and have that work recognized and valued."
Celebrity Chef Justin Warner Visits Campus Nov. 14-15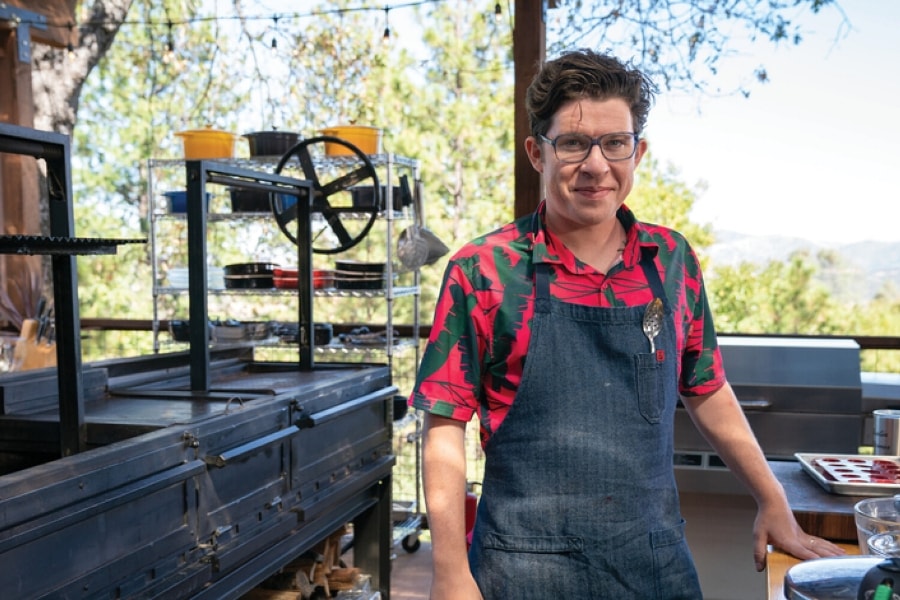 Nationally celebrated chef and restaurateur Justin Warner is visiting Carnegie Mellon to serve up some rebellious eats to the campus community today and tomorrow, Nov. 14-15. His appearance is presented by Chartwells Higher Education and Carnegie Mellon Dining Services.
Warner is the season 8 winner of the Food Network Star and has appeared on several cooking programs, including Cutthroat Kitchen, Diners, Drive-ins and Dives, Beat Bobby Flay and Guy's Grocery Games. Working in restaurants since he was 15, he earned a position as Captain at Danny Meyer's restaurant, The Modern, and at age 27 opened his first now Michelin-rated restaurant, Do or Dine.
Meet Warner and experience his creative culinary creations at one of three events on campus:
11 a.m. - 1 p.m., Nov. 14: Chef Justin Pop-Up Lounge, Kirrr Commons, Cohon Center (open to all members of the CMU community);
5 - 9 p.m., Nov. 14: Chef Justin Mixology All-You-Care-To-Eat Reception, Schatz Dining Room, Cohon Center (open to all members of the CMU community); and
11:30 a.m. - 2 p.m., Nov. 15: Chef Justin Schatz Dining Room Lunch Take-Over (open to faculty, staff and graduate students only).
Support the Food Drive; Cans Across the Cut, Nov. 18
There's still time to support Carnegie Mellon's 26th Annual Food Drive, sponsored by Staff Council.  Look for the food donation barrels located around campus to make your non-perishable food donations. Cash donations can be made online. You also can bring a jar of peanut butter to the Parking & Transportation Office, where your donation will enter you in a raffle to win a free month of parking or VIP Parking for one month (one entry per jar).
This year's drive ends with the annual Cans Across the Cut event from 9 a.m. – 4 p.m., Monday, Nov. 18. Sign up your team to compete to see which group can gather the most canned goods and/or cash. The goal is to create a line of canned goods that stretches across the Cut.
Last year, the CMU community donated $28,160 in monetary donations and 7,298 pounds of food, including 445 pounds of peanut butter and 1,156 snack bags for kids, to the Greater Pittsburgh Community Food Bank. Since the CMU's first food drive in 1994, the monetary and non-perishable donations made by the campus community have helped to provide over half a million meals to local communities.
Support CMU's Food Drive. Donate today!
Toys for Tots Program Now Underway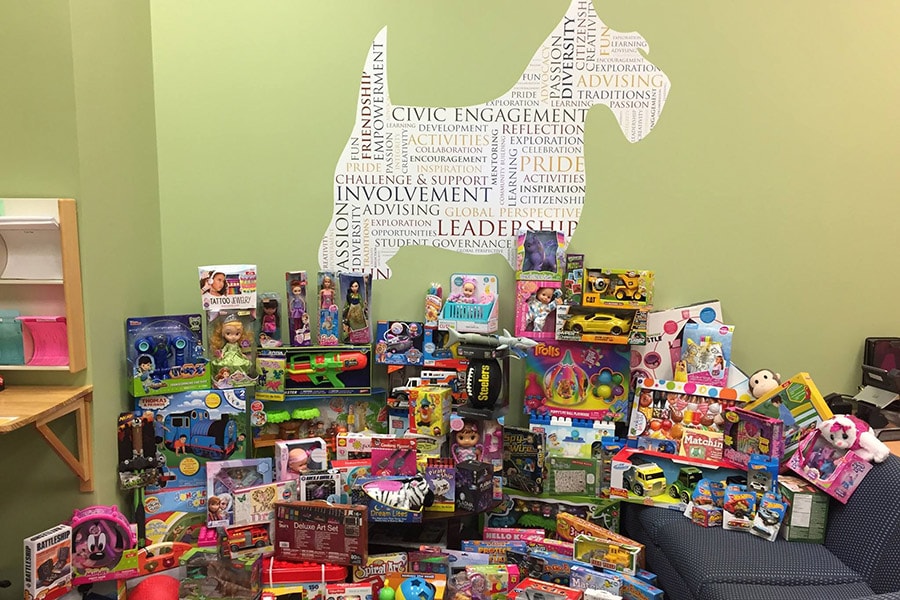 Carnegie Mellon Police and the Office of Student Leadership, Involvement and Civic Engagement (SLICE) are once again teaming up to support the U.S. Marine Corps' Toys for Tots program. The program collects new, unwrapped toys and distributes them as Christmas gifts to less fortunate children in the local area. New unwrapped toys can be dropped off at several locations around campus. You also can make a monetary donation to the program by dropping your gift in the cash box in Entropy in the Cohon University Center. Additionally, you can shop the Amazon Wish List and the toys you purchase will be delivered directly to the SLICE Office.
Donations are being accepted now through Friday, Dec. 13. The drop-off locations are:
University Police (300 South Craig Street);
SLICE Office (Cohon University Center);
CyLab (CIC Second Floor);
FMSB (Service Response Desk);
Wean Hall (Room 4212);
Pittsburgh Technology Center (Technology Drive);
Tepper Quad (3rd Floor Graduate Office);
Mellon Institute (3rd floor Security Desk);
UTDC (Henry Street);
Software Engineering Institute (Main Lobby);
Warner Hall (Enrollment Services);
Hamburg Hall (Room A-101);
Hunt Library (Main Lobby);
NREC (40th Street); and
Posner Hall (Room 150).
For more information, email the SLICE Office at slice@andrew.cmu.edu.
Watch the New Episode of Modern Musicking
Episode 5 of the Modern Musicking show's second season sits down for a deep dive with Thomas Douglas, director of opera and choral studies, and takes you to an underground limestone mine for a student showcase featuring the Exploded Ensemble's 2017 immersive performance experience.
Modern Muskicking, created by School of Music Professor Lance LaDuke, features members of the School of Music performing and discussing instruments, music history and careers. The content is aimed at high school students as a recruiting tool and some of the episodes include guides for high school music teachers.
Watch Episode 5.  And find out more about Modern Musicking.
Exchange Grand Opening Nov. 19
Join Dining Services at The Exchange on the first floor of Posner Hall from 2 - 4 p.m., Tuesday, Nov. 19 for a grand opening celebration! Explore the new space, enjoy samples from the menu and get an airbrush tattoo or a custom caricature. Cast your vote for two of the signature sandwiches and share what you love about The Exchange!