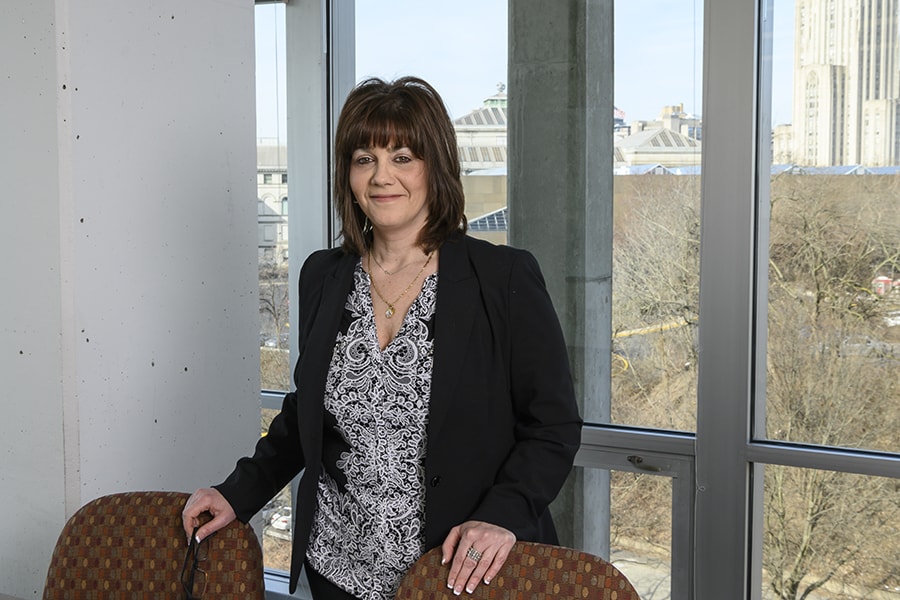 March 25, 2019
Tomasic Plays Leading Role for Women in Cybersecurity Conference
By Paul Ruggiero pruggiero(through)sei.cmu.edu
Michele Tomasic has one job title, but many jobs.
This week, the operations manager for the CERT Division of Carnegie Mellon's Software Engineering Institute is focused on her latest role as the operations and logistical co-lead for the sixth annual Women in CyberSecurity (WiCyS) Conference in downtown Pittsburgh, March 28-30. The event, hosted by Carnegie Mellon, gathers women in cybersecurity from academia, research, government and industry to learn from each other and build their professional networks.
Over the past year, Tomasic has teamed with CMU's Information Networking Institute (INI) to prepare every operational aspect of WiCyS 2019 —  stuffing gift bags, setting up printing kiosks and dealing with attendees' food allergies, to name a few.
"There are a ton of moving parts," said Tomasic, who is quick to credit the contributions of more than 50 staff and 30 students from multiple campus organizations, including the INI, CyLab, the Heinz College and School of Computer Science. "This has been a fantastic opportunity to work with such a large number of people across the campus community. It is truly a collaborative event."
Tomasic is happy to be part of an event bringing more women into the male-dominated field of cybersecurity.
"It's giving women a voice in this space," she said of the conference. "It's giving them an opportunity to grow and find other places and other organizations where they can be represented."
Tomasic said she is particularly excited about the conference's career fair.
"It's a great space for young women to really build a network for themselves wherever they're going to land after graduation," she said.
From her office in the Collaborative Innovation Center, Tomasic oversees the CERT Division's operational and administrative functions in Pittsburgh and Arlington, Va. It's her job to coordinate business services, human resources, facilities, information technology, security and public relations.
Tomasic joined the CERT Division in 2004 as one of about a dozen administrative assistants. Now she leads a team of 23 administrative assistants. She said she learned her leadership skills from her first supervisor in the accounting department at CMU.
"She was tough but fair. I probably emulate a lot of what she taught me in my very young career," Tomasic said.
After 10 years in the accounting department, Tomasic became the business manager at the Center for Information Systems Engineering before joining the SEI.
Tomasic has always been motivated by those around her and strives to treat everyone she works with — cybersecurity researchers, her staff of administrative assistants, other support staff and students — as equal collaborators.
"I'm surrounded by unbelievably intelligent people," she said. "They're like a family to me. I take that very seriously."
After hours, Tomasic spends most of her time with her non-work family. She enjoys cooking and the occasional trip to a family lake house, where she likes to fish for "anything I can get on the hook," she said. "It's just relaxing for me."
Tomasic appreciates wearing many hats at the university.
"I learn something new every day. And that's been true my entire career here," she said.
Have a suggestion for Staff Spotlight? Send it to piperweekly@andrew.cmu.edu.