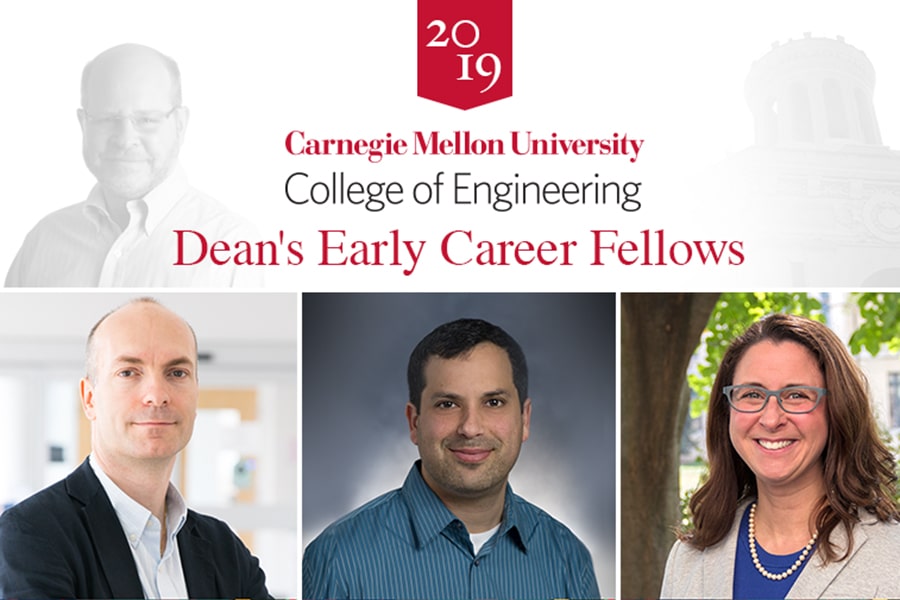 March 06, 2019
Personal Mention
Three young faculty members — Nicolas Christin, Tzahi Cohen-Karni and Kathryn Whitehead — have been granted the 2019 College of Engineering Dean's Early Career Fellowship to enable their continued contributions to their respective fields and to provide funding for their research.  

Christin, an associate research professor of CyLab and engineering and public policy, conducts interdisciplinary research on security defenses in areas including formalizing defender incentives, understanding behavioral biases and their impact on user security, secure and usable authentication, security analytics, and predictive analytics. He has won five paper awards at top security and human-computer interaction conferences, and he has been highly visible through seminars at universities and conferences, talks at government agencies, and his testimony at a Congressional hearing on the monetization and illicit use of stolen data.

Cohen-Karni, assistant professor of biomedical engineering and materials science and engineering, studies the synthesis and utilization of nanomaterials, and the creation of three-dimensional hybrid nanostructures from Si and Ge nanowires and two-dimensional graphene. His work is recognized through funding from various organizations and he has earned several awards, including the NSF CAREER Award, the ONR and Charles E. Kaufman Foundation Young Investigator awards, and the Cellular and Molecular Bioengineering Young Investigator and Rising Star awards.

Whitehead, associate professor of chemical engineering, researches drug delivery with a focus on ribonucleic acid (RNA) delivery and oral protein delivery. Her work could potentially lead to treatments for lymphoma, multiple sclerosis, Type I diabetes and gum disease. Whitehead was recently awarded the Curtis W. McGraw Research Award.

Edmund Russell, a trailblazer in the field of environmental history, has joined the Dietrich College of Humanities and Social Sciences as a professor of history. Russell's major research topics have included the environmental and technological history of war, co-evolution of human and non-human populations and the environmental and technological history of capitalism. He also works in the field of evolutionary history, focusing on how social forces have shaped the evolution of non-human populations and how that evolution has circled back to shape human history. He is writing a book that will touch on the relation between the working class in England during industrialization and the dog breeds they developed. Another work he has in progress will be the first scholarly book on the transcontinental telegraph. Learn more.

Egon Balas, University Professor of Industrial Administration and Applied Mathematics and The Thomas Lord Professor of Operations Research, recently published "Disjunctive Programming," which explores the disjunctive programming analytical technique that Balas introduced in 1974. Disjunctive programming is a modeling approach that takes advantage of the underlying logic structure of optimization problems. The method can be used to break down complex processes and build optimal models for decision-making in many fields, including management and operations, marketing, and finance. Balas is a highly accomplished researcher in the field of applied mathematics and is considered a pioneer of integer programming. His storied career in operations research has produced over 250 technical papers with over 50 different co-authors from around the world. He holds a Ph.D. in economics from the University of Brussels and a Ph.D. in mathematics from the University of Paris. Learn more.
Rory Hubbard, Haili Adams and Tori Iatarola have been selected to receive NCAA Postgraduate Scholarships for excelling academically and athletically while showing leadership and commitment to the community. NCAA Postgraduate Scholarship recipients receive a one-time, nonrenewable grant of $10,000 to be used for graduate study within one year of the award. 

Hubbard, a senior mechanical engineering and robotics major with a 3.93 grade-point average, was an all-conference running back and an Academic All-America pick in 2018. He was named an Andrew Carnegie Society Scholar for his studies and his leadership and involvement in student organizations, including the Student-Athlete Advisory Council. He plans to pursue a master's degree in mechanical engineering at CMU.


Adams (near right) and Iatarola earned their bachelor's degrees in 2018 after leading the women's soccer team to the NCAA playoffs four consecutive seasons, including three trips to the round of 16. A biological sciences major with a minor in Hispanic Studies, Adams has been working in a neuroscience research lab at the University of Pittsburgh and will be applying to master's degree programs in biomedical engineering this fall. Iatarola earned her bachelor's degree in psychology with a concentration in development and minors in linguistics and cognitive neuroscience. She started her Master's Entry to Nursing Practice at DePaul University in January. Find out more.