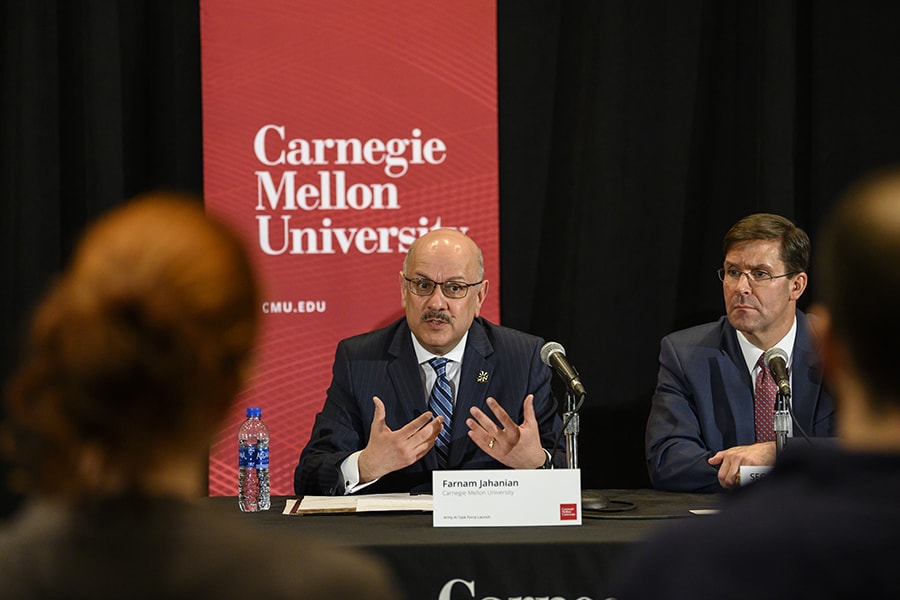 March 06, 2019
News Briefs
DoD's Innovation Board Hosts Public Session on Ethical Use of AI for Defense, March 14
The Department of Defense's (DoD) Defense Innovation Board (DIB) invites members of the Carnegie Mellon University community to a public listening session, titled "The Ethical and Responsible Use of Artificial Intelligence (AI) for the Department of Defense," from 1:30 – 4 p.m., Thursday, March 14, in the Cohon University Center's Studio Theater. 
As part of its effort to apply AI and machine learning to defense and national security missions, DoD is developing principles to guide current and future research, applications and activities in these areas. DoD has tasked the DIB to engage the broad AI community in this process. The yearlong project includes, among other engagements, three public listening sessions at locations across the country to gather diverse perspectives from interested stakeholders. 
The DIB recognizes that the increased use of AI comes with questions around trust, safety, security, explainability and reliability. Therefore, it is critical that the forthcoming DIB recommendations to DoD are consistent with an ethics-first approach and uphold existing legal norms around warfare and human rights, while continuing to carry out the department's enduring mission to keep peace and deter war.
Individuals wishing to attend the public listening session must RSVP online by Friday, March 8. You may also submit written public comments to the DIB by March 8.
DIB members will collect and review all comments for consideration as they draft AI principles in the coming months. The full recommendation with the principles will be announced later this year. 
The listening session comes on the heels of the U.S. Army's official launch of its Artificial Intelligence Task Force at CMU on Feb. 1. Carnegie Mellon, the birthplace of AI, is serving as the hub of the AI Task Force, which will eventually include other leading universities from across the country as well as engagement with the private sector.
Building a Skillset With Software Carpentry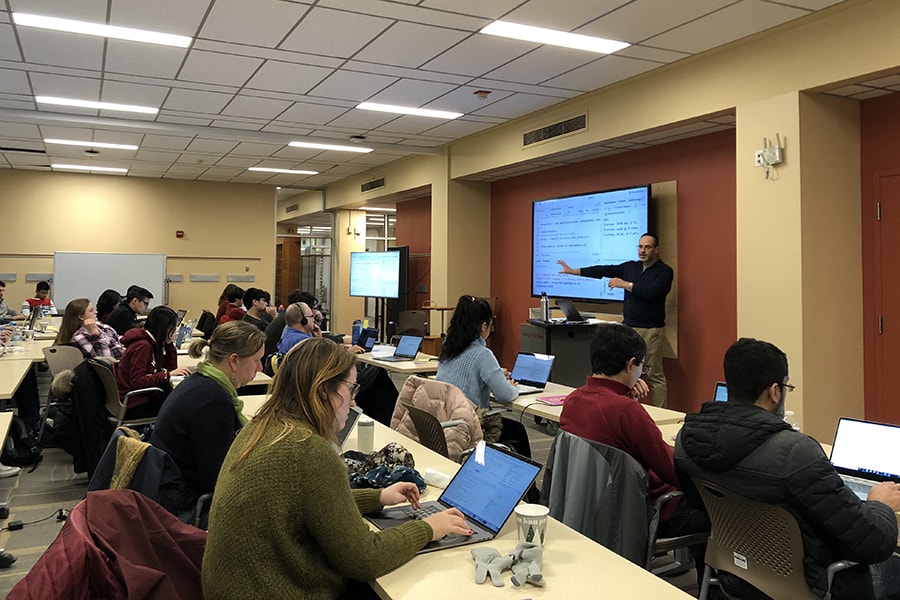 The next Software Carpentry workshop, Intro to Python, Open Refine, and SQL, will be held March 12 - 13 in Hunt Library, IDeATe Studio A.
If you're looking to nail down your computer programming skills, Software Carpentry can give you the tools you need.
Software Carpentry is a non-profit organization that teaches basic computing skills to researchers. Workshops are designed to teach foundational computing skills, including automation of workflows, version control of code and files, and basic programming in Python or R. The workshops are hands-on and interactive, with an emphasis on building practical skills and confidence to learn more programming.
In January, about 40 graduate students, postdocs and staff attended a workshop on Python. Colleen Schneider, a doctoral candidate in psychology, jumped at the opportunity to participate after hearing about it from Ana Van Gulick, librarian and program director, Open Science.

"Programming skills are becoming so important in many fields, but learning those languages can be overwhelming if you are not a computer scientist," Schneider said. "The Software Carpentry class was a great way to learn the ropes and also learn about more resources for further programming success."
The next Software Carpentry workshop, Intro to Python, Open Refine, and SQL, will be held March 12 - 13 in Hunt Library, IDeATe Studio A. Register online.
Want To Foster Change? Staff Council Nominations Are Underway
Are you interested in playing a more active role on campus? Is there an issue you are passionate about and want to make a change?
If so, then now's your opportunity to become a member of Staff Council by participating in the 2019 at-large nomination process. You can now nominate yourself or other staff members to serve as an at-large representative for the 2019-2021 term.
What do Staff Council reps do? They:
Work as an advocate for all Carnegie Mellon staff members;
Attend the general body meetings on the third Thursday of every month;
Serve on at least one standing committee;
Communicate information to their colleagues; and
Serve a two-year term. 
To learn more about Staff Council, visit its website or send email to staff-council@andrew.cmu.edu.
All nominations are due before 5 p.m. on March 11. Voting will take place April 4-18.
Identifying Diseases With Less Data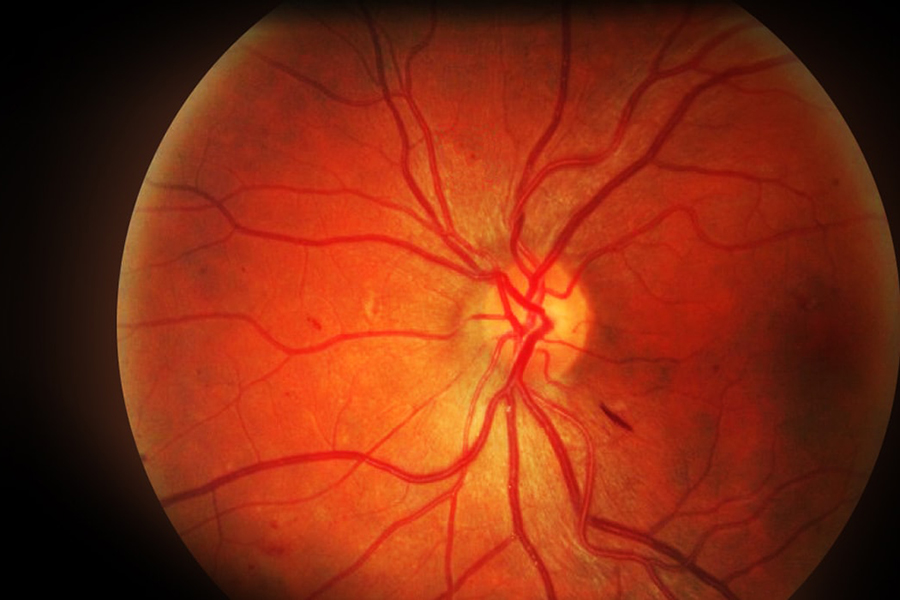 As artificial intelligence systems learn to better recognize and classify images, they are becoming highly reliable at diagnosing diseases, such as skin cancer, from medical images. But as good as they are at detecting patterns, AI won't be replacing your doctor any time soon.

Even when used as a tool, image recognition systems still require an expert to label the data, and a lot of data at that: it needs images of both healthy patients and sick patients. The algorithm finds patterns in the training data and when it receives new data it uses what it has learned to identify the new image.
One challenge is that it is time-consuming and costly for an expert to obtain and label each image. To address this issue, a group of researchers from Carnegie Mellon's College of Engineering, including professors Hae Young Noh and Asim Smailagic, teamed up to develop an active learning technique that uses limited data to achieve a high degree of accuracy in diagnosing diseases like diabetic retinopathy or skin cancer.
Cybersecurity Study Takes Proactive Approach
Meet Bob. Like many Americans, Bob likes watching sports on TV. Since the game he wants to watch isn't being broadcast locally, Bob searches for a free online stream of the game. He finds one eventually, but only after clicking through several ad-heavy pages written in different languages.
Over the next few days, Bob loses access to his email and money goes missing from his bank account. It turns out Bob visited a malicious website in his pursuit of finding a free stream of the game. This website downloaded malware onto his computer, allowing malicious hackers to gain credentials to Bob's accounts.
A new study from Carnegie Mellon's CyLab aims to help prevent anyone from falling into the same trap as Bob.
"Most traditional security defenses are reactive, and warn users only after or at the time they've visited a malicious website," said Mahmood Sharif, a Ph.D. student in CMU's Department of Electrical and Computer Engineering. "We wanted to figure out: are there hints about a user's behavior that could tell us when something bad is going to happen before it happens?"
Campus Dining Sets Schedule for Spring Break
Campus dining locations will have modified hours of operation during Spring Break (March 8 - 14). See the schedule.
Register for Student Employee Appreciation Lunch
The Career & Professional Development Center is again sponsoring the Student Employee Appreciation Lunch from noon - 1 p.m., Tuesday, April 2 in the Cohon University Center's Rangos Hall. Plan now to host your student employees, and join them for lunch to celebrate the great work they do. At a cost of $7.50 per attendee, the lunch is a great way to say "Thanks!"
A buffet lunch will be served that includes vegetarian entrees. Entertainment will be provided by The Originals, a CMU all-male a cappella group. 
The deadline to register online is March 25.