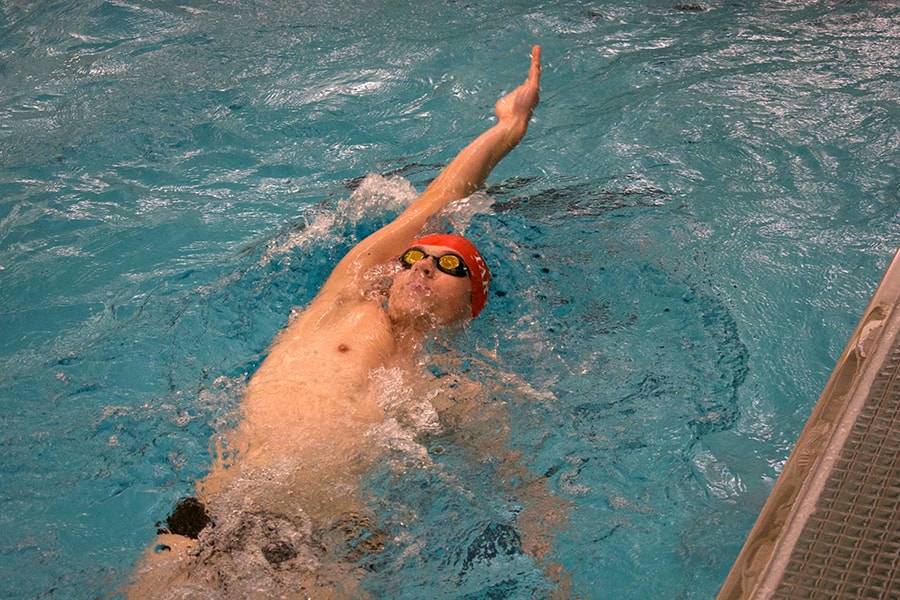 March 27, 2019
Personal Mention

Sophomore swimmer Justin Britton received the Elite 90 Award at the 2019 NCAA Division III Men's Swimming and Diving Championships in Greensboro, North Carolina. The Elite 90 is presented to the participating student-athlete with the highest cumulative grade-point average in each of the NCAA championships. Britton, an information systems major, carries a 4.0 GPA. In addition to the award, Britton earned three All-America Honorable Mention honors. He finished ninth, topping his own school record with a time of 48.19, in the 100-yard backstroke, and placed 12th in the 200-yard backstroke. He also was a member of the 400-yard medley relay team, which placed 13th. Britton helped lead the Tartans to a 16th place team finish at the NCAA meet, their best team finish since 2010.

The Pittsburgh Business Times has recognized Anna J. Siefken, executive director of CMU's Wilton E. Scott Institute for Energy Innovation and adjunct professor in the Heinz College, with a 2019 Women of Influence Award. Siefken is a champion of promoting energy efficiency, green initiatives, and environmental practices, education and innovation. She is an acclaimed leader who has extensive experience fostering partnerships to provide opportunities that increase community engagement. Recently, the National Renewable Energy Laboratory selected her as a member of its national Executive Energy Leadership Academy cohort. She was a 2018 Jefferson Innovation Summit Delegate, joining industry leaders to tackle climate change. In early 2018, she received the Cribs for Kids' Women of Achievement award for promoting a sustainable community, her previous work with the Pittsburgh 2030 District and being an exemplary role model for women and girls. Siefken also won a CMU Andy Award for Innovative and Creative Contributions last year. View the full list of Women of Influence Award winners.

Provost Jim Garrett is speaking at the Association of American Colleges & Universities Conference tonight (March 28) at the Omni William Penn, downtown. This year's conference theme is "Diversity, Equity and Student Success — Engaged Inclusivity: Perceptions, Realities and Aspirations." The conference will examine what it means to work toward a campus environment in which inclusivity thrives through constant reflection, analysis and accountability. Carnegie Mellon is a gold-level sponsor of the conference. Find out more.

History Professor Nico Slate has authored "Gandhi's Search for the Perfect Diet: Eating with the World in Mind," the first book to focus solely on the connection among Gandhi's food choices, politics and beliefs. "Diet was so central to Gandhi's personal life, his religious and spiritual beliefs and his politics. There's a lot in this book that is revealing of who Gandhi was and how much he struggled, not just with food but with every facet of his life," Slate said. After reading the book, Slate hopes people will take away a greater desire to embed values in all food-related choices they make. This book, Slate's fourth, is published by the University of Washington Press. He previously authored "Lord Cornwallis is Dead: The Struggle for Democracy in the United States and India," which was published by Harvard University Press.  Find out more.

In his new book, "Scouting and Scoring: How We Know What We Know About Baseball," Christopher Phillips shows how the two approaches to player evaluation — scouting and scoring, and data collection and analysis — are not as different as they may seem. Tracing baseball's history from the 19th century to today, Phillips reveals how both scouts and scorers rely on numbers, bureaucracy, technologies, trust and human labor in order to make sound judgments. He discusses the creation of the sport's earliest statistical databases and the introduction of "official scorers," individuals whose judgments are ultimately behind the statistics of hits, earned runs and errors. By tracing the people, practices and technologies used in baseball, Phillips shows that every baseball statistic still relies on human labor and expertise, even as scouts increasingly deploy data in their own judgments. "Scouting and Scoring: How We Know What We Know About Baseball" is published by Princeton University Press. Phillips is an assistant history professor with a focus on the history of science. Find out more.