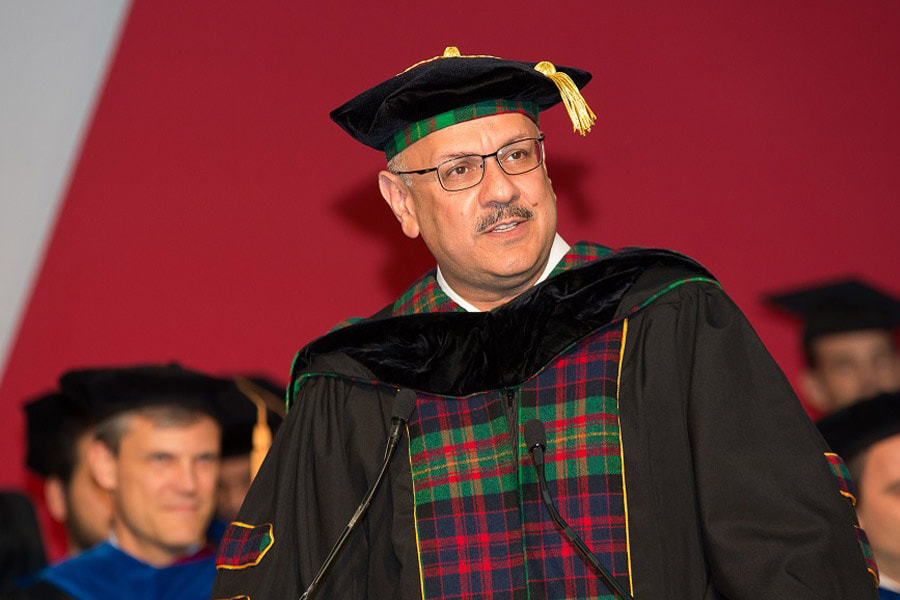 March 20, 2019
Personal Mention

Farnam Jahanian, president of Carnegie Mellon University, will deliver a public lecture, "The Future of Higher Education in the Age of Technological Disruption" at CMU's Qatar campus on Sunday, March 24. Jahanian is visiting Doha as a distinguished speaker for Qatar Computing Research Institute (QCRI), part of Hamad Bin Khalifa University. He is a member of QCRI's Scientific Advisory Committee. Jahanian's talk will discuss the unprecedented pace, scope and scale of technological advances that continue to catalyze societal and economic transformations and accelerate the pace of discovery across all fields of inquiry. In particular, access to massive amounts of data and the rise of artificial intelligence and automation are leading the global economy to an inflection point.

Lorrie Faith Cranor has been elected to the Computing Research Association board of directors. Cranor is the director and Bosch Distinguished Professor in Security and Privacy Technologies of CyLab and FORE Systems Professor of Computer Science and of Engineering and Public Policy at Carnegie Mellon University. She also directs the CyLab Usable Privacy and Security Laboratory (CUPS) and co-directs the MSIT-Privacy Engineering Master's program. In 2016, she served as chief technologist at the U.S. Federal Trade Commission. She also is a co-founder of Wombat Security Technologies, Inc, a security awareness training company.
Robert P. Strauss, a professor of economics and public policy at Carnegie Mellon, was featured in a statewide panel discussion on March 12 in Harrisburg, Pennsylvania, called "Letting the Sunshine In: A look back at the 10-year history of the Right To Know Law and a glimpse of the future." Strauss joined legal experts and veteran journalists to discuss the law's challenges and successes, its process and best practices for users as part of Sunshine Week, a national initiative led by the American Society of News Editors to educate the public about the importance of open government. The program was broadcast statewide by PCNTV.

Egon Balas, University Professor of Industrial Administration and Applied Mathematics and The Thomas Lord Professor of Operations Research at the Tepper School of Business, died on March 18, 2019. He was 96.
His life included two imprisonments for joining the communist party to oppose the Nazis during World War II. He later became one of the world's foremost experts in mathematical optimization after joining Carnegie Mellon in 1967.

"A beloved member of the CMU faculty for more than half a century, Egon Balas was a preeminent and legendary scholar who was enormously influential in the fields of operations research and applied mathematics," said Farnam Jahanian, president of Carnegie Mellon University. "Throughout his long and distinguished career as a researcher and teacher, he applied bold, focused and independent thinking to solve complex problems and also demonstrated a profound sense of humility, character and good humor. His extraordinary life and legacy will continue to serve as an inspiration to the entire CMU community."
Balas is survived by his wife of 70 years, Edith, a respected art historian, whom he met and married in Cluj after the war; two children, Anna Balas and Vera Balas Koutsoyannis; three grandchildren, Alexander Waldron, John Koutsoyannis and Robert Koutsoyannis; and four great-grandchildren. Read the full obituary.