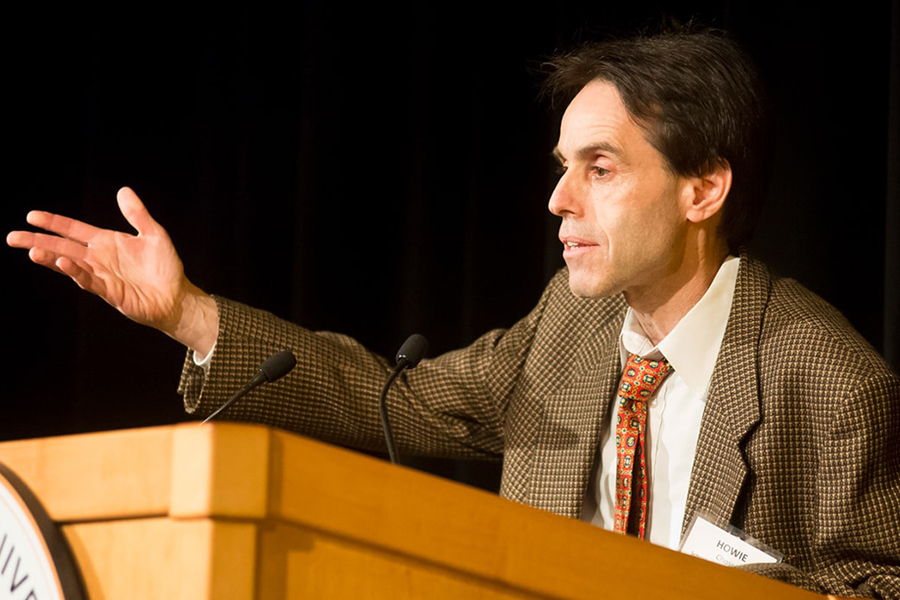 March 13, 2019
Personal Mention
Howie Choset, the Kavčić-Moura Professor of Computer Science, will receive the prestigious 2019 Engelberger Robotics Award for Education. The award recognizes his leadership of Carnegie Mellon's undergraduate robotics degree program and his robotics research in areas such as multi-robot collaboration, surgery, manufacturing, infrastructure inspection and search and rescue. "A key feature of Howie's work is the ability to convert fundamental research into real-world applications with far-reaching societal impact," said Martial Hebert, director of CMU's Robotics Institute. Choset has made significant contributions to the design of bio-inspired robots and to multi-robot systems, while creating several successful companies. The award is presented by the Robotics Industries Association and is named for Joseph F. Engelberger, the so-called "father of robotics" who founded Unimation Inc., the world's first industrial robot manufacturer. Previous CMU winners are Takeo Kanade, the U.A. and Helen Whitaker University Professor of Robotics and Computer Science, and William "Red" Whittaker, the Fredkin University Research Professor of Robotics. Read more.


Jessica Hammer and Amy Ogan, faculty members in the Human-Computer Interaction Institute (HCII), have received the inaugural Thomas and Lydia Moran Career Development Professorships in Learning Science. The Morans, who have ties to Carnegie Mellon, recently endowed the professorships to support junior faculty members dedicated to the study and improvement of learning. Hammer, an assistant professor who has a joint appointment with the Entertainment Technology Center, studies the psychology of games and how specific game design decisions affect how players think and feel. She designs games intended to change lives for the better. Her Oh!Lab works at the intersection of culture, learning, play and design to create new interactions and experiences. Ogan studies how to make learning experiences more engaging, efficacious and enjoyable. Her research contributes to learning theory and informs the design of next-generation educational technologies, supporting both social and cognitive aspects of learning. Find out more.

Alan D. George, the Ruth and Howard Mickle Endowed Chair of Electrical and Computer Engineering and department chair and professor of electrical and computer engineering at the University of Pittsburgh's Swanson School of Engineering, has been named the interim director of the Pittsburgh Supercomputing Center (PSC), effective immediately. George is the founder and director of the National Science Foundation Center for Space, High-performance and Resilient Computing, a consortium of more than 30 industry, government and academic partners that work collaboratively to solve research challenges at the nexus of reconfigurable, high-performance and embedded computing. He succeeds Nick Nystrom who has served as interim director of the PSC since 2017. Find out more.

Heather Jones, a senior project scientist in the Robotics Institute, received the Young Professional Award at the 2019 Waste Management Symposia in Phoenix in recognition of her work developing robots to detect residual uranium in nuclear weapons complex piping. Jones, who earned her Ph.D. in robotics in 2016, made significant contributions to the design, development and deployment of the Pipe Crawling Activity Measurements System for the U.S. Department of Energy (DOE). That system includes RadPiper, which the Robotics Institute delivered to the DOE last year to aid in decommissioning its former uranium enrichment plant in Piketon, Ohio. The RadPiper robots crawl autonomously through pipes, where it can measure radiation levels more accurately than is possible with external methods. The DOE estimates the robots could save $50 million in decommissioning the Portsmouth Gaseous Diffusion Plant in Piketon and a similar plant in Paducah, Kentucky.

Deb Brandon, a 1988 Ph.D. alumna and associate teaching professor in the Mathematical Sciences Department, has authored a new book titled "Threads Around the World: From Arabian Weaving to Batik in Zimbabwe." In the book, Brandon weaves together the stories of 25 diverse world cultures by showcasing their unique take on textile art. "Threads Around the World" examines everything from espadrilles to mirror embroidery, and offers well-researched context on the histories behind the wall-hangings. Brandon is a member of Weave a Real Peace, a nonprofit organization dedicated to improving the lives of textile artists in communities in need. She is a traumatic brain injury survivor who has also authored "But My Brain Had Other Ideas," which chronicles her injury and the aftermath.  Find out more.

Head men's basketball coach Tony Wingen has been selected to receive the NCAA Division III Outstanding Service Award from the National Association of Basketball Coaches (NABD). The award recognizes Wingen for his contributions "inside and outside the lines" of coaching and as a distinguished member of the university community. Wingen, who recently completed his 29th year at the CMU helm, is the Tartans' all-time leader with 344 coaching victories. He and his staff were honored as the University Athletic Association Staff of the Year in 2005 and 2006, and Wingen was named the Great Lakes Coach of the Year in 2006. He will receive the award at the NABC meeting on April 5 along with Charlie Katsiaficas of Pomona-Pitzer College. Find out more.  

Junior Laurel Pereira tied the CMU women's basketball record with seven three-pointers in a season-ending game at Case Western Reserve University. Pereira finished the game with a career-high 25 points to lead the Tartans. Her seven three-pointers tied Gabrielle West (2013) and Nicole Vaccarella (2010) for the most made by a Tartan in a single game.