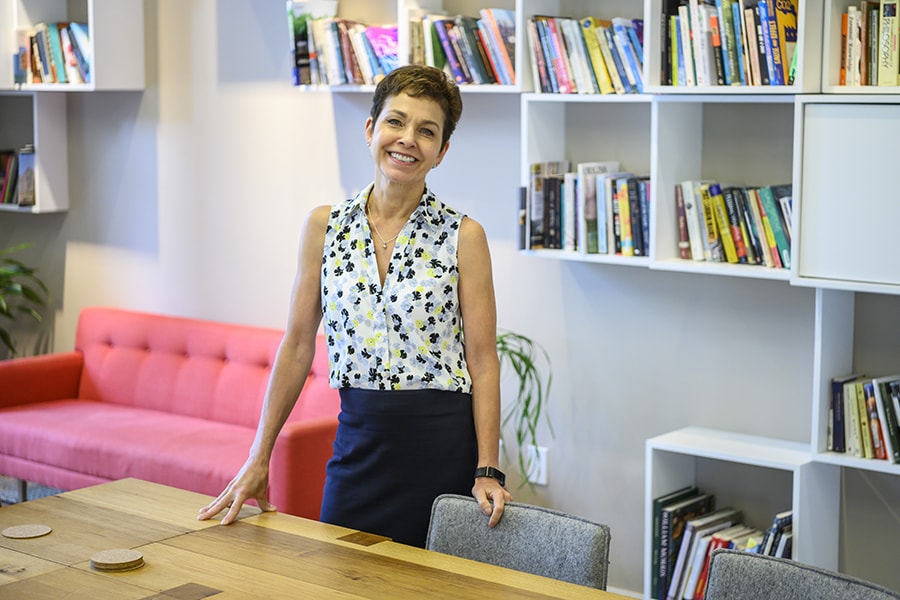 June 26, 2019
Cicozi Helps Students Design Their Future
By Kelly Saavedra ksaavedra(through)cmu.edu
A passion for design runs in Melissa Cicozi's family. Fueled by that passion, she nurtures Carnegie Mellon's design students as they work to develop their niche in the field.

"My father was a Madison Avenue advertising guy in the 1960s — a Mad Man, as they say — and that was pretty exciting when I was growing up," she said. "He would bring home ideas to the dinner table, shoot TV commercials, and sometimes bring home products that weren't on the market yet. It was fascinating, and it was something that I always thought sounded really fun."

Her brother followed their father into advertising, but Cicozi's contribution to the field took on a different form.

"I had a pretty good handle on what design was, but I wasn't actually good at making design," she said. "I liked to talk about it and think about it, and I appreciate it, and as it turned out that's great for me because that's what I do."

As assistant head of the School of Design, a large portion of Cicozi's role is talking with high school students and their parents about what sets Carnegie Mellon apart from other design schools.

"Usually students come in knowing a lot about what design is, and the parents are still trying to figure it out, which is not surprising because design keeps changing," she said. "I think it actually helps me to explain it from a layperson's point of view. Because I'm not a designer, it helps me to see it through the parents eyes a little better."

Cicozi said design students at Carnegie Mellon get their own desk in the studio on the day they start, which is unusual compared to other design schools around the country. Often the students will gather to work on weekends, and even bring their dinners there while they work on their projects.

"We want our students to collaborate rather than compete, and there's room to spread out their work, leave it there, and come back and continue where they left off," she said. "Students say that their classmates become their design family, and parents feel good about the supportive environment."

Cicozi double majored in psychology and sociology at Washington University. She came to Carnegie Mellon in 1986, where she worked for two years in what is now Facilities and Management Services and earned a Master of Public Management degree from the Heinz College. She has worked in the School of Design since 1988.

"I was looking for a job where I could be in a beautiful setting and there would be lots of different activities going on," she said. "I love problem solving, which I get in spades, and I love working with students."
Opportunities such as co-teaching a design and sustainability course led Cicozi to partnering with companies in the surrounding community. On one project, she partnered with Giant Eagle which displayed her students' design posters to help promote reusable bags. On another project, she partnered with Construction Junction which set up a month-long exhibit of her students' ideas for ways to reuse materials.

Soon afterward, Construction Junction asked Cicozi to join their board of directors, a role she has been serving in for a decade.
Cicozi is this year's recipient of the College of Fine Arts (CFA) Henry Award for Spirit. The Henry Awards were created to recognize the outstanding achievements of staff in CFA.

Cicozi's favorite part about working at Carnegie Mellon is the students.

"That's what gets me up every morning. I love helping them to solve problems. When somebody comes in really upset and I can get them to leave with a smile, that's the best possible thing for me to do," she said.

Outside of her design work, Cicozi teaches a Pilates class in the Cohon University Center and is enjoying her first summer in a new home where deer are not interfering with her gardening efforts.

"You should see my garden. It's amazing! It's bursting from spring rain and cooler temperatures. It makes me look like the best gardener ever," she said. "That's not true, but to not have deer take it to the nub every night is just so satisfying. Gardening is really fun for me."
Cicozi's older daughter graduated from CMU's School of Design in 2012 and works as a digital project manager at Howard Hanna. Her younger daughter earned a bachelor's degree in decision science from CMU in 2018.