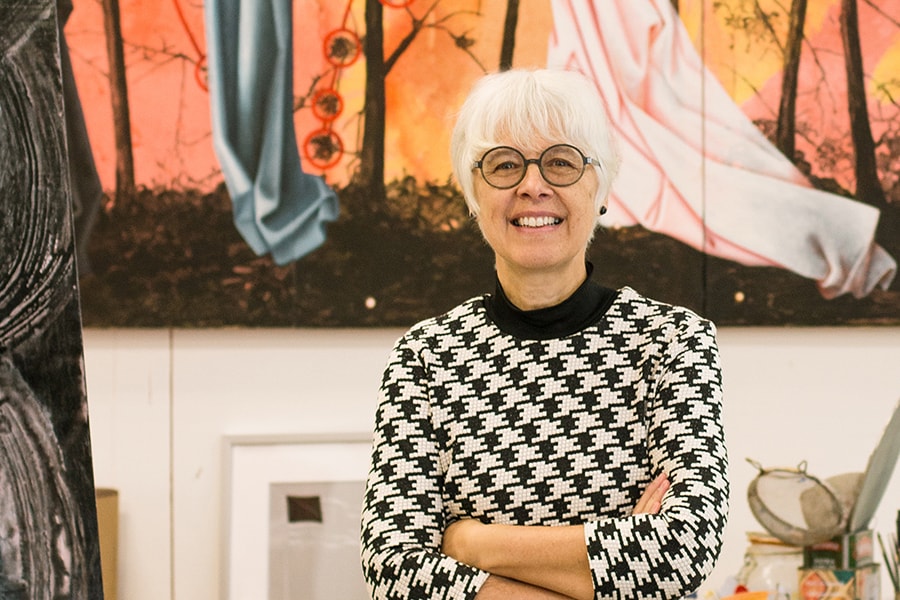 January 30, 2019
Personal Mention
Susanne Slavick will be presented with the 2019 Distinguished Teaching of Art Award from the College Art Association (CAA) at its annual conference, Feb. 13-16, in New York City. The CAA, the preeminent organization for professionals in the visual arts, has been presenting the award since 1972 to honor an exemplary educator for which teaching and making art are inseparable. Slavick says teaching at CMU's School of Art, which has long distinguished itself through its interdisciplinary approach, has been especially rewarding. "Teaching has led me to areas of knowledge and processes that I might not have ever considered. Teaching has broadened by own perspective," she said. Slavick earned a master's degree in fine arts from the Tyler School of Art at Temple University and a bachelor's degree from Yale University. She began her tenure at CMU in 1984 after a three-year stint at the University of Wisconsin-Madison. She served as head of CMU's School of Art from 2000-06 and has held the title of Andrew W. Mellon Professor of Art since 2001. Slavick has exhibited her own work nationally and internationally, with recent solo shows at the Chicago Cultural Center, McDonough Museum in Youngstown, and the Bernstein Gallery at Princeton University. The School of Art will honor Slavick at an alumni gathering Feb. 15 at PPOW Gallery in New York City. Find out more.
Computer Science Department Ph.D. students Daehyeok Kim and Katherine Ye are among 10 students nationwide who have been awarded two-year Microsoft Research Ph.D. Fellowships for 2019. The fellowships provide tuition and fees for two consecutive years and include a $42,000 annual stipend to help with living and travel expenses. Applicants are nominated by their university.
Kim is a third-year Ph.D. student advised by Srinivasan Seshan and Vyas Sekar. His research interests lie in the intersection of systems and networking. His current focus is on making data centers faster and more efficient by designing novel network primitives with advanced networking hardware such as programmable switches and remote direct memory access network interface controllers. He earned bachelor's and master's degrees in computer science and engineering at Pohang University of Science and Technology in South Korea.
Ye, also a third-year Ph.D. student, is advised by Keenan Crane and Jonathan Aldrich. Her work focuses on information visualization and on creating personal tools that use computational techniques for modeling, search and synthesis to augment the human ability to think and create. She leads the CMU team that is building Penrose, a platform that enables people to create beautiful diagrams just by typing mathematical notation in plain text. She earned a bachelor's degree in computer science at Princeton University.

Selman Erol, an assistant professor of economics at the Tepper School of Business, has received the Hakan Orbay Research Award for Young Researchers for his paper titled "Network Hazard and Bailouts." The Orbay research awards, given annually to a young researcher and Ph.D. student, were established by the Sabancı University School of Management in Instanbul, Turkey, in memory of Hakan Orbay, a former faculty member there who produced original research in microeconomics and finance, and made important contributions to the establishment and development of the school.  The awards aim to encourage young researchers to undertake original research in finance and microeconomics. Erol earned his Ph.D. from the University of Pennsylvania in 2016.