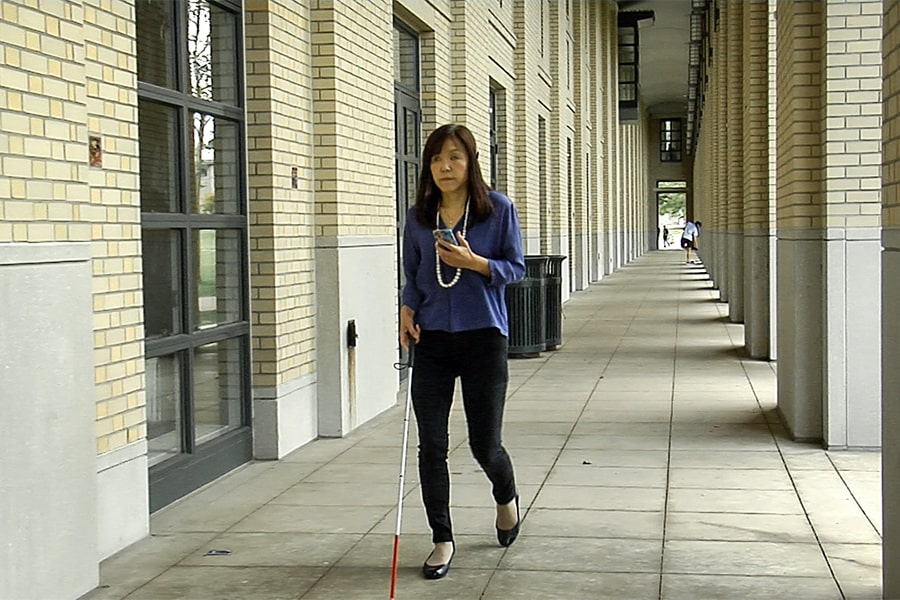 January 16, 2019
Personal Mention

Chieko Asakawa, the IBM Distinguished Service Professor in the Robotics Institute and an IBM Fellow at IBM Research, will be inducted into the National Inventors Hall of Fame. Asakawa is being honored for her invention of the Home Page Reader (HPR), the first practical voice browser providing internet access for blind and visually impaired computer users. The HPR debuted in 1997, enabling users to surf the internet and navigate webpages through a computer's numeric keypad instead of a mouse. The HPR soon was widely used around the world and its interface technology has been adopted by many other voice browsers. Asakawa, who has been blind since a swimming accident at age 14, has been instrumental in developing a number of technologies to aid people with visual impairments or other disabilities. These include technologies to help the blind community in Japan access digital Braille books, a disability simulator to help web designers make sites user-friendly to all, and standardized design and programming interfaces that help developers create accessibility tools and applications. Asakawa and the rest of the 2019 class will be honored and inducted May 1-2 at a celebration in Washington, D.C. Find out more.

Pittsburgh Magazine has named William "Red" Whittaker, the Fredkin University Professor of Robotics, as one of "The 50 Greatest Pittsburghers of All Time," putting him in the company of Andrew Carnegie, Rachel Carson, Jonas Salk, Fred Rogers and Chuck Noll. For the magazine's January 2019 issue, editors selected the 50 men and women from more than 200 years of Pittsburgh history, based on their contributions in fields ranging from sports to technology and on how they put the national spotlight on Pittsburgh. Considered the father of field robotics, Whittaker's contributions propelled robots from research curiosities mostly found bolted to factory floors to mobile, autonomous units capable of working outdoors in harsh and challenging environments. After the nuclear reactor meltdown at Three Mile Island near Harrisburg, Pa., in 1979, Whittaker and his team developed robots to inspect the damaged reactor's basement and perform repairs. This work led to the formation of Carnegie Mellon's Field Robotics Center, which he continues to direct. His other innovations include Dante II, a walking robot that explored an active volcano; Nomad, which searched for meteorites in Antarctica; and Tugbot, which surveyed an 1,800-acre area of Nevada for buried hazards. He led the Tartan Racing team and its Boss self-driving vehicle to victory in the $2 million Defense Advanced Research Projects Agency Urban Challenge in 2007, creating the template for today's burgeoning autonomous vehicle industry. Find out more.

Lorrie Faith Cranor has been named the new director of  CyLab, Carnegie Mellon's security and privacy institute. She succeeds Doug Sicker, head of CMU's Engineering and Public Policy Department, who has served as CyLab's interim director since September 2017. Cranor is the FORE Systems Professor of Computer Science and of Engineering and Public Policy, and directs the CyLab Usable Privacy and Security (CUPS) Laboratory. She is a co-director of Carnegie Mellon's Privacy Engineering master's degree program, and served as chief technologist at the Federal Trade Commission (FTC) in 2016. Cranor has authored over 150 research papers on online privacy, usable privacy and security, and other topics. Her current research projects include password usability and security, privacy for the Internet of Things, and development of meaningful and usable privacy notices and consent experiences. "Lorrie's extensive leadership experience and background, as well as her recent government experience as the FTC's chief technologist, make her an exceptional choice as CyLab's new director," said Jon Cagan, interim dean of Carnegie Mellon's College of Engineering. Find out more.

Bill Pollak, a longtime writer, communications manager, and conference coordinator for the Software Engineering Institute, has been nominated for Best Soul Blues Album of 2018 for his album "Reckoning." Pollak, whose stage name is Billy Price, has recorded 16 albums, CDs and DVDs in his award-winning career. His album "This Time for Real" won the Best Soul Blues Album of 2015.  He was inducted as a Pittsburgh Rock 'n' Roll Legend in 2016. This year's Blues Music Awards will be held May 9 in Memphis, Tennessee.  Find out more.

Lauren Warden-Rodgers, an academic adviser who has worked with more than 220 students in the Department of Mechanical Engineering, is joining the Office of the Vice Provost for Education as assistant director of the newly organized Student Academic Success group. Under Jen Gilbride-Brown, assistant vice provost for Student Academic Success and Equity, Warden-Rodgers will focus on programs, processes and partnerships designed to support students in achieving their full academic potential. She will work on academic adviser professional development efforts, the ReCharge program in partnership with Enrollment Services and the Division of Student Affairs, and with students experiencing challenges making progress toward their degree. Warden-Rodgers will start her new position Jan. 30.