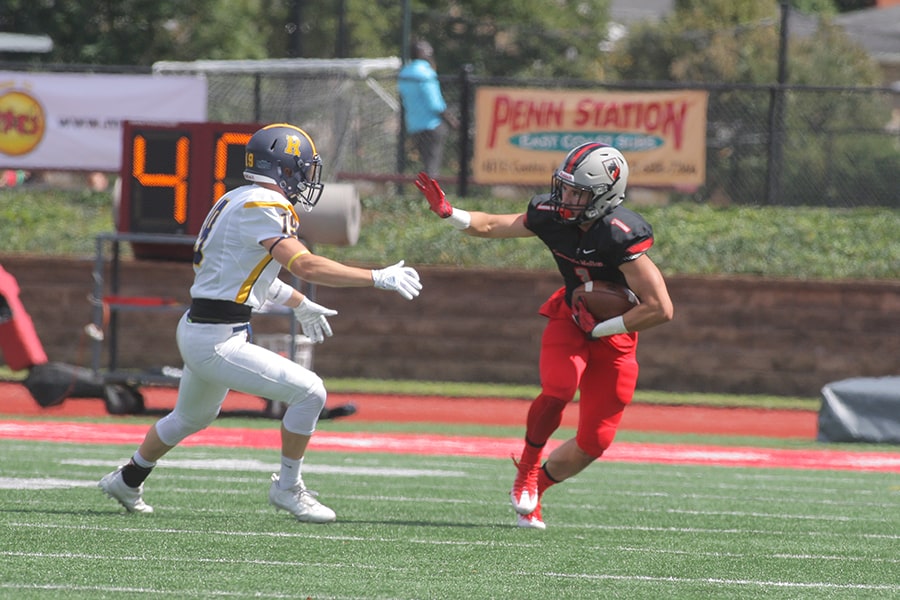 January 09, 2019
Personal Mention

Former Carnegie Mellon football standout wide receiver John Prather has signed a contract to play professionally with the Sioux Falls Storm of the Indoor Football League (IFL). The Storm has won the IFL championship six times and has made eight straight appearances in the title game. Prather, who played for the Tartans from 2014-17, ended his career as the school's all-time leading receiver with 194 receptions for 3,077 yeards and 25 touchdowns. The 2018 alumnus also holds single-season school records with 66 receptions for 1,125 receiving yards and 11 touchdowns. Prather was a three-time All-University Athletic Association selection and a two-time All-Presidents' Athletic Conference pick. The Storm's season begins Saturday, Feb. 23 at the Cedar Rapids River Kings. Find out more.

Simon Cullen's paper on argument visualization was published in Nature's Science of Learning. In the paper, "Improving analytical reasoning and argument understanding: a quasi-experimental field study of argument visualization," Cullen and a team of researchers explored which pedagogical approaches are most effective for cultivating analytical-reasoning skills. They investigated the effectiveness of a 12-week undergraduate seminar in which students practiced a software-based technique for visualizing the logical structures implicit in argumentative texts. Their findings deepen the understanding of how visualizations support logical reasoning and provide a model for improving analytical-reasoning pedagogy. Cullen is an assistant teaching professor in the Department of Philosophy. Learn more.

Melissa Baker, assistant director of Institutional Research and Analysis, has been elected to a three-year term on the governing council of the Association of American Universities Data Exchange (AAUDE). AAUDE is an information-sharing consortium comprised of research universities with membership in the AAU. AAUDE uses institutional information to inform decision-making both within member institutions and in the broader policy discussions relevant to research universities. It is dedicated to improving the quality and usability of information about higher education. The six-member council provides strategic direction for the organization and oversight of AAUDE's relationship with partner institutions and other organizations. Baker joined CMU's Office of Budget and Planning in 1999 and moved to Institutional Research and Analysis when it was created in 2005. Her primary CMU partnerships are with the College of Engineering, Tepper School of Business, Silicon Valley Campus, University Libraries, Finance and Human Resources. Her areas of responsibility include census data processing, employee analyses, and  governmental and accreditation reporting.

James Duesing was recently elected to the international advisory board of The Arts in Society Research Network. Founded in 2000, the Arts in Society Research Network offers an interdisciplinary forum for discussion of the role of the arts in society. It is a place for critical engagement, examination and experimentation, developing ideas that connect the arts to their contexts in the world — on stage, in studios and theaters, in classrooms, in museums and galleries, on the streets and in communities. Duesing is a professor of art and the director for the Center for the Arts in Society, a collaborative effort of artists and scholars affiliated with CMU's College of Fine Arts and Dietrich College of Humanities and Social Sciences. Learn more. 

Barbara Shinn-Cunningham placed second in the Women Veteran 50s Saber at USA Fencing's December North American Cup (NAC) in Cincinnati, Ohio. USA Fencing organizes six NAC tournaments per year in October, November, December, January, March and April. NACs are open to participation from both US and foreign fencers. Shinn-Cuningham joined Carnegie Mellon this fall to help establish a new, cross-disciplinary neuroscience institute the will create innovative tools and technologies critical to advancing brain science.

Frank Dolce, a Ph.D. candidate in the Department of Modern Languages' Second Language Acquisition Program, has won the LaunchPad Language Education Technology Competition for his app, Banter. The app leverages geolocation to notify members of a community when there are native speakers of a language they are learning (who are also community members) in their vicinity. Banter crowdsources trending topics from their shared community that users can rely on to start conversations. Recommended topics are tied to the interests of the users and can therefore support users in jumpstarting outside-the-classroom interactions with community members who speak their foreign language. In addition to facilitating diverse and dynamic language use, the Banter system includes several patented features, such as receiving feedback on your foreign language use, which allow authentic text and face-to-face chat to be saved and studied by users. The competition is sponsored by the Language Flagship Technology Innovation Center and the American Council on the Teaching of Foreign Language. Find out more.