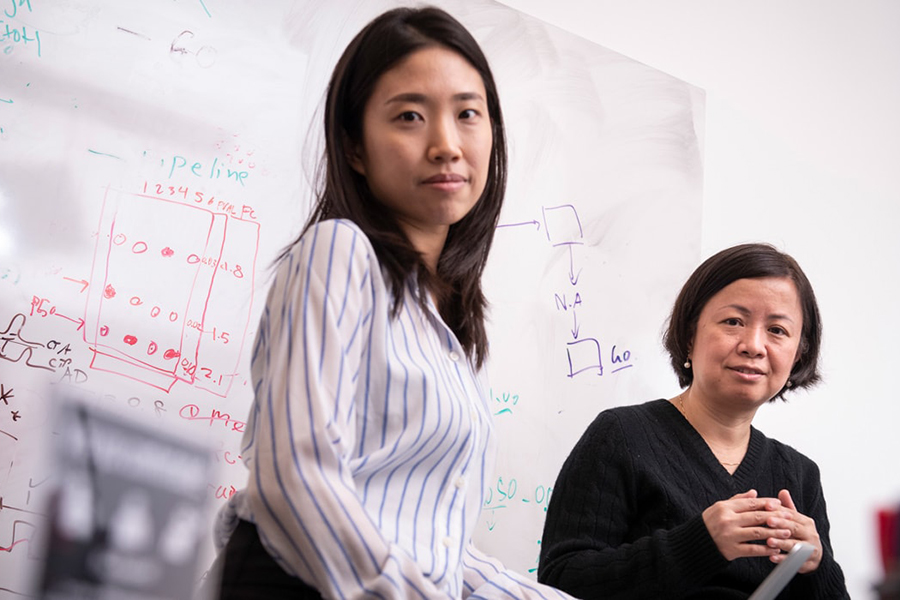 February 20, 2019
News Briefs
New Method Could Help Asthma Patients
Physicians will be able to predict which of their patients with severe asthma are likely to benefit from treatment with systemic corticosteroids — and which might only suffer their side effects — with help from a dozen clinical variables researchers have identified using machine learning techniques.
Physicians already have some clues about which patients are most helped by corticosteroid injections or pills. But the newly identified set of variables — when processed by computer software — will yield more precise predictions of a patient's response, said Wei Wu, a faculty member in Carnegie Mellon University's Computational Biology Department.
"Systemic corticosteroids are the most effective therapy we have for asthma, but not all patients respond in the same way," Wu said. "Unfortunately, when clinicians don't see a big improvement after initial treatment, they might give patients even higher doses. If a patient is one of those who can't be helped by corticosteroids, the higher dose just means worse side effects."
CMU, Tonys Announce Theatre Education Award Ambassadors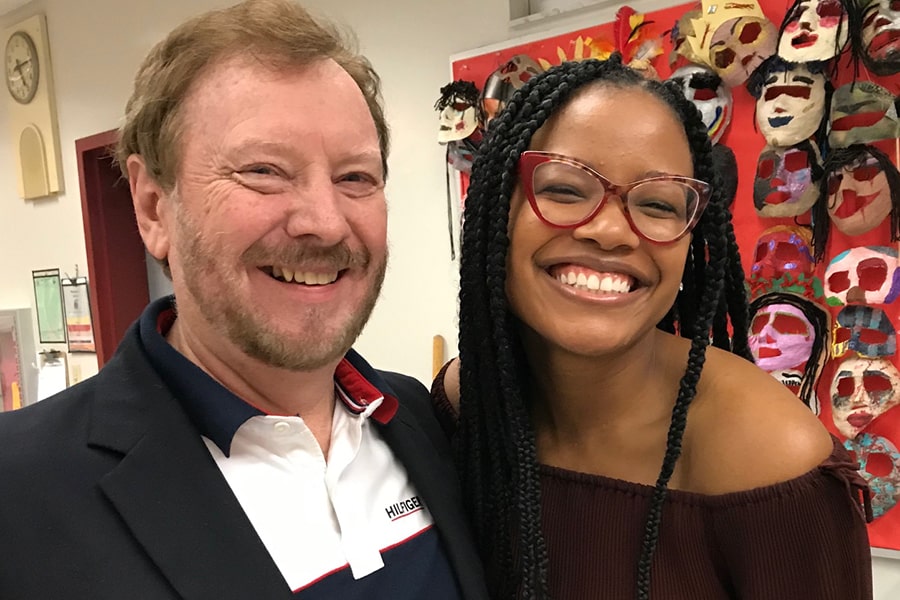 CMU Drama Professor Don Wadsworth with Chanté Adams.
The Tony Awards and Carnegie Mellon University announced a group of talented actors serving as ambassadors for the 2019 Excellence in Theatre Education Award.
CMU alumna Chanté Adams returns as an ambassador. She has appeared in the August Wilson play, "Ma Rainey's Black Bottom" and currently stars in the Netflix movie, "Roxanne, Roxanne," and the feature film, "Monsters and Men." Adams also will serve as CMU's alumni representative on this year's award-selection committee.
Additional CMU ambassadors for 2019 include alumni Casey Cott (from the CW's hit series, "Riverdale," and feature film, "All the Little Things We Kill") and Rory O'Malley (Tony nominee for "The Book of Mormon," host of "Geffen Playhouse Unscripted" podcast, and star of "Hamilton" and Lifetime's upcoming series, "American Princess.") Other ambassadors are Ali Stroker and Santino Fontana.
Ambassadors are calling on students, parents, faculty, staff, friends and families across the U.S. to submit local, notable drama teachers — those who inspire their kids and their communities with exceptional theatre programs.
Tartans Win UAA Indoor Track Championship
Carnegie Mellon's men's track and field team won the University Athletic Association (UAA) Indoor Track and Field Championships hosted by Brandeis University Sunday, Feb. 24. The men defeated second-place Washington University for their third UAA Indoor crown, with several personal best and school-record performances.
Sophomore Marvin Bennett Jr. won both the 60-meter dash and the 200-meter dash on the final day of the championships in school-record times. He had a personal-best time of 22.12 in the 200-meters and an additional personal-best time of 6.95 in the 60-meter dash. 
"Today was an incredible team effort. The men did a great job in every performance. They competed extremely well. Between Marvin's wins in the 60 meters and 200 meters and points we scored in the seventh and eighth positions, every point counted toward our win," said head coach Gary Aldrich. 
Retirement Benefits Open Forum Set for March 7
Staff Council and the Office of Human Resources will host a Retirement Benefits Open Forum from noon to 1 p.m., Thursday, March 7 in the Cohon University Center's McConomy Auditorium.
The forum is open to employees of all ages who are interested in learning more about the benefits available to Carnegie Mellon employees after retirement. Members from the Human Resources Benefits team will be on hand to present a summary of benefits and address any questions.
To help prepare for the session, presenters are soliciting questions in advance. Please submit your questions by Thursday, Feb. 28.
If you have questions about the forum, please contact Kim Sestili or Lynn DeFabio, Staff Council Benefits Committee co-chairs, at ke26@andrew.cmu.edu or defabio@cmu.edu, or Shawn Graham, HR — Retirement Administrator, at shawngra@andrew.cmu.edu or 412-268-5077.
Open House Lunch for Staff: Become a More Effective Writer, Communicator
The English Department's master's degree in professional writing (MAPW) program is hosting an open house lunch at 12 p.m., March 6 for staff members interested in this popular course of study to become a more effective communicator. The MAPW teaches professional students to create and execute verbal and visual information strategies (including print, online, social and multimedia) with the goal of preparing them for careers as writers, communication specialists and information designers. The deadline to apply for the MAPW progam this fall is April 30.
The open house lunch will be hled in the Dean's Conference Room, Baker Hall 145R. RSVP for the lunch by sending email to jackson1@andrew.cmu.edu.
Register for CPR/AED Training
CMU's Department of Environmental Health and Safety is offering a CPR/AED class at 10 a.m., March 5 in Rangos 2, Cohon University Center.
Attendees will learn how to recognize the signs of a sudden cardiac arrest, when to activate the EMS system, and how to do CPR. Hands-on training will enable those who attend this class to become familiar with an AED and to successfully operate it in an emergency. Training also teaches the operator how to avoid potentially hazardous situations. 
If you would like to attend the class, please register through BioRaft.
Volunteers Needed for Take Our Daughters & Sons to Work Day
CMU Staff Council is looking for staff, faculty, students and groups to present a session on what they do at CMU, a hobby or a topic of interest for Take Our Daughters and Sons to Work Day on April 25. Sessions are held from 1:15 - 2 p.m. and from 2:15 - 3 p.m. with groups of 10 to 20 children. More than 350 children participate, and these sessions provide them with an opportunity to explore, imagine, innovate and see the amazing CMU community and what it has to offer. If you are interested in presenting, please complete the online form. Volunteers are also needed to help the kids navigate around campus, as well as support event logistics.